proposte: motore - suggestions: powerboats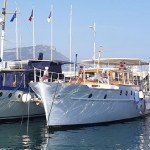 By admin on 5 settembre 2021
NEW ASKING PRICE 125.000 € – New and updated pics available here below and some other 2022 Summer at the very bottom – keen seller.
Complete history available
wonderful vintage pics for the whole life of this yacht through few owners
builder Hampton of J. L. Thornycroft & Co Ltd 1936-37
loa 16,95 mt – 55 ft declared
beam 3.98 [...]
Posted in epoca - classic, proposte: motore - suggestions: powerboats | Tagged displacement motor yacht, displacement motoryacht, displacement yacht, gentleman displacement motoryacht, navetta dislocante, thornycroft, thornycroft shipyard, thornycroft yacht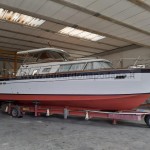 By admin on 14 giugno 2019
Please ask for more info: the boat is in very good condition and ready to go. Many pics and video available. Please download specification below:
Scheda tecn. – giraglia 1968.
Please ask for detailed info. The boat is in very good condition
Posted in epoca - classic, motore - powerboats, proposte: motore - suggestions: powerboats, second hand | Tagged giraglia, Picchiotti, picchiotti giraglia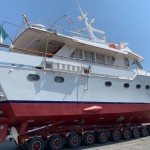 By edoardo on 20 gennaio 2019
New pics Sept 2019 below
Lovely little steel Benetti displacement motoryacht, mainly original, thickness test available, engines, electric and hydraulic systems in good conditions, extraordinary maintenance in progress.
TIPO/TYPE: Motor yacht
CANTIERE / SHIPYARD: Benetti
DESIGNER: Benetti
ANNO/YEAR: 1967
LUNG.f.t./LOA: mt 18,70
B. Max: mt 5,04
PESCAGGIO / DRAFT: mt 1,80
MAT.SCAFO/HULL MATERIAL: acciaio / steel
MAT.SOVRASTRUTTURA: acciaio / stell
COPERTA / DECK: Teak [...]
Posted in epoca - classic, motore - powerboats, proposte: motore - suggestions: powerboats, second hand | Tagged benetti, benetti 20, benetti delfino, benetti delfino 20, delfino benetti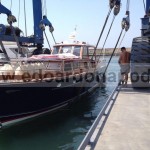 By edoardo on 11 novembre 2018
year 1960
builder Cantiere Navale di Chiavari
designer Solari (25 Riviera were built)
loa 16 mt
beam 4 mt
depht (puntale) 2.05 mt
tonnage 25.38 t
hull double mahogany plates
Engine 2X 240 hp original GM 6V71 (total overhauling 2006)
flag ITA
many pics available on request
Posted in epoca - classic, proposte: motore - suggestions: powerboats | Tagged cantiere navale chiavari, cantiere navale di chiavari;, cantieri navali di chiavari, cantieri navali di chiavari modello riviera, cantieri navali di chiavari paraggina, cantieri navali di chiavari riviera, gino solari, MEDITERRANEAN STYLE, modello riviera, paraggina, riviera, Solari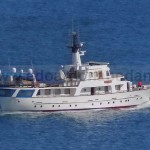 By admin on 28 ottobre 2018
GENERAL DETAILS / DATI GENERALI
Type of vessel / Tipo di yacht Displacement motor yacht / Nave dislocante
Year of manifacture / Anno costruzione 1961
Builder / Costruttore Scheepswerf De Beer N.V. – Holand
Classification / Classifica Certificate of Malta Registry
Construction mat. / Mat. Costruzione Steel & aluminium / acciaio e alluminio
L.O.A. / Lunghezza f.t. 100 ft – 30 [...]
Posted in epoca - classic, proposte: motore - suggestions: powerboats | Tagged de beer, dislpacement motoryacht, gentleman displacement motoryacht, gentleman motoryacht, motor boat, motor yacht, motoryacht yacht classico, navetta olandese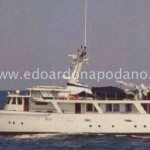 By admin on 17 settembre 2018
TIPO/TYPE: Full displacement
ANNO/YEAR 1963
CANTIERE/BUILDER: Camper & Nicholson
LUNG.f.t./LOA: mt 28.88
B.MAX: mt 5,18
PESCAGGIO/DRAF: mt 2,80
DISPLACEMENT: Ton. 125
STAZZA/GRT: Ton 108
MAT.SCAFO/HULL MATERIAL: Acciaio / Steel
ACCOMODATION / INTERNI
Sun deck:
· No. 2 single bed cabins
Main deck:
· Double bed cabin + bathroom
· Day head
· Saloon
Lower deck
· No. 4 cabins (no. 3 double bed + bathroom and no. 1 single bed)
· [...]
Posted in epoca - classic, proposte: motore - suggestions: powerboats | Tagged camper & Nicholson, displacement yacht, navetta, navetta dislocante, steel boat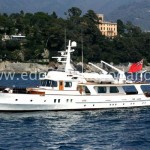 By admin on 19 settembre 2017
Anno di costruzione: 1954
Lunghezza:   mt 29,00
Larghezza:   mt 5,90
Pescaggio:   mt 2,40
Motori:    (2007)  MAN 2 x 450hp
Ore moto (2017):   1600
Velocità crociera:    12 nodi
Classe:    R.I.NA 100-A1
Carburante:    lt 25.000
Bandiera:    Inglese
Questa navetta è un esempio di storia dello yachting. Poppa a canoa sospesa, progettata interamente da Laurent Giles e costruita dal cantiere Abeking & Rasmussen. Il disegno dello scafo è [...]
Posted in epoca - classic, proposte: motore - suggestions: powerboats | Tagged ABEKING & RASMUSSEN MOTORYACHT, dislocante, laurent giles, luxury classic yachr, navetta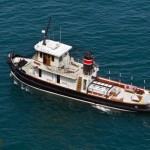 By edoardo on 24 agosto 2017
1. GENERAL DETAILS
- Cantiere Costruttore/builder Amblasserdam ( Olanda)
- Classificazione/Register RINA Persone Max. 35 pax
- Lunghezza/LOA 23,50 m
- Larghezza/Beam 5,34 m
- Pescaggio/Draft max 2,90 m
- Stazza Lorda/GRT 73,02 ton
- Velocità Massima/Max speed 10 nodi/knots
- Materiale Scafo acciaio / Sovrastrutture acciaio – alluminio/Steel – alloy
- Motore Principale/Main engine Badouin diesel 316 KW (480 CV/HP), 1800 giri/min [...]
Posted in epoca - classic, proposte: motore - suggestions: powerboats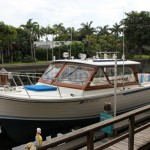 By edoardo on 23 agosto 2017
model: Chris Craft Lyman 26 hardtop
year: 1989
builder: Chris Craft
material: grp
loa: 7.92 mt
beam: 2.75 mt
draft: 1.40 mt
engine: 1 X Crusader 220 hp
Gross tonnage 4.88 tons
Posted in moderne - modern, proposte: motore - suggestions: powerboats, RIVA e tender | Tagged Chris Craft Lyman, Chris Craft Lyman 26, Chris Craft Lyman 26 hardtop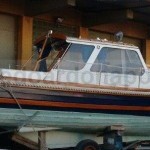 By edoardo on 18 aprile 2017
Tutta l'operazione vi costa quanto un Mussini, ma volete mettere la differenza? Fate contenta la vostra consorte; le donne della vostra vita vi ringrazieranno di non essere sballottate nella risacca delle rade alla moda, prive di vera protezione dalla canicola, in balia delle onde di orridi motoscafari. Rendetevi protagonisti di un'opera culturale, marinara, mecenatesca. Meglio il [...]
Posted in epoca - classic, motore - powerboats, proposte: motore - suggestions: powerboats, Sangermani, second hand | Tagged 10.56 mt SANGERMANI PILOTINA 1969, duchessa, duchessa sangermani, pilot boat, pilot vessel, Sangermani, sangermani duchessa, sangermani motor yacht, sangermani motore, sangermani pilotina, sangermani power yacht