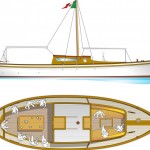 By admin on 5 gennaio 2021
Please ask for more info – hull buiding almost finished.
Informazioni su richiesta – scafo quasi ultimato
Il primo esemplare è stato già costruito. E' possibile ordinarne uno ex-novo e personalizzarlo come si desidera per esempio anche con il tipo di motorizzazione. Si consiglia il 100 hp diesel Nanni.
Posted in NEW - BARCHE NUOVE, one-off, RIVA e tender | Tagged aprea gozzo, gozzo, gozzo a vela, gozzo aprea, gozzo cabinato, gozzo pontato, gozzo sorrentino, gozzo vela latina, lancia, nino aprea gozzo, vela latina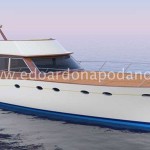 By admin on 21 marzo 2018
If you are looking for a new boat but actually want something traditional and wooden then look no further
Building is going on and it's possible to cutomize and modify engines, optionals, layout and so on.
Please ask for more info.
Some pics below renderings
Hull material: Wood Strip Planking
Length (LOA): 19,00 m
Beam (Bmax): 5,40 m
Draft: 1,50 m
Displacement: 30000 [...]
Posted in moderne - modern, one-off | Tagged classic yacht, lobster, spirit of tradition, wooden boat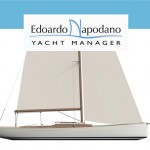 By admin on 11 aprile 2017
If you are looking for a new boat but actually want something traditional and wooden then look no further
Posted in moderne - modern, NEW - BARCHE NUOVE, one-off | Tagged daysailer, daysailer sangermani, daysailer wally, new boat, sangermani 999, sangermani daysailer, spirit of tradition, wally daysailer, wally nano