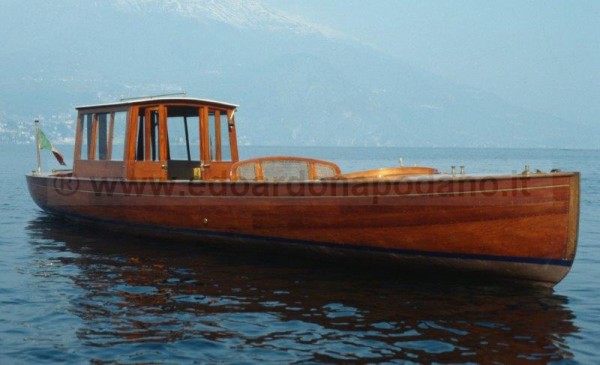 Noble barge
Loa 10 m/33 ft
Beam 1.60 m/5.2 ft
1905 – Taroni shipyard – Unique Piece. This boat is a masterpiece of italian craftsmanship.
It's a mahogany "vaporino", from the prestigious "Taroni" shipyard, on the Lake Como.
It's the one and only example ever produced.
Built in 1905, is still completely original. No restoring has been done in over 110 years.
The power unit is a 12 HP, 4 cylinders gas engine by VOLPI – MILANO, with manual crank start.
It is completely original and perfectly working. No parts have been replaced.
Originally, the boat was commissioned by the family of marquis Trotti, who owned a magnificent
villa right on the lakeshore of Bellagio*. The boat has been sailing in fresh waters eversince.
Conditions are perfect and the boat is ready to sail.
scaricate la scheda qui:
spec vaporino
Taroni Werft – Einzelstück. Dieses Boot ist ein Meisterwerk der italienischen Handwerkskunst. Es ist ein Mahagoni "Vaporino" aus der renommierten Taroni Werft am Comer See. Es ist die einzige Probe, die jemals gebaut wurde.
Erbaut im Jahr 1905, alles ist immer noch im Originalzustand. In über 110 Jahren wurde keine Restaurierung durchgeführt.
Das Triebwerk ist ein 12 PS, 4 Zylinder Gasmotor von VOLPI – MILANO, mit manuellem Kurbelstart.
Es ist im Originalzustand und perfekt funktionierend. Keine Teile wurden ersetzt.
Ursprünglich wurde das Boot von der Familie des Marquis Trotti in Auftrag gegeben, die eine prächtige Villa direkt am Ufer des Bellagiosees besaß.
Das Boot segelt seit jeher in Süßwasser. Das Boot ist in einwandfreiem Zustand und bereit zu segeln.