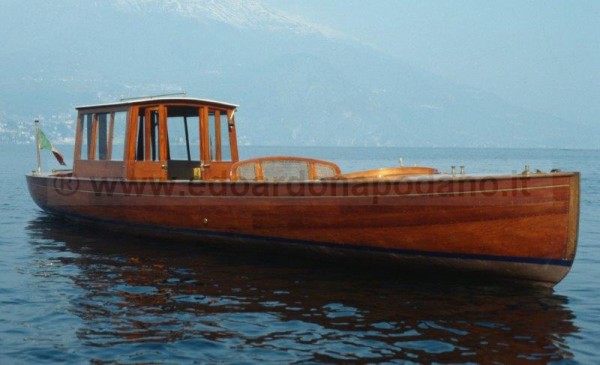 Noble barge
Loa 10 m/33 ft
Beam 1.60 m/5.2 ft
1905 – Taroni shipyard – Unique Piece. This boat is a masterpiece of italian craftsmanship.
It's a mahogany "vaporino", from the prestigious "Taroni" shipyard, on the Lake Como.
It's the one and only example ever produced.
Built in 1905, is still completely original. No restoring has been done in over 110 years.
The power unit is a 12 HP, 4 cylinders gas engine by VOLPI – MILANO, with manual crank start.
It is completely original and perfectly working. No parts have been replaced.
Originally, the boat was commissioned by the family of marquis Trotti, who owned a magnificent
villa right on the lakeshore of Bellagio. The boat has been sailing in fresh waters eversince.
Conditions are perfect and the boat is ready to sail.
scaricate la scheda qui:
spec vaporino