Some new hull pics below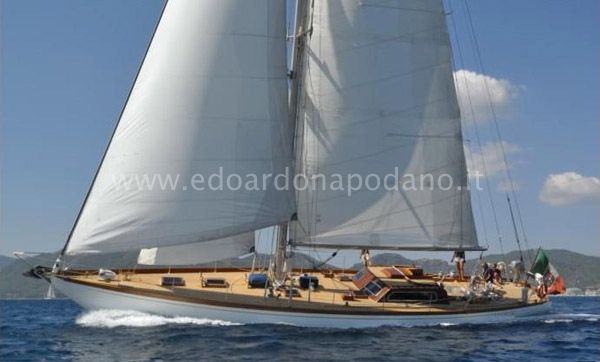 Great example of Anselmi Boretti "modern/classic". A real innovative, light, luxury, comfortable yacht: if You think she was designed and built in 1969, You can't believe it. Flush deck and bright interior with a lot of space, she can be easily compared to much newer kind of yacht. All this, but with taste and flavour of a classic wooden boat. This sloop is a proof -only one of the proofs of a numerous and various yachts designer career- of what a kind of genious was Franco Anselmi Boretti. Hull and teak deck in perfect shape, alluminium mast, Reckman rigged, fully equipped, this sloop is strong and structurally ok.
Please ask for more info and pics, available after a new inspection.
Shipyard: Mingo
Designer: Franco Anselmi Boretti
Year: 1969 Refit 1999 – 2008
Loa: 21m
B. max: 5.2m
Draft: 1.9m
Engine: IVECO AIFO 200hp (1998)
Consumption 20l/h
Cabins: 4 + 1
Berth: 8 + 2
wc:  3 + 1
Hull material: mahogany, Iroko, teak. Structure in copper and stainless steel.
Mast: Aluminium by Sorimast, two spreaders. Boom: Aluminiu
Furling System: Reckmann Rigging: Stainless Steel 14 mm ø, new.
Winches: Lewmar, Barient, Antal.
Halyards and sheets in spectra, new or recent.
Windlass: S&C 2000W, new engine.
Anchors: CQR 55 kg, 125 mt chain 12 mm ø, CQR 40 kg, 20 mt chain 12 mm ø
Generator: 10 Kw, 240 W
Batteries: 15 for a total about 1000 Ah.
Batteries charger and Inverter
Electronic/Navigation Items: ICOM, Raymarine, KODEN
Autopilot: NECO
Watermaker: Tecnicomar 150 l/h
Air Cond: Frigomar
Galley: Alpes Inox
Refrigerators: 2 fridges, one deep freezer
5 FOTO DI ARCHIVIO DA TESI DI LAUREA IN DESIGN NAVALE E NAUTICO DI CUI FUI CORRELATORE
I was thesis supervisor about Anselmi Boretti and from that work here 5 old pictures under sail.