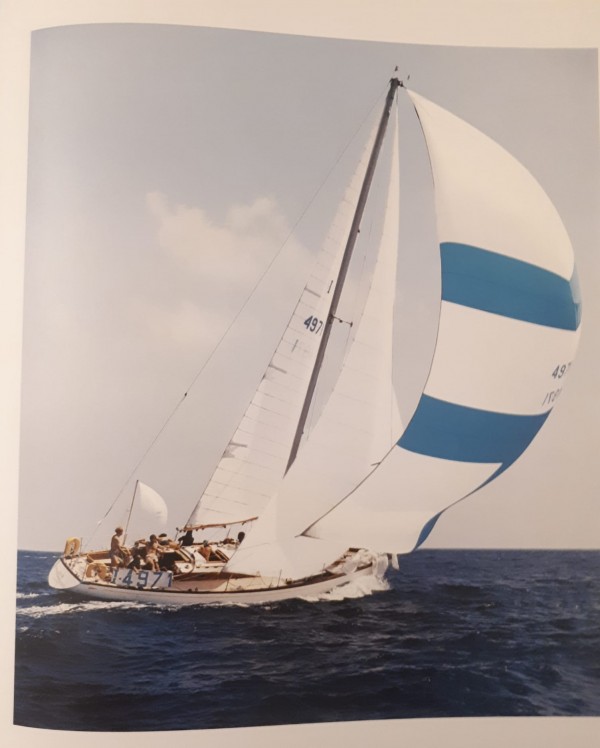 History of the Whitbread: Download PDF>>
Very interesting and rare old pictures during Whitbread at the bottom of this article
Possibility to be protected by Italian Ministry "Beni cuturali" for future benefits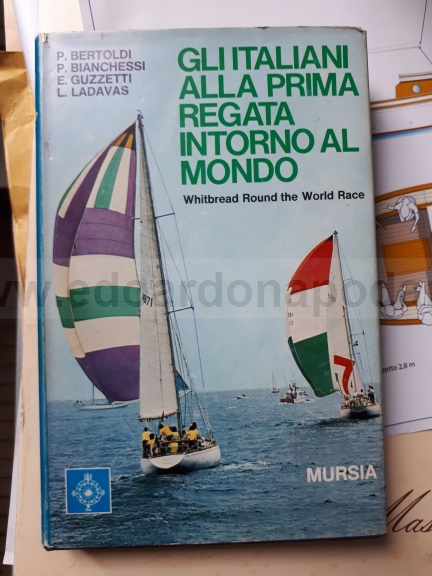 GUIA 45 ' sloop
year 1970
buider Craglietto
designer S&S
loa 45 '-13.9 mt
lwl 33′- 10.2 mt
beam 12′- 3.9 mt
keel fin and skeg
draft 33′- 2.2 mt
displ. about 12 t
engine: Nissan 65 hp marinized 2002
construction: mahogany planking on laminated oak frames.
History: Guia participated in the first Whitbread Round the World Race in 1973 finishing 5th individually – and the Italians winning as a team. Trophies from this, the Cape Town to Rio race of 1971 and others are kept in and belong to the boat.
Access below can be either from the cockpit to the owner's cabin aft or through the coach
roof hatch directly into the saloon. The beams, deck head, bulkheads and furniture are of
varnished mahogany, the cabin sole of varnished holly and teak, overall combining
elegance, ambience, and warmth with practicality. The elegant mottled coral upholstery
items, renewed a year ago are also protected by removable green covers.
From the cockpit via a sliding hatch and steps down you enter in the owner's cabin with a
single berth each side and an en suite head compartment with folding basin, Blake WC
and shower forward to starboard. A hanging locker is forward to port and stowage is in
drawers below and spaces outboard the berths. Two opening ports provide good
ventilation.
Moving forward past the main head (also with Blake WC and accessible to both cabins)
you access the main cabin with a chart table and navigation area to port and a large galley
starboard. The galley has a double sink, 2 burner hob with oven and a huge and very well
insulated stainless steel fridge. Access to this area can also be through the main sliding
hatch over the coach roof and companionway steps down.
Access below can be either from the cockpit to the owner's cabin aft or through the coachroof hatch directly into the saloon. The beams, deck head, bulkheads and furniture are ofvarnished mahogany, the cabin sole of varnished holly and teak, overall combiningelegance, ambience, and warmth with practicality. The elegant mottled coral upholsteryitems, renewed a year ago are also protected by removable green covers. From the cockpit via a sliding hatch and steps down you enter in the owner's cabin with asingle berth each side and an en suite head compartment with folding basin, Blake WCand shower forward to starboard. A hanging locker is forward to port and stowage is indrawers below and spaces outboard the berths. Two opening ports provide goodventilation.
Moving forward past the main head (also with Blake WC and accessible to both cabins)you access the main cabin with a chart table and navigation area to port and a large galleystarboard. The galley has a double sink, 2 burner hob with oven and a huge and very wellinsulated stainless steel fridge. Access to this area can also be through the main slidinghatch over the coach roof and companionway steps down.
Forward and a further step down is the saloon with settee berths either side and another
single berth above and outboard to port. To starboard are two lockers with a book shelf
between. Amidships is a mahogany drop leaf dining table.
The forepeak had two lifting pipe cot berths with stowage below and outboard. The
starboard pipe cot, while available has been removed and lockers and drawers built in.
The foc'sle contains the very substantial chain locker. Ventilation is by hatches and
opening ports by the galley, chart table and heads.
- New diesel Webasto air heating recently installed.
- 100 litre fridge (engine driven compressor)
- Mattresses and blankets; two for each berth
"La storia di quest'imbarcazione, su progetto Sparkman & Stephens, sarà sempre legata a quella dell'imprenditore milanese dell'acciaio Giorgio Falck, appassionato velista scomparso nel 2004, che ne commissionò la costruzione.
La barca ha partecipato alla prima Whitbread del 1973, il giro del mondo in regata, classificandosi al quinto posto di flotta e prima delle italiane.
Poi, affidata allo skipper Luciano Ladavas, ha compiuto un altro giro del mondo durato cinque anni.
Un successivo proprietario l'ha tenuta fino al 1999, momento in cui è stata acquistata da uno spagnolo.
Guia, gemella di Mabelle, è costruita in fasciame di mogano sovrapposto su ordinate di quercia bianca." ( NR)
ANNO 1970
CANTIERE MARIANO CRAGLIETTO (TRIESTE – ITALY)
PROGETTO SPARKMAN & STEPHENS (NY – USA)
LUNGHEZZA F.T. 13,89 m
LUNG. AL GALLEGGIAMENTO 10 m
LARGHEZZA 3,90 m
PESCAGGIO 2,10 m
DISLOCAMENTO 12 tons
SUPERFICIE VELICA 90 m²
https://www.youtube.com/watch?v=2YKf4TRv5jE