New sailing pics and palmares I received from previous owner in Feb 21, below.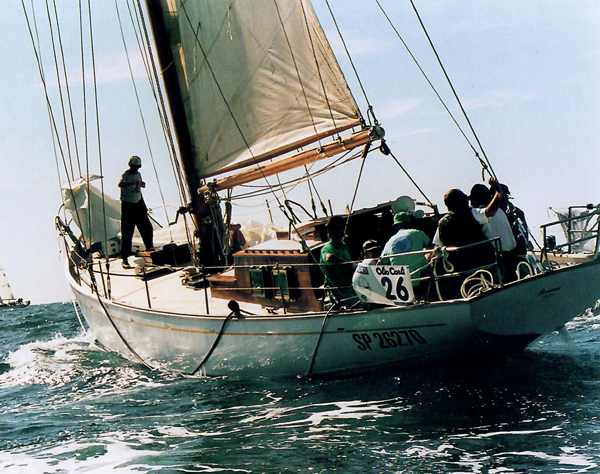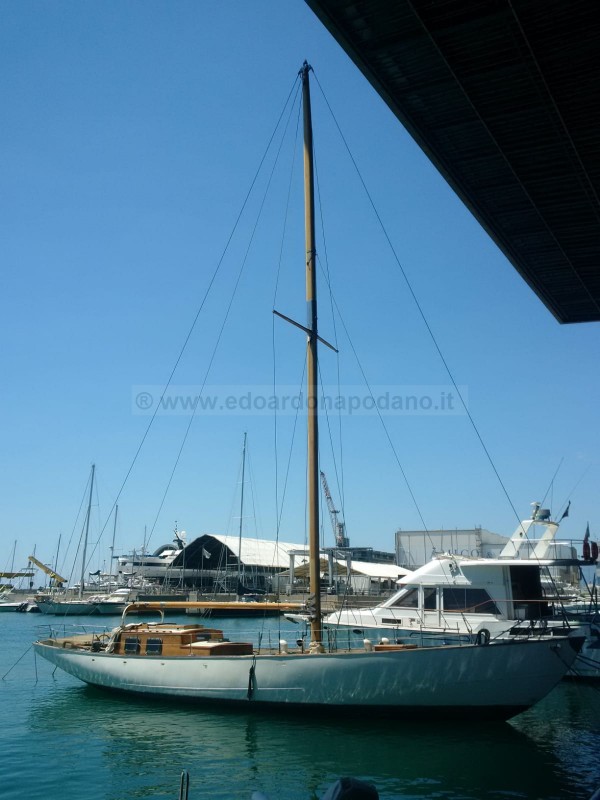 Plenty of updated pics available – some of them already published here below.
Wyvern: wonderfull historical steel sloop designed by F. Murdoch and completed by C&N – great pedigree, steel hull thikness in perfect condition. as teak deck, superstructure, engine and so on. Details of restoration to complete. The boat is recovered in hangar ready to be inspected.
William and Frank Murdoch designed and built Wyvern in their shipyard in Antwerp and later the boat was completed in Camper & Nicholson in Gosport. Frank had been the general manager and rigger of Thomas Sopwith's J Class Endevour, America's Cup challenger in 1934. He also invented a 2 speed whinch, always for Endeavour. He worked definitely for C&N from IIWW and he brought there Wyvern to be completed in 1947. In the same year she wins North Sea Race and she also defeats (most of all in light breeze that is worst condition for steel hull) famous L. Giles Maid of Malham. Wyvern wins other races and North Sea Race also in 1948. This is the reason Murdoch decides to build other 2 sisterships Wyvern II and Bruma. In 1950 William Murdoch sails to Med and Yachting World mentions the boat as one of the most important of that period.
Name: Wyvern
Type of Boat: Bermudan Sloop
Designer: Frank Murdoch
Year Built: 1945
Hull by: Van de Woorde, Anversa, Belgium
Interior and finishing by: Camper & Nicholsons, Gosport, UK 1947
LOA: 16.5 m
Beam: 3.9 m
Draft: 2.3 m
Sail: 155 m2
Engine: Volvo P MD30A – 87 kW
YACHTING WORLD 1950 COMMENTS
"Though built as a comfortable family cruiser Wyvern II [later almost identical sistership] combines these qualities most successfully with seaworthiness and speed." "Like a number of other heavy displacement yachts with a deep, easy midship section, Wyvern II has proven outstandingly fast to windward in a light to moderate breeze, but she is a fast ship in almost any conditions."
The editor of "Yachting World" in 1950 wrote "……from every point of view she is a most successful design for she demonstrates the possibilities of steel construction in producing a yacht that is a most comfortable cruiser and at the same time sufficiently fast and weatherly to win offshore races in good company"
ITALIAN PALMARES
1993 vela Durand de La Penne 1°
" vela Mariperman 2°
1993 vela Regata d'altura Portovenere 1°
1994 vela Durand de La Penne 1°
" vela Imperia 1°
1994 vela Mariperman 1°
1995 vela Durand de La Penne 1°
" vela Mariperman 2°
1996 vela Durand de La Penne 1°
" vela Trofeo della Spezia 1°
" vela Mariperman 1°
" vela Regata Velamare 2°
" vela Imperia 3°