Bertram 31 Fly funzionante e galleggiante da refittare e personalizzare a piacere.
Motori Cummins diesel provati ago 2019.
Telaio alluminio finestrature in buono stato.
Potenza: 205 CV x 2
Diesel
Cummins V 504 M
For sea trial: https://www.facebook.com/526602834053003/videos/485794925582592/
B 31 Fly with running engines and floating, ready to be refitted and customized.
Diesel Cummins sea-trial Aug 2019
Allluminium frames of glasses in good shape.
- No plate
- Vat paid
- Engines certificate
From Bertram 31 historian
"Nothing in power boating has equaled the continued world wide popularity of the Bertram 31. One of several Bertram 31 models, more than 1,000 Flybridge Cruisers were built over the years. While they have been out of production for many years, used models are continually in demand regardless of age or condition.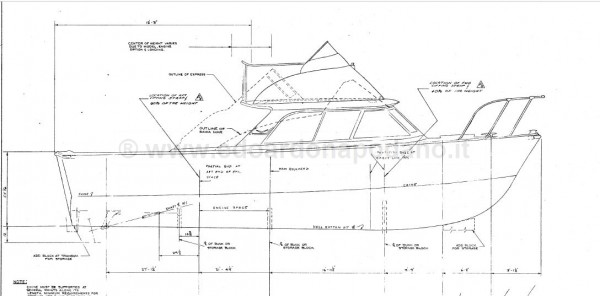 Unquestionably, the chief attribute of any Bertram 31 is her legendary deep-V bull design. In addition to her superb sea keeping characteristics (and a well-known wet ride), the 31 FBC has a large fishing cockpit and comfortable (if Spartan) cabin accommodations with berths for four.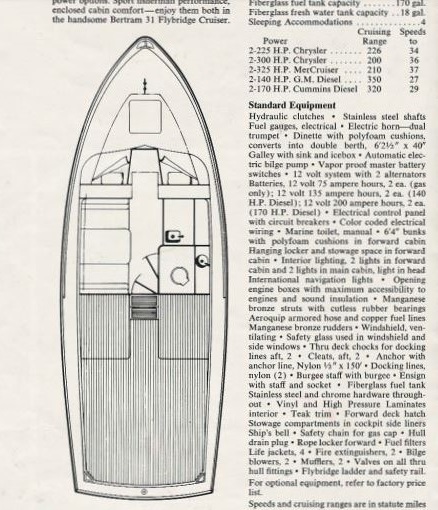 Regular production ended in 1983, but 23 "Silver Anniversary" models were built in 1986 with oak interiors and custom hull stripping. Twin 330-hp Mercruiser gas engines powered the majority of the Bertram 31s with several GM, Cat, or Cummins diesels offered as options. The Mercs would cruise around 23 knots with a top speed of 32+ knots. Earlier diesel-powered Bertram 31s had less speed and horsepower but greatly improved range. (The fuel capacity increased in 1972 from 170 to 222 gallons.)
Over 500 changes were made to the Bertram 31 over the years; mostly cosmetic or hardware related. Note that the 31 Sportfish is visually the same boat without the cabin bulkhead and the Sedan is the same as the Sportfish without the flybridge.
Other models include the Express Cruiser, the Bahia Mar, & the Convertible or "Moppie".
Current trends are toward modern diesel conversions with the 4 and 6 cylinder inline Cummins and Yanmar being the most popular power plants. Fully restored or customized, diesel B31s can be valued as high as $175,000 & several have sold for over $200,000.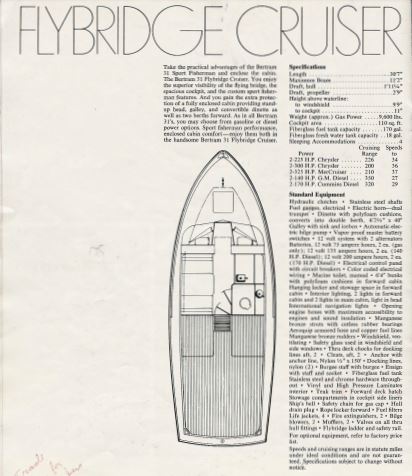 General specifications for the Bertram 31 are:
L.O.A. …………..30′ 7″
Beam ……………11′ 2″
Draft……………… 3′ 1″
Fuel………………..175 gal until 1968.
In 1968 fuel was increased to 222 gal
Power was originally gasoline and many Bertram 31's are still powered this way. Several diesel engines are adaptable and in use, including: Yanmar, Cummins, Detroit, Man, and Perkins…"