This Benello Freya -Arc en Ciel- was first owned by my wife's granfather Vittorio Piozzo di Rosignano, under the burgee of Yacht Club Italiano: so it's with a great emotion I propose this S&S. Many old pictures available.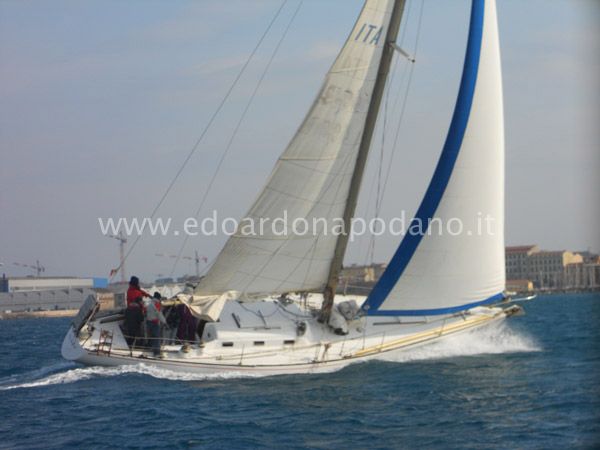 TIPO/TYPE: FREYA 45
ANNO/YEAR 1971
DESIGNER: Sparkman& Stephens LTD, NY
CANTIERE: Benello (Livorno)
LUNG.f.t./LOA: mt 13,50
LARG./BEAM M.: mt 3,47
PESC./DRAFT: mt 2,20
BANDIERA/FLAG: Italiana
DISLOCAMENTO: 12 Ton
MAT.SCAFO/HULL MATERIAL: Sandwich di airex con trattamento antiosmosi
-            2 cabine matrimoniali a poppa con due oblò cadauna;
-            1 cabina a due cuccette singole a prua con scaletta e osteriggio;
-            4 cuccette singole in dinette;
-            2 bagni con doccia (WC Jabsco sostituiti anno 2016);
-            Cambusa (cucina 3 fuochi con forno, grande frigo a pozzetto con motore elettrico
12V raffreddato con piastra esterna a scafo)
MOTORE / MACHINERY
-            Perkins mod 4-108 / 50 cv revisionato interamente nel 2007, 1500 ore di moto, pompa di
iniezione e iniettori revisione 2019, pompa alimentazione gasolio 2018.
-            Invertitore idraulico;
-            Linea d'asse;
-            Elica Max Prop a 3 pale;
-            N. 2 serbatoi in vetroresina con ispezione, 120 l circa;
STRUMENTI/INSTRUMENTS
-            tridata e vento raymarine ST60 -            cartografico Geonav 6 -            VHF Hurricane A2E
ACCESSORI/ACCESSORIES
-            Tendalino anno 2019; -            passerella alluminio pieghevole; -            scaletta per il bagno a mezza nave, pieghevole in legno;
-            randa semi steccata veleria Diddi (Follonica – Grosseto) mq 45, 2 mani di terzaroli;
-            genoa Nord Sail 135%, 60 mq, su rulla fiocco, scotte diam 16 mm prestirato;
-            fiocco Lee Sail 95%, 40 mq, su rulla fiocco, scotte diam 10 mm dyneema (2019);
-            trinchetta Lee Sail, 25 mq, con garrocci su strallo di trinchetta;
-            tormentina, mq 7, con garrocci su strallo di trinchetta;
-            spinnaker mq 160; con doppio circuito in dyneema;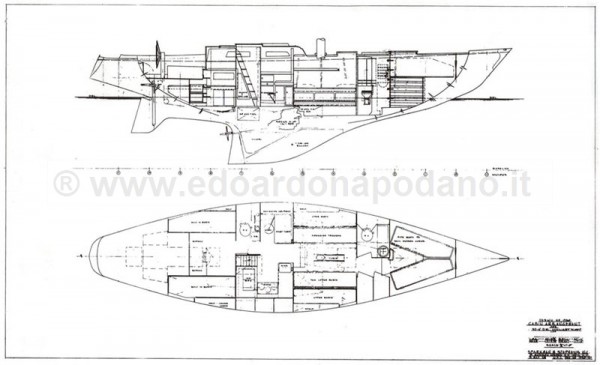 attrezzatura di coperta
-            4 winch in pozzetto;
-            2 winch in coperta all'albero (drizza randa e fiocco);
-            2 winch all'albero (drizza trinchetta e spi);
-            1 winch al boma (terzaroli);