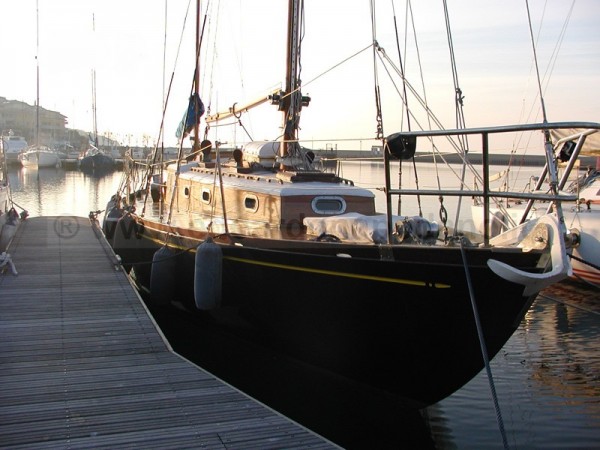 This yawl has had seven previous owners -among which count Guicciardini- in the Mediterranean; the last twenty-five years in her current ownership. She has undergone significant refits in 1994 and 2008-9.
Now she has to be partially restored: below some updated pics of details.
The 2 wooden masts are in perfect condition and also hull was replanked.

I have a very convenient quotation for the whole job.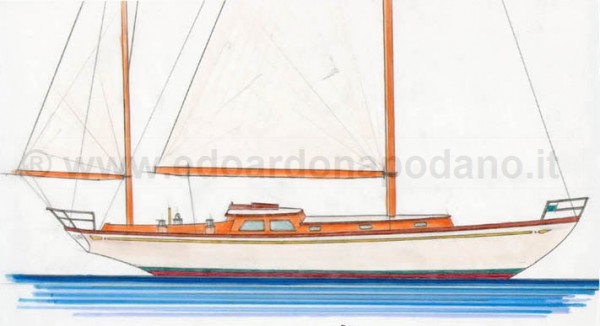 YAWL Year 1959
Designer: Sparkman & Stephens No 1380
Builder: Cantiere Mostes, Genova Pra
LOA incl spars: 41 ft / 12.5 m
LWL 27 ft 10 in / 8.5 m
Beam 10 ft 9 in / 3.28 m
Draft 5 ft 8 in / 1.73 m
Construction carvel mahogany on oak frames
Engine Perkins 4.108. 1760 cc. (1982)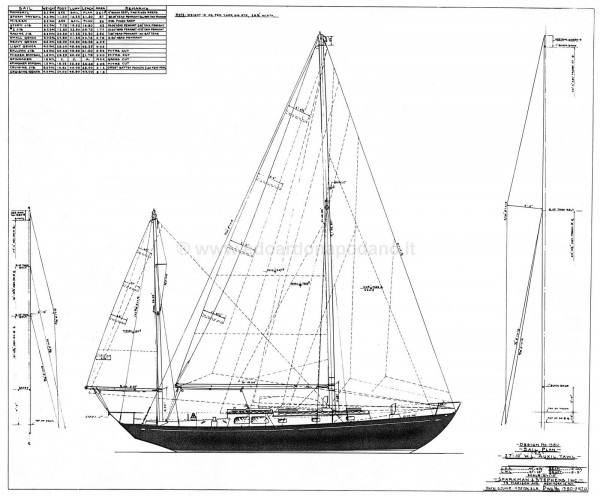 CONSTRUCTION
- 28 mm, say 1 inch carvel mahogany planking on oak frames, bronze fastened
- Epoxy sheathed with 4 mm double mahogany veneers 2008 – 09
- Lead ballast
ACCOMMODATION
- Accommodation for up to 7 people in 2 cabins
- 3 extendable and 2 fixed berths in main saloon
- Galley
- Wallas Marin Safeflame, paraffin separate combustion cooker
- Samsung 12 V microwave
- Fridge
- Depurator drinking water: system
- Auto & pedal pump cold and hot fresh and salt water
- Head & shower forward
- Cold & hot water, auto and pedal pumps
- Double berth in forepeak
- Webasto Air Top 3500 heating while sailing
- Attwood heater connected to engine for heating while motoring
- Sardine cast iron marine wooden stove for heating while at anchor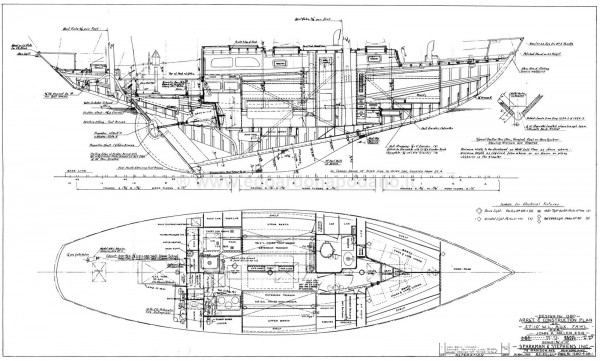 RIG, SPARS AND SAILS
Yawl rigged
- Wooden spars, booms
- Aluminium whisker poles
- Boom crutch
- Standing rigging with fixed backstay, inner removable forestay
- 2 x Genoas
- 2 x Jibs
- Mainsail
- Mizzen
- Mizzen staysail
- Spinnaker
- Lazy jacks
DECK LAYOUT EQUIPMENT AND GROUND TACKLE
- 7 x Bronze winches
- 2 x Double speed aluminium winches
- 4 x Bronze Dorade vents
- Orvea 12 V electric windlass
- Bruce 20 Kg bow anchor 75 m x 3/8th chain
- CQR 13 Kg stern anchor 15m x 3/8th chain
- Fishermans 38 Kg emergency anchor
- 13 m Swisstech Mastlift
- Swisstech self-adjusting anchor buoy
- Splash screens
- Spray dodgers
- Bimini
- Main awning
- Winter cover,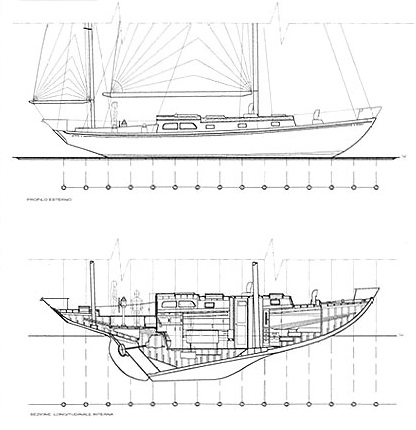 MECHANICAL ELECTRICAL AND TANKAGE
- Perkins 4.108. 1760 cc installed 1982
- Hurth Reduction gear
- Bronze 3 bladed fixed propeller
- Wheel chain and quadrant steering system
- 2 x Alternators for engine and domestic circuits
- 1 x 108 V Vetus engine battery
- 3 x domestic 108 V Vetus batteries
- Link 2000 monitoring panel
- Newmar 220 12 / 30 battery charger
- Shore power
- Alpenglow lighting
- 2 x Fuel tanks total 280 litres
- 2 x Stainless steel total 300 litres fresh water tanks
- Attwood 28 litre hot water tank
NAVIGATION COMMUNICATIONS AND ELECTRONICS
- Navtex Pro (NASA)
- Sailor RT144C VHF and Jefferson 5000 VHF Radios
- Autohelm 5000 autopilot
- Sestrel steering compass
- Navionics Elite plotter
- Magellan GPS
- Digital Yacht AIS wireless receiver
- Echo pilot professional transducer Sonar
- Royal 3 sailing instruments
- Stereo system with 2 speakers in main cabin and 2 in cockpit
SAFETY
- 1 x Manual bilge pump
- 2 x Auto bilge pumps
- 1 x Emergency bilge pump
- McMurdo 406 MHz EPIRB
- Eurovinil 6 pax life raft
- 6 x Spinlock 150 N auto life jackets
- 2 x Life rings
REFIT NOTES
Documented refits in 1994 and 2008-9 when the hull was epoxy sheathed with 4 mm double mahogany veneers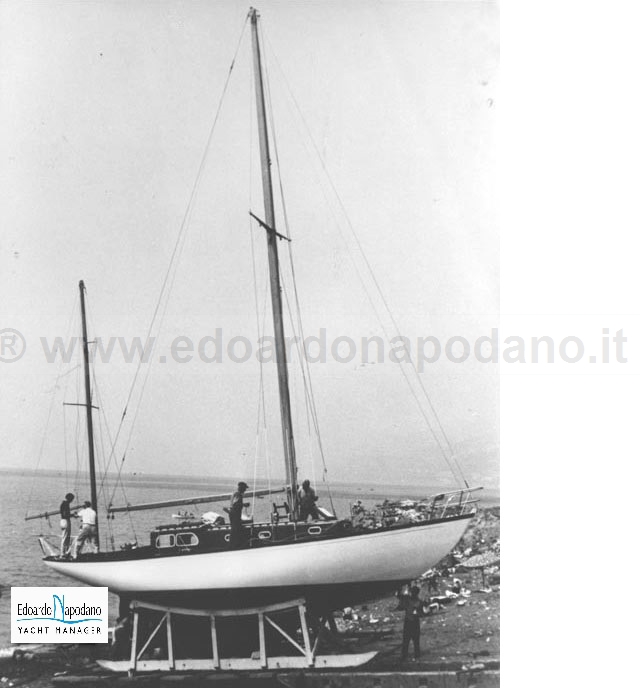 STORIA
E' stata costruita da uno dei piu' rigorosi (nel seguire le caratteristiche progettuali) e lussuosi cantieri italiani: Mostes. Varata nel 1959, fu costruita in fasciame di mogano (28 millimetri) su ordinate di robinia e bagli in douglas. La tuga e la chiglia sono in rovere, gli alberi cavi in spruce. Tutte le chiodagini e i perni della chiglia in bronzo silicio.
Strapping (le fasce che corrono lungo lo scafo, e che servono a distribuire lo sforzo scaricato sulle lande dall'alberatura, in maniera uniforme verso la chiglia) in everdur, materiale che, particolarmente in Italia, era di difficilissima reperibilità.
Durante la costruzione della barca, ricorda lucidamente Luigi Mostes, era assai frequente la visita di uno dei fratelli Stephens, che non mancavano infatti, quando si trovavano in Italia, un passaggio per ispezionare ognuna delle barche su disegno del loro studio, in quel momento in costruzione.
Disegno numero 1380 del 1959, e' un tipico cruiser racer Sparkman & Stephens di quella fine decennio . Si tratta di una evoluzione di Anitra (la co-sorella e' China Clipper CFR http://www.edoardonapodano.it/?p=3755 in questa sezione S&S del sito) che segue la linea progettuale iniziata con Finisterre ( http://www.edoardonapodano.it/?p=7977 ). Baglio massimo importante, superficie bagnata ridotta, grande maneggevolezza. Gli interni sono estremamente confortevoli. All'accesso sotto coperta a dritta si trova la cucina, il lavello e la ghiacciaia sulla sinistra. Un ampio quadrato, con tavolo ad ali abbattibili, confortevole per ospitare sei persone, precede il breve corridoio dove si trovano, sulla sinistra il locale toilette e sulla dritta due spaziosi armadietti. Classica cabina di prua.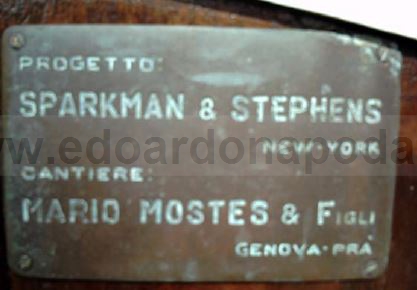 Progetto S&S, n. 1380
Cantiere Mostes, Genova – Pr�
Materiale di costruzione Legno tradizionale
Lunghezza dello scafo Lh 12,44 m.
Lunghezza al galleggiamento 8,47 m.
Larghezza massima 3,38 m.
Immersione 2,04 m.
Dislocamento dichiarato a pieno carico 11,53 t.
Timone Integrato nella carena
Superficie velica dichiarata 99 mq.
Armo velico Yawl
Alberi 2
Materiale Legno
Sartiame Spiroidale 1 x 19 inox
Pontatura Completa con tuga lunga
Pozzetti 1, a poppa
Motore Perkins 4- 108
Potenza massima 40 CV
Trasmissione Linea d'asse diretta
Riduttore invertitore Hurth
Giunto elastico Tipo Vetus
Asse Inox
Premibaderne Cuffia Volvo
Telecomandi Meccanici
Casse combustibile inox
Timoneria A ruota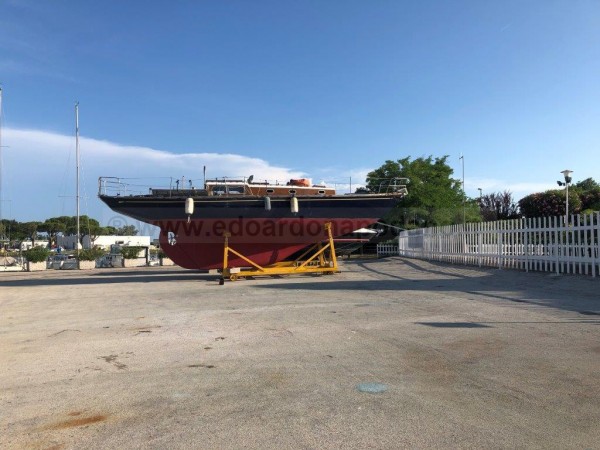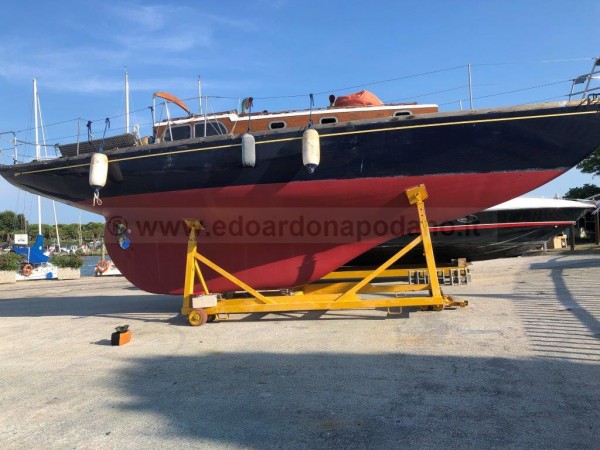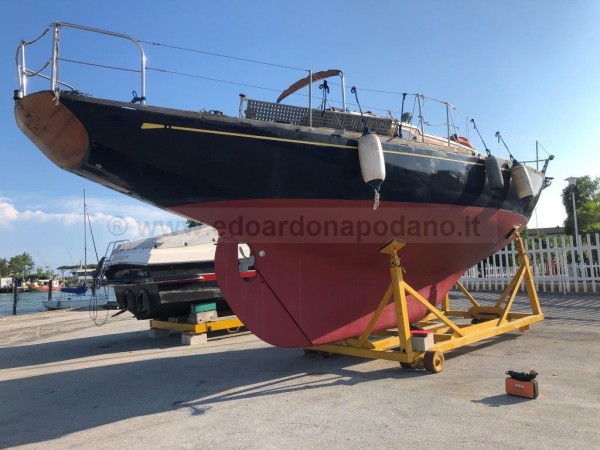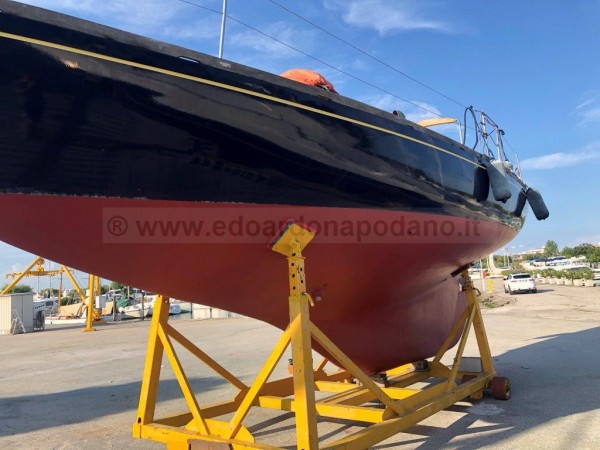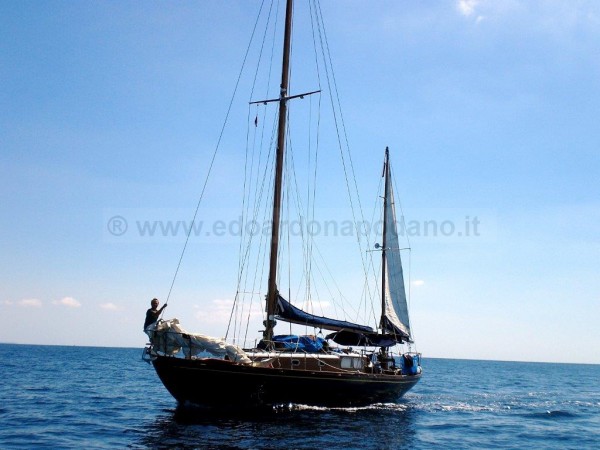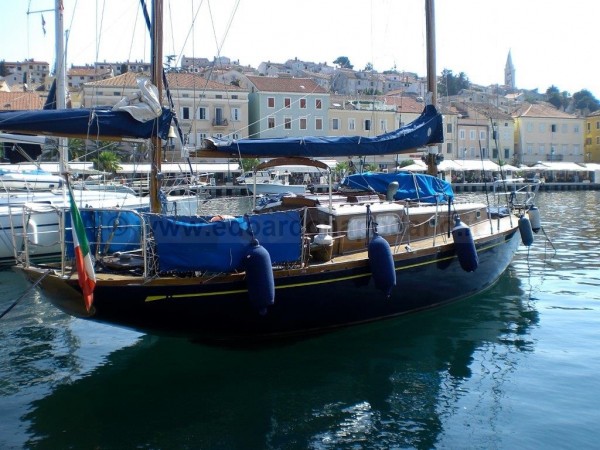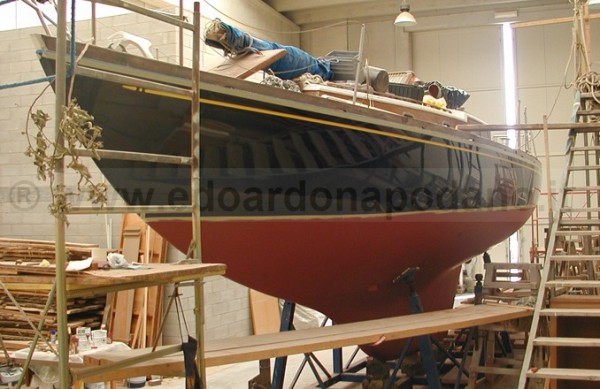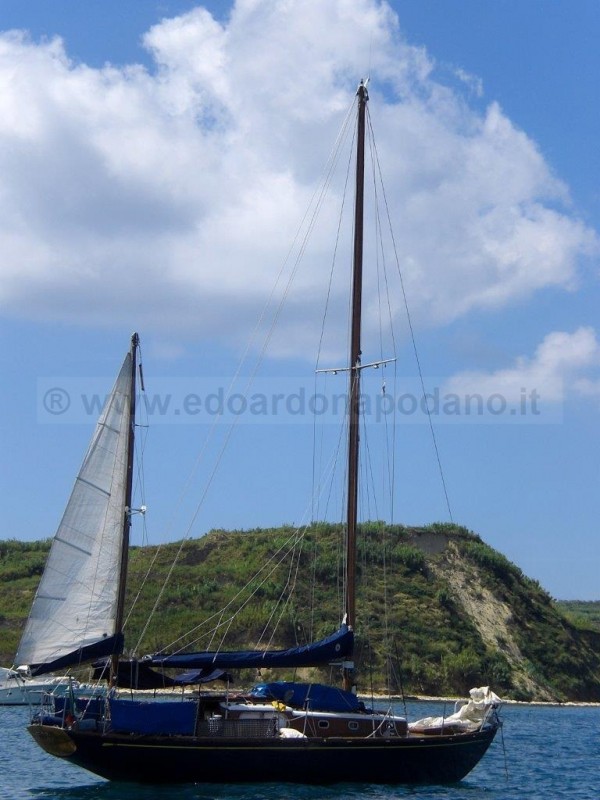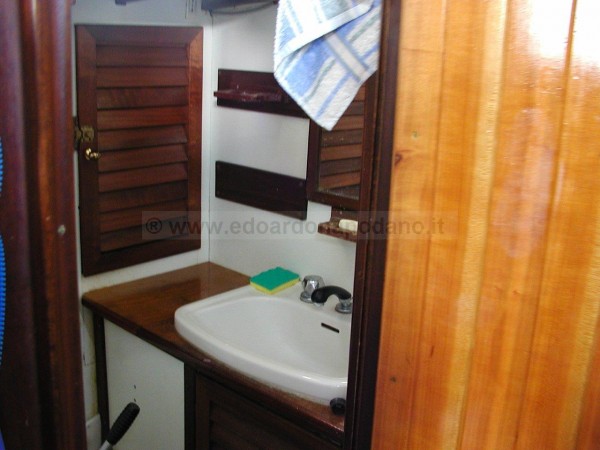 UPDATED DETAILS