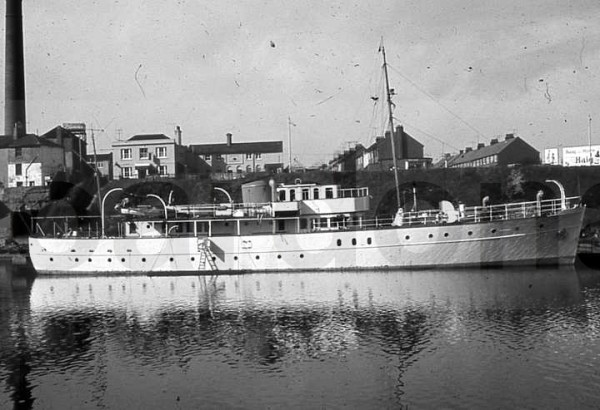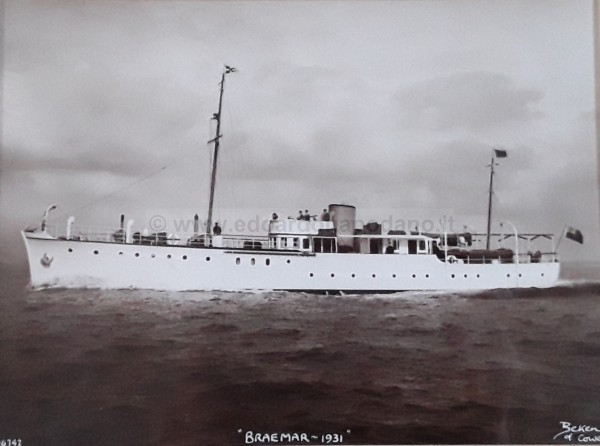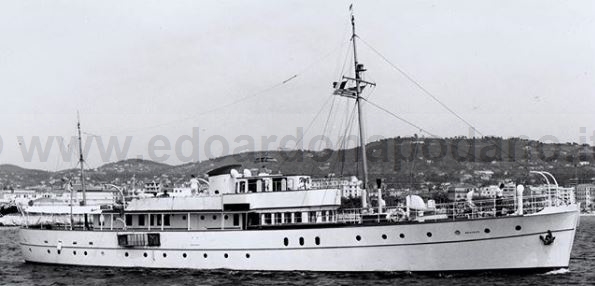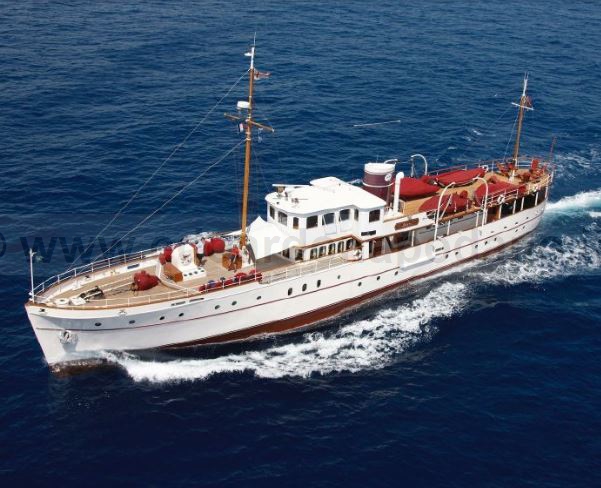 MELTEMI
Ex: Amphora, Meltemi MM, Braemar, Clorinde, and Braemer
Cantiere: J.Samuel White & Co Ltd, Cowes, England
Anno di costruzione: 1931
Lunghezza fuoritutto: 37,5 metri
Lunghezza galleggiamento: 36 metri
Baglio: 5,7 metri
Pescaggio: 2,4 metri
Dislocamento: 240 tonnellate
Motori: 2 x Caterpillar 480 HP
Velocità: 12 nodi crociera, 14 nodi massima
Many other pics available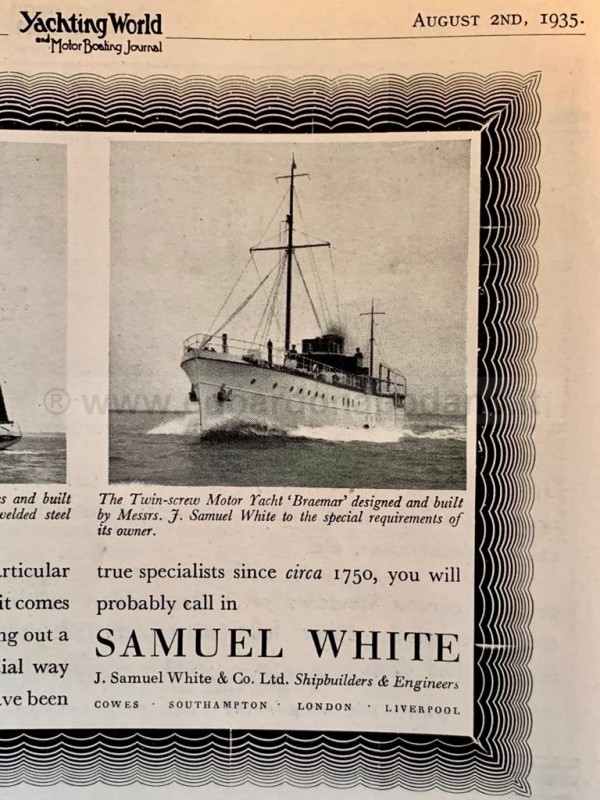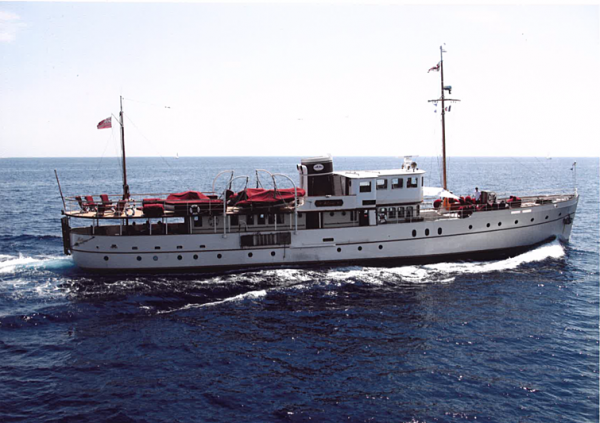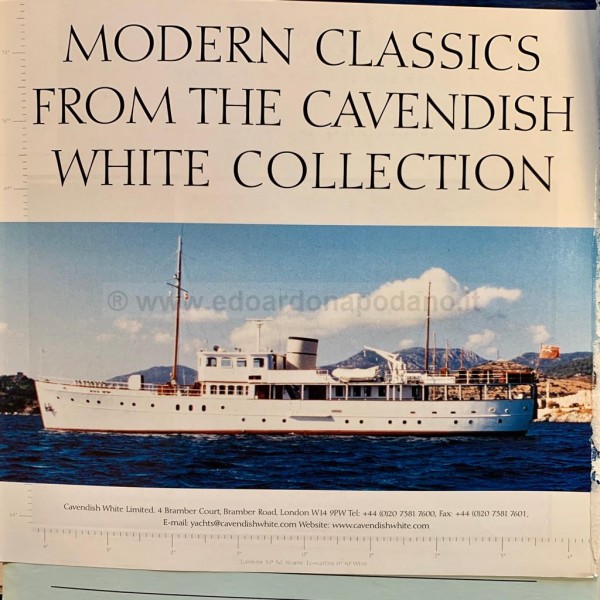 Shipyard: J. Samuel White & Co Ltd, Cowes, England
Year of construction: 1931
LOA: 37.5 metres
Waterline length: 36 metres
Beam: 5.7 metres
Draft: 2.4 metres
Displacement: 240 tons
Engines: 2 x Caterpillar 480 HP
Speed: 12 knots cruising, 14 knots maximum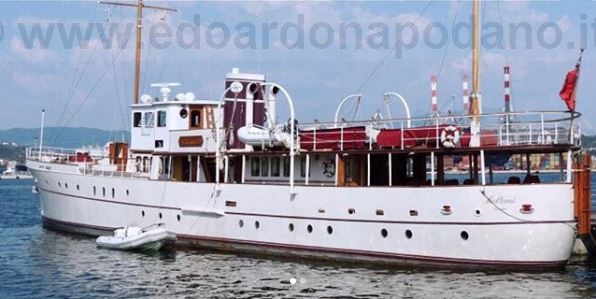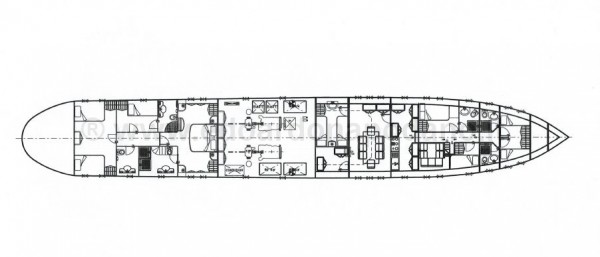 EN (Nautica courtesy)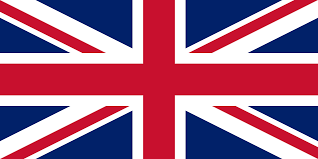 Built in 1931 by J. Samuel White & Co., an important shipyard in Cowes, for a certain captain George Paxton, at the time it bore the name Braemar. Braemar is a Scottish village where the United Kingdom's best sea captains are said to have been born, a sort of Celtic Camogli, and this was Paxton's third Braemar. Though it came into being as a yacht in the middle of the Edwardian age – and therefore with a light flavour of snobbism – the very clear ideas of the first owner with regard to putting to sea resulted in a vessel that to all effects was a small ship. A 37 metre hull in 8 millimetre naval steel, a fairly straight prow, five watertight bulkheads, two ballast tanks for trim, an enviable keel design and, initially, two 255 HP MAN that sent her along at 13 knots, one more than the 12 stipulated in the building contract. Equipment was the most advanced offered by the technology of the day: electric pumps, hydraulically operated rudder, a Barr & Stroud rangefinder and electric lighting, power being supplied by an 18 Kw generator unit with a Gardner diesel and an 11Kw Maudsley dynamo. The battery unit had 95 cells of 225 AH each and probably generated the 110V direct current for lighting and services, typical of pre-war English boats.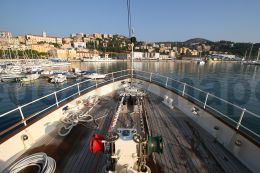 Originally it did not have the high covered deck which was added subsequently. This can be clearly seen in a 1931 photo by Beken as you go down to the owner's quarters. After being launched the vessel sailed all over and it seems to have made a circumnavigation as well as several Atlantic crossings before the tragic years of the Second World War when it was requisitioned by the Royal Navy and transformed first into a patrol vessel and then into a hospital ship. For the Braemar, which in the meantime had become Clorinda II, it was a dark period: she was sunk and then salvaged, restored and modified. There followed further voyages, including ocean crossings and another round the world trip between 1981 and 1983, taking in the Americas, Australia, Hawaii, Fiji, Sri Lanka and Suez, until she was finally used as a luxury charter yacht, now with the name of Meltemi.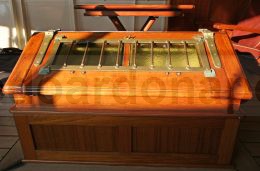 With the current owner the yacht has begun a second childhood: the layout and furnishings are as close as possible to the original, the solid panelling in mahogany and oak, the flooring in spruce, the furniture, the capitonné leather of the sofas and armchairs and the heavy brocade of the curtains. The layout of the spaces, restored to the original plan, is classic and rational: the main deck, completely protected by a bulwark and the projection of the flying bridge above, includes an external dinette, a dining area when required, and the aft wheelhouse which, through direct drive on the shaft, also functions as emergency steering. The technical area forward houses the hydraulic winch for the two anchors and the entrance to the crew's quarters. The access door from the aft deck to the interior is emblematic of Meltemi's building criteria: double, watertight and with further protection below should she ship a sea. "…Meltemi had to sail all seas in all climates," the captain explained. Still on the main deck, the so called music room, originally the smoking room, welcomes the visitor into a slightly strange and démodé atmosphere: so it is no surprise that in the 1980's a certain Reginald Kenneth Dwight, also known as Elton John, found it irreplaceable for creating his music on its upright piano. A short corridor leads to the main saloon, with sofas and damasks, which overlooks the dining salon below. Few stairs: here too time has stopped and not even the precious clock-astrolabe can convince us otherwise. There are model ships, paintings of ships on the walls and six privileged places around the oval table.
Forward there are five double cabins for the crew (bosun, engineer, two sailors, hostess, cook) and the skipper, plus the crew mess and a professional galley equipped for all requirements. There is even a wine cellar, but the great coal- burning Kooksjoie and the refrigerated cells of 1931 have been replaced with more practical items. The night zone is aft of the engine room, centrally positioned to optimise trim and balance: two double guest cabins with twin beds and private bathroom, where the furnishings are practically the original ones in Austrian oak, and the owner's cabin which stretches the full beam and has a large bathroom. Here the meticulous work of philological recovery of the spaces is yet to be completed. The wheelhouse on the flying bridge is equipped with all modern navigational instruments, but on the chart table there is a sextant and its panoply of charts, compasses and setsquares. The engine commands are communicated to the engineer by the engine telegraph, the most archetypal marine mechanism. With the 1980's upgrade the two 326 HP DAF engines were replaced by two tough 480 HP Caterpillars that produce a cruising speed of 12 knots and a maximum of 14. The range is considerable: 6.000 miles with 32.000 litres of diesel. Externally the upper deck has a vast sundeck and also houses the yacht's various tenders: an inflatable service dinghy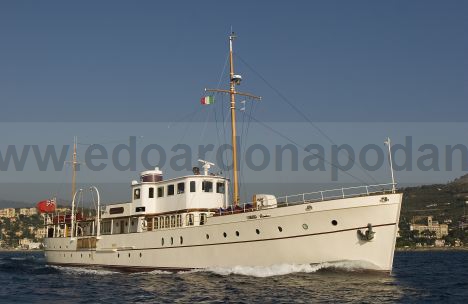 ITA
Costruito nel 1931 da J.Samuel White & Co., un importante cantiere di Cowes, per un certo comandante George Paxton, portava all'epoca il nome di Braemar; Braemar è un posto sulla West Coast scozzese che si dice dia i natali ai migliori comandanti dell'United Kingdom, una specie di Camogli celtica insomma e Paxton era al suo terzo Braemar. Anche se nata come yacht e in piena era edoardiana, quindi un leggero flavour di snobismo non le è estraneo, le idee molto chiare del primo armatore in fatto di navigazione, diedero il via alla costruzione di quella che è a tutti gli effetti una piccola nave.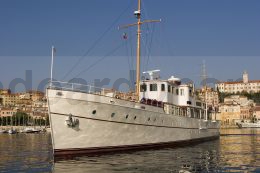 Scafo lungo 37 metri in acciaio navale da 8 mm, ritto di prua piuttosto straight, cinque paratie stagne, due casse di zavorra per l'assetto, un invidiabile disegno di carena e inizialmente due MAN da 255 HP che spingevano lo yacht a 13 nodi, uno in più dei 12 previsti dal contratto di costruzione. La dotazione era quanto di più avanzato concedesse la tecnologia dell'epoca: pompe elettriche, timoneria idraulica, un telemetro Barr & Stroud, luci elettriche; al fabbisogno di energia provvedeva un gruppo elettrogeno da 18 KW con motore Gardner diesel e una dinamo Maudsley da 11 KW. Il parco batterie prevedeva 95 celle da 225 Ah ciascuna; probabilmente generavano la 110 V continua per luci e servizi, tipica delle barche inglesi d'anteguerra. Alla nascita non aveva invece il ponte alto coperto, questo è stato aggiunto in seguito: si vede bene in un ritratto fotografico di Beken del 1931 esposto nella discesa al quartiere armatoriale.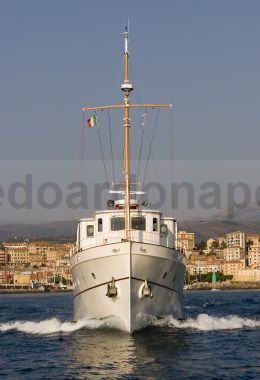 Dopo il varo la barca ha navigato un pò per tutti i mari, pare facendo anche un periplo del globo oltre a numerose traversate tra vecchio e nuovo continente fino ai tragici anni della Seconda Guerra, quando l'entrata in forze alla Royal Navy la trasforma in pattugliatore in un primo tempo, poi in nave ospedale. Per il Braemar, diventato nel frattempo Clorinda II, è il periodo più oscuro; affondata e poi ripescata, conosce il primo restauro, le prime modifiche. E poi ancora viaggi, anche oltreoceano, e un altro giro del mondo tra il 1981 e il 1983, toccando Americhe, Australia, Hawaii, Fiji, Sri Lanka, Suez fino all'utilizzo intensivo negli annì90 come lussuoso charter-yacht, ora con il nome di Meltemi.
Con l'attuale armatore lo yacht conosce una seconda giovinezza: layout e arredi vengono riportati quanto possibile alle condizioni del varo: la massiccia pannellatura originale in mogano e quercia, i pavimenti in abete, i mobili, la pelle capitonné dei sofa e delle poltrone, i pesanti broccati dei tendaggi. La disposizione degli ambienti, riportata ai piani originali, è classica e razionale: il main deck, completamente protetto da un'impavesata e dall'aggetto del sovrastante flying, ospita una dinette esterna, zona pranzo quando è il caso, e la timoneria di poppa che tramite una presa diretta sull'asse ha anche funzioni di barra d'emergenza; la prua è riservata all'area tecnica con il verricello idraulico per le due ancore e l'ingresso ai quartieri dell'equipaggio. La porta di accesso dall'aft deck agli interni è emblematica dei criteri costruttivi di Meltemi: doppia, stagna e con una ulteriore protezione in basso per le ondate sul ponte; "…Meltemi doveva navigare in tutti i mari, con ogni clima…" mi spiega il comandante. Rimanendo sul ponte principale, la cosiddetta music room, originariamente smoke room, accoglie il visitatore in un'atmosfera un pò strana e demodè: nulla da stupirsi quindi che negli anni '80 tale Reginald Kenneth Dwight, detto anche Elton John, la trovasse insostituibile per creare le sue musiche su un pianoforte a parete;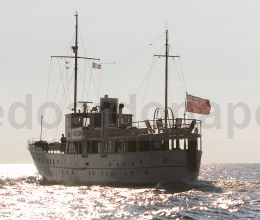 un breve corridoio porta al salone principale, divani e damaschi, che si affaccia sulla sottostante dining salon. Pochi scalini: il tempo anche qui si è fermato e neppure il prezioso orologio- astrolabio ci convince del contrario; modelli navali, ship- portrait alle pareti, sei privilegiati posti attorno al tavolo ovale. Verso prua cinque doppie cabine ospitano l'equipaggio (nostromo, direttore di macchina, due marinai, hostess, cuoca) e il comandante, oltre alla crew mess e a una cucina professionale pronta ad ogni esigenza, anche se la grande Kooksjoie a carbone e le celle frigo del '31 sono state sostituite da qualcosa di più pratico; non manca neppure la cantina per i vini . A poppavia della sala macchine, posizionata centralmente per ottimizzare assetto e equilibrio, si trova la zona notte: due guest cabin doppie con letti separati e bagno privato dove gli arredi sono praticamente quelli d'origine in quercia austriaca, e una suite armatoriale a tutto baglio con grande bagno: qui il certosino lavoro di recupero filologico degli ambienti è ancora in via di finitura.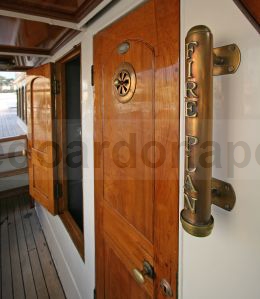 Sul flying bridge, nel locale comando vi è una moderna dotazione di strumenti per navigare adeguatamente, anche se non manca sul carteggio un sestante e la sua panoplia di carte, compassi, squadrette, e una timoneria con i comandi motori; non che da qui si azionino direttamente: è il telegrafo di macchina, il più archetipico meccanismo della marineria, azionato dal comandante, a comunicare l'ordine al direttore di macchina; ora si è passati, dopo l'upgrade degli anni '80 con due DAF da 326 HP, a due robusti Caterpillar da 480 HP che consentono 12 nodi di crociera e 14 di massima; l'autonomia è rilevante: 32.000 litri di gasolio per 6000 miglia di navigazione. In esterno il ponte alto ospita un vasto sun deck e i vari tender della barca.