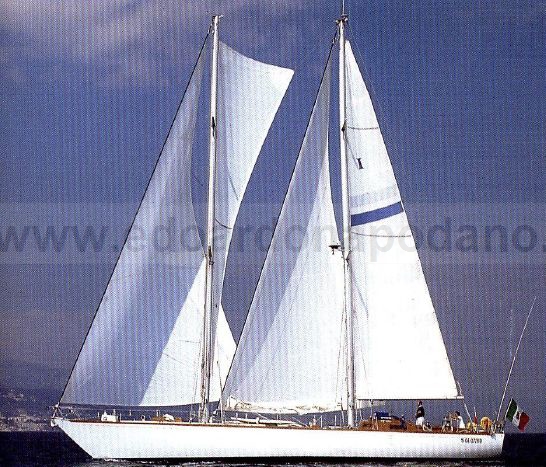 Many pics and some video of Aug 2021 sea-trial available; for ex:
VIDEO BELOW
sangermani terza santa maria – sea trial Aug 2021
Great bargain – MOTIVATED SELLER – Terza Santa Maria was launched in 1973, designed by Cesare Sangermani. Her original name was Noa Noa V; construction number 184. Staysail Schooner. The boat is built of mahogany wraps glued screwed to oak frames with bronze screws. Teak deck and superstructures, cherry interior. Excellent paints, finishes, details, wood, fabrics and upholstery. Hull repainted in 2014, teak new rubber in 2018, rigging replaced in 2015, new mainsail forestay and sail 2018 – Engine replaced in 2007 – Atlantic crossing in 2004 – Refitting in 2012 with replacement of planks, doubling of 8 frames. Only two owners.
Schooner 1973
Builder Sangermani
Designer Sangermani
Loa 20,58 m
Lwl 17,20 m
Beam 5,16 m
Draft 2,50 m
Displ 32,926 t
Ballast 13,8 t.
SA 196 sm
Engine cat 225 hp
INTERNI
1 Matrimoniale francese, 2 Doppia letti a castello, 1 Cabina equipaggio, 2 Toilette con doccia, 1 Dinette, 1 Cucina, 1 Toilette Equipaggio, 1 Toilette senza bidet
DESCRIZIONE
Altoparlanti, Aria condizionata, Barometro, Binocolo, Boiler, Carte nautiche, Cassetta di pronto soccorso, Congelatore, Cucina, Cuscineria Pozzetto, Digitale Terrestre, Dissalatore (200 lt\h), Dotazioni di sicurezza oltre 50 miglia, Forno, 2 Frigorifero interno, Impianto TV, Inverter, Lavatrice, Piastra in vetroceramica, Prese interne 12v, Prese interne 220v, Riscaldamento, Stereo, Telo copriconsolle, Tendalino, TV, 4 WC marino elettrico, Zattera di salvataggio, Randa, Genoa, Attrezzatura Gennaker, Attrezzatura Spi, Avvolgi Fiocco, Carrelli a sfera randa, Strallo di Trinchetta, Tenditore strallo di poppa, Trasto randa, Vang
STRUMENTAZIONE
Allarme sentina, Ancora, Angolo barra, Antenna radar, Autoclave, Autogonfiabile, Batterie, Bussola, Camminamenti laterali in teak, Caricabatterie, Contamiglia, Doccia esterna, Ecoscandaglio, Elica di prua – bow thruster, GPS, Passerella, Pilota automatico, Pompa di sentina automatica, Pompa di sentina elettrica, Pozzetto Teak, Presa 220V banchina, Radar, Raddrizzatore, Radio VHF, Salpa Ancore Elettrico, Sartiame in tondino, Scala reale, Scaletta da bagno, Stazione vento, Tavolo pozzetto, Tender (Novamarine2 3.60 e motore Yamaha 20hp), Tromba, Winch, Winch Elettrico, Winch tonneggio di prua.