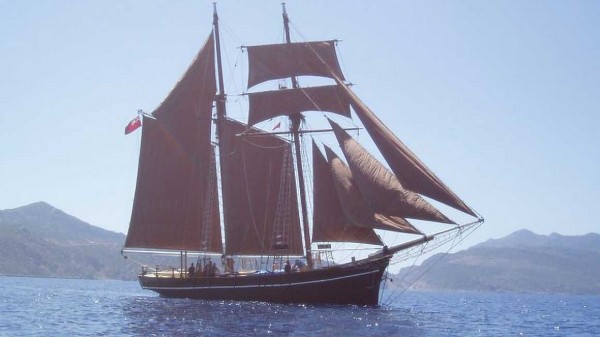 SPECIFICATION
Length:28 metres
Beam:5.2 metres
Draft:2.4 metres
Builder:Nyborg, Denmark – year 1900
Classification:MCA Commercial
Construction:Wood
Engines:MAN 240hp
Fuel consumption:20 litres per hour
Tender:
Avon RIB 50hp
Watermaker:No
ACCOMMODATION
Cabins:6
Bathrooms:6
Air Conditioning:Yes
Rhea of Nyborg is a baltic trader of particularly fine lines. Where-ever she goes she attracts the attention and admiration of all who see her.
Rhea was built as a topsail schooner (without an engine) and she was used to carry stone and rock in harsh conditions, hence she was built to be an exceptionally strong sailing vessel handled by a small crew. Nowadays she has accommodation for up to 12 guests that combines tradition with modern comforts. She still sails beautifully and she has the advantage of an engine. She is admirably suited to charter work, day trips, corporate entertainment, team building, film work, etc..
HISTORY
Since 1989, Rhea of Nyborg has been in the hands of the present owners and she has sailed to many countries; Turkey, Greece, Albania, Montenegro, Croatia, Italy, Monte Carlo, France, Spain, Malta, Gibralter, Tunisia and Algeria. She has been used for assorted charter work including a honeymoon, family and group charters, corporate staff assesments, and the filming of a Dutch celebrity reality TV series. Rhea has the space and stability for the very young and the elderly, and she inspires the imagination and enthusiam new sailors and old "salts".
Rhea of Nyborg's history started in the late 1800's where was built at the Floytrup, Schmidt & Bilbrer yard in Nyborg, Denmark, and she was named "Kjerstine".
18th June 1900″Kjerstine" was registered at Nyborg as a topsail schooner. She was registered as a fishing vessel but we have been led to believe that she was carrying stone from quarries to where there were sea defence works. All information was recorded in great detail, there was no engine. Registered tonnage 48.48 Net tonnage 25.50. Owner G.S. Kirk and Skipper M.B. Hou
26th May 1903″Kjerstine" was conveyed to Harboore New Diving Company, Fjaltring Diving Company and Fjaltring Trans Diving Company
10th January 1917″Kjerstine was conveyed to the "Shipping Co. Diver – Schooner Kjerstine" Lemvig, and this was registered on 11th March, 1918. The company was liquidated on 13th February, 1922
28th September 1922″Kjerstine" was renamed "Anne"
2nd October 1922A 19 horsepower 4 stroke engine was recorded by the State Ship Inspectorate
26th January 1923″Anne" was renamed "Martha".
Other registered changes under the name of "Martha" were recorded on 3rd March, 1923, 29th June, 1929 (registered at Rodvig, Denmark), 6th June, 1929, 22nd May, 1939 (changed from "Schooner" to "Motorship"), 15th May 1942, 22nd May, 1957 and 21st January, 1959
12th January 1967″Martha" was sold to Brandinspekter Svend Eld
8th February 1967″Martha" was registered at Arhus, Denmark. Registered tonnage still 48.48 and Net tonnage 25.50. Two cylinder 64 horsepower motor.
8th August 1974″Martha" was sold by Brandinspekteur Svend Eld (Denmark) to Kapitan Hans-Peter von Holdt (of Hamburg, Germany). By now she only had one "quarter deck" mast.
28th August 1975"Juliane von Holdt" Rheawas registered at Kiel, Germany (named after Hans-Peter von Holdt's daughter). She had one engine (no details), a new jib boom and a new mast. Her tonnage was registered as 117.90 and net 41.62. The owners were Kapitan Hans-Peter von Holdt and Bernhard Gumb
1976-1983 "Juliane von Holdt" was used as touristic attraction at Hornum on the island of Sylt in the North Sea. She ran short "duty free" trips and trips to the seal reservations.
At some stage, her rig was changed to the more fashionable ketch rig.
Late '80's"Rhea"was chartering in Turkish waters under Bernhard Gumb
1989/1990″Rhea" purchased and recommissioned by the present owners. She was registered in the British Small Shis Registry
1997 "Rhea" was returned to her original topsail schooner rig.
2014 "Rhea" was registered as "Rhea of Nyborg" in the British Part One Registry, commercially coded for 12 guests and 3 crew
CONSTRUCTION
Carvel hull with twin skins of oak planking on oak frames. Added steel ballast keel. Pine and oak deck and superstructure on oak deckbeams, with hardwood coamings, hatches, skylights and deck furniture.
ACCOMMODATION AND DOMESTIC EQUIPMENT
Below decks Rhea is attractively panelled throughout in pine with teak fittings and original oak beams. There is a spacious saloon with a lounging area, beautiful teak dining table and a navigation area. The galley has a freezer (presently used for rapid cooling of drinks), refrigerator, domestic 4 ring gas cooker with oven and grill, double sinks with draining areas, microwave, etc..
The four guest cabins each have air conditioning plus en-suite toilet, shower and handbasin:
The aft cabin has a double and single bunk
The focs'le has a double and 'pullman' single
The forward port and starboard cabins can be either doubles (sliding the bunk out for extra width) or twins using fold down pullman singles.
The amidship port and starboard crew cabins each have en-suite toilet, shower and handbasin, and a double berth plus a 'pullman' single. Sometimes the port crew cabin is used as an additional guest cabin.
The toilets are electric in the aft, forward port, and foc'sle cabins, and manual in the forward starboard, port crew, and starboard crew cabins.
RIG, SPARS, SAILS, AND CANVAS
The main mast, fore mast, and both top masts are painted steel, protected by epoxy priming coats with gloss finish. The bowsprit, jib-boom, forward boom, fore gaff, main gaff , upper top yard, lower top yard, and lower yard are painted pine. The main boom is painted aluminium. The forestay sail boom is painted galvanised steel.
The traditional standing rigging is galvanised mild steel wire rope, tensioned with bottlescrews. The bobstays and bowsprit shrouds are of 12mm galvanised chain, tensioned by bottlescrews
The sails are all made of heavy duty brown "Duradon":
Flying jib
Outer jib
Inner jib
Forestay sail
Fore gaff
Upper top square sail
Lower top square sail
Course or lower square sail
Topstay sail
Main gaff
Main top
Two awnings are made of champagne coloured sunbrella type material. One is over the cockpit area and one between the fore and main masts.
DECK LAYOUT, EQUIPMENT AND GROUND TACKLE
There are 3 companionways below decks, one for the aft cabin, one for the former hold area, and one for the forward cabins. There are tradtional skylights on the fore deck, main coachroof, and aft coachroof, some hinged aluminium + perspex hatches, and some round portlights. Decks are pine, sheathed with fibreglass, and painted with non slip paint.
The large areas of decks have space for 9 full length deck cushions which are covered with brown Sunbrella type material.
Between the main mast and the aft deck is a deck dining and seating area. The table and lockers are teak, and cushions are covered in brown Sunbrella type material.
There are oak rope lockers to port and starboard of the fore mast.
Rhea has a gang plank for mounting from the stern and a pine swimming ladder that hinges down over the starboard side
Steering is by a large oak wheel and a robust chain system.
Rhea has 1 fisherman anchors with 140 m chain, 1 fisherman anchor with 10m of chain plus long anchor warp, 1 danforth anchor, 1 ships anchor, 100m spare chain, and assorted mooring ropes and lines.
The windlass is hydraulic with a brass gypsy to starboard and a rope drum to port.
There are assorted warps, lines, fenders, blocks and tackles, a boat hook, etc..
Rhea has water sport equipment including mask, snorkels, and fins, fishing tackle, water skis, wakeboards, windsurers, a canoe, a stand up paddle board, etc..
1 Avon 4.20 m RIB in good condition with a 2017 Evinrude E-Tec 50 hp outboard
Mechanical, Electrical and Tankage
MAN 240 hp 6 cylinder marinised water cooled diesel engine
Uygar heavy duty hydraulinc gearbox
4 bladed propeller
9 kW Superstar 220 volt AC generator
1 pair of 180 aH 12 volt batteries for 24 volt engine starting and pumps
1 pair of 180 aH 12 volt batteries for a back up 24 volt system
1 pair of 180 aH 12 volt batteries for 12 volt domestic sustems
1 AC battery charger
1 Cruiseair air conditioning unit for the forward guest cabins
1 Cruiseair air conditioning unit for the aft guest cabin
1 original cast iron hand bilge pump
1 fan belt driven bilge pump
1 220 volt bilge pump
2 24 volt bilge pumps with automatic switches
1 pressure pump for hot and cold water
1 hot water tank with 220 volt immersion heater
1 220 volt holding tank pump
1 painted steel diesel tank with reserve section. 1,300 litres
1 small painted galvanised steel seawater inlet tank for the toilets
6 rigid plastic fresh water tanks totalling 2,400 litres
2 rigid plastic holding tanks totalling 800 litres
Navigation, Communications and Electronics
1 VHF radio with DSC
2 Mobile VHFradios
1 GPS
1 Depth sounder
1 original steering compass
1 hand bearing compass
2 pairs of binoculars (one with incorporated bearing compass)
1 Smartphone annemometer
1 Radio with CD player
1 TV
Brass clock
Brass barometer
1 DVD player
Assorted charts and pilot books
Brass bell
Ship's horn
Safety
All safety equipment to comply with British coding requirements including
1 12 man liferaft
1 6 man liferaft
15 Adult PFDs and 3 Child PFDs
15 harnesses
Life rings, lights, etc..
Assorted dry powder fire extinguishers
CO2 engine room fire extinguisher
RESTORATION
Rhea was recommissioned in 1989/90 and has been regularly maintained since then. This has included significant work on different areas of the vessel as and when required. (i.e. in the winter of 2016/17 the foredeck and cross beams were renewed from the stem to aft of the sampson post, plus other works )