Marvellous and comfortable power classic yacht compared to similar vinatge boats.
These Cantieri di Pisa Pgasus details are 50 years old but some of them seem designed today, most of all "whited" wood finishing. That was obtained with "cementite" and looks like the very updated "whitened oak".
I inspected the boat and with few efforts she can get back to usual mint condition: anyway ready to go.
Year: 1972 Model: PEGASUS 23 Builder: CANTIERI DI PISA Type: Motor Yacht Flybridge Loa: 70′ 5″ (21.45m) Beam: 17′ 11″ (5.45m) Min Draft: 4′ 8″ (1.4m) Tonnage: 50 Speed: 20/25 Knots Flag: ITA Staterooms: 4 Fuel Cap: 5000 L (1320.86 Gal) Water Cap: 2000 L (528.34 Gal) Engines: 2x, MTU, 12V 183 TE, 1000 HP Hull Material: Mahogany Tonnage: 50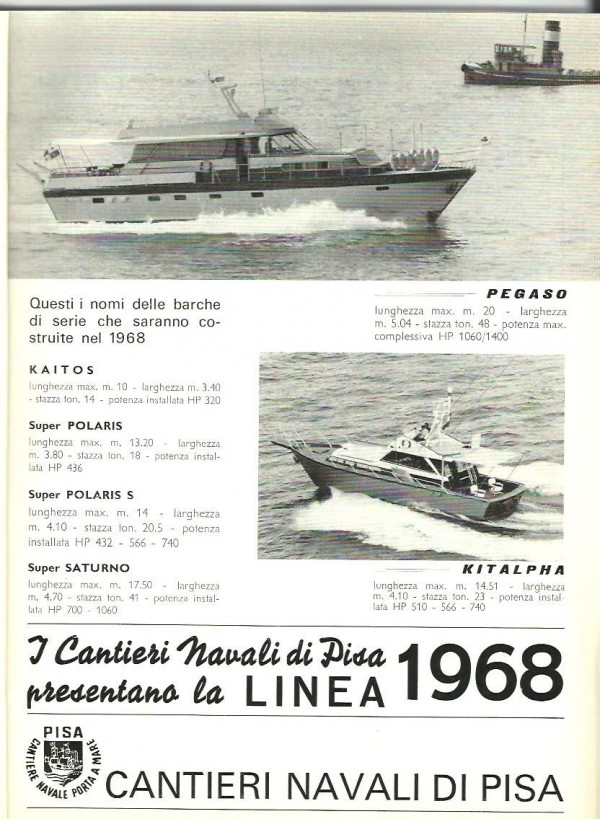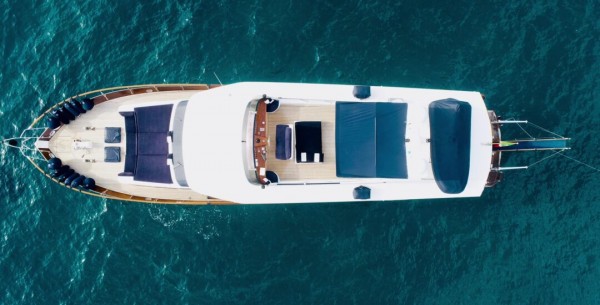 ACCOMODATIONS On the lower deck, the sleeping area can accommodate up to 9 people in 4 cabins furnished with taste and elegance: a large master cabin with double bed and a day bed that converts into a single bed, two double cabins, all with private bathroom and shower and a cabin with bunk bed with external bathroom Its large and bright spaces, its comfortable exteriors, and the charm of a True Lady of the sea make staying on board a special holiday as unique and rare as a Quadrifoglio. All the linens on board such as sheets, towels, bathrobes and beach towels are of the highest quality. The mise en place is elegantly refined with porcelain plates and crystal glasses. In the evening, the elegant table will be finished with candles that will create an even warmer and more welcoming atmosphere.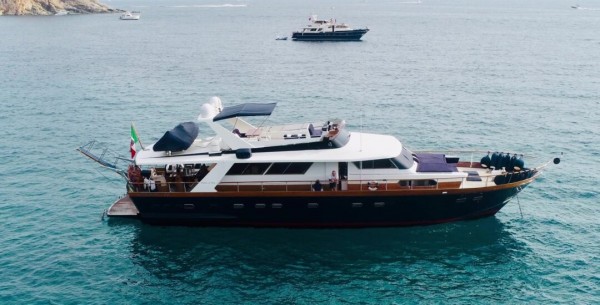 INSTRUMENT Magnetic compass: 2 Log-speedometer Depth Sounder: FURUNO Autopilot Radar: FURUNO Electronic chart syst: FURUNO TZT 16 GPS: FURUNO Command stations: 2 DASHBOARD and FLY VHF: – 2 VHF ICOM – 1 HF / MF ICOM – Main hall: SKY TV DVD / CD PLAYER DOLBI SOURROUND BOSE – Cabins: TV + DVD / CD PLAYER – External: RADIO AMPLIFICATION AND CD PLAYER EQUIPMENT Rudder: from a distance Transmission: hydraulic Propellers: 2 Inverter: 2 v-drive Bow thruster: hydraulic Desalter: Marinco DECK EQUIPMENT – Anchors and chains: 2 ANCHOR 2 CHAINS X 110 M – Davits: 1 ELECTRIC CRANE BRIDGE FLY 2 MANUAL CRANES AFT – Tonneggi and Winches: 1 TONNEGGIO SALPA ANCORE 2 AFT WINCHES – Passarella: MANUAL – Swimming ladder: 2 BATHROOM LADDERS – Bimini top: 1 BIMINI PONTE FLY Outside tables: 2 TENDER AND TOYS – Tenders: RUBBER NOVAMARINE 420 M – Toys: 1 INFLATABLE SUP 1 INFLATABLE TOW – Equip. diver: FINS AND MASKS SAFETY & SECURITY – EPIRB: FURUNO 1 PRO – Life rafts: 2 – Life jackets: 16 – Equip. fire prevention: PORTABLE POWDER AND CO2 EXTINGUISHERS CO2 PLANT MACHINE ROOM – Bilge pumps: 2 PUMPS 24V 2 AUTOMATIC RULE PUMPS ADDITIONAL NOTES Number of decks: 3 Autonomy: 320 nm Cons. at cruising speed: 300 liters / hour Fuel: 5000 liters Water: 2000 liters Gray water: 50 liters DOMESTIC APPLIANCES Refrigerators: 1 KITCHEN, 2 FRIDGE BAR IN THE LIVING ROOM AND 1 FLY FRIDGE BAR Freezer: 1 GALLEY FREEZER Ovens: 1 ALPES OVEN Burners: 4 INCANDESCENT PLATES Dishwasher: 1 HONEY Washing machines: 1 SAMSUNG ITA Interni IL SUO AMPIO ESTERNO COMPRENDE UN COMODO E ATTREZZATO FLY BRIDGE CON PRENDISOLE, UNA SECONDA POSTAZIONE DI COMANDO E UNA ZONA PRANZO ESTERNA. UN'ACCOGLIENTE E RAFFINATA ZONA PRANZO ESTERNA SUL PONTE DI POPPA CONDUCE DIRETTAMENTE AL SALONE. QUEST'ULTIMO DISPONE DI UN'AMPIA ZONA LOUNGE DOVE POTERSI RILASSARE SU DUE DIVANI BIANCHI DISPOSTI DAVANTI ALLA TV, UNA ZONA PRANZO FORMALE CHE PERMETTE DI CENARE NELLE SERATE PIU' FRESCHE, MENTRE A PRUA UN BEL SOLARIUM IDEALE PER PRENDERE IL SOLE. SUL PONTE INFERIORE, LA ZONA NOTTE PUO' OSPITARE FINO A 9 PERSONE IN 4 CABINE ARREDATE CON GUSTO ED ELEGANZA: UN'AMPIA CABINA ARMATORIALE CON LETTO MATRIMONIALE E UN DAY BED TRASFORMABILE IN LETTO SINGOLO, DUE CABINE MATRIMONIALI, TUTTE CON BAGNO PRIVATO E DOCCIA E UNA CABINA CON LETTO A CASTELLO CON BAGNO ESTERNO I SUOI SPAZI AMPI E LUMINOSI, I SUOI ESTERNI CONFORTEVOLI E IL FASCINO DI UNA VERA SIGNORA DEL MARE RENDONO IL SOGGIORNO A BORDO UNA VACANZA SPECIALE, UNICA E RARA COME UN QUADRIFOGLIO. LA SERA L'ELEGANTE TAVOLATA SARA' RIFINITA CON CANDELE CHE CREERANNO UN'ATMOSFERA ANCORA PIU' CALDA E ACCOGLIENTE. Armamento TIMONE: A DISTANZA TRASMISSIONE: IDRAULICA ELICHE: 2 INVERTITORE: 2 V-DRIVE ELICA DI PRUA: IDRAULICA DISSALALTORE: MARINCO EQUIPAGGIAMENTO DI COPERTA – ANCORE E CATENE: 2 ANCORE 2 CATENE X 110 M – GRUETTE: 1 GRU ELETTRICA PONTE FLY 2 GRUETTE MANUALI A POPPA – TONNEGGI E VERRICELLI: 1 TONNEGGIO SALPA ANCORE 2 VERRICELLI A POPPA – PASSARELLA: MANUALE – SCALETTA A BAGNO: 2 SCALETTE DA BAGNO – BIMINI TOP: 1 BIMINI PONTE FLY TAVOLI ESTERNI: 2 ELETTRODOMESTICI FRIGORIFERI: 1 CUCINA, 2 FRIGO BAR IN SALONE E 1 FRIGO BAR FLY FREEZER: 1 CONGELATORE CAMBUSA FORNI: 1 FORNO ALPES FUOCHI: 4 PIASTRE A INCANDESCENZA LAVASTOVIGLIE: 1 MIELE LAVATRICI: 1 SAMSUNG TENDER AND TOYS – TENDERS: GOMMONE NOVAMARINE 420 M – TOYS: 1 SUP GONFIABILE 1 GONFIABILE DA TRAINO – EQUIPAGG. SUBAQUEO: PINNE E MASCHERE SAFETY & SECURITY – EPIRB: FURUNO 1 PRO – ZATTERE DI SALVATAGGIO: 2 – GIUBOTTI DI SALVATAGGIO: 16 – EQUIP. ANTINCENDIO: ESTINTORI PORTATILI POLVERE E CO2 IMPIANTO CO2 SALA MACCHINE – POMPE DI SENTINA: 2 POMPE 24V 2 POMPE RULE AUTOMATICHE Strumentazione BUSSOLA MAGNETICA: 2 LOG-SPEEDOMETRO ECOSCANDAGLIO: FURUNO AUTOPILOTA RADAR: FURUNO ELECTRONIC CHART SYST: FURUNO TZT 16 GPS: FURUNO STAZIONI DI COMANDO: 2 PLANCIA E FLY VHF: – 2 VHF ICOM – 1 HF/MF ICOM – SALONE PRINCIPALE: TV SKY LETTORE DVD/CD DOLBI SOURROUND BOSE – CABINE: TV+LETTORE DVD/CD – ESTERNI: AMPLIFICAZIONE RADIO E LETTORE CD Note aggiuntive NUMERO DI PONTI: 3 AUTONOMIA: 320 NM CONS. A V. DI CROCIERA: 300 LITRI/ORA CARBURANTE: 5000 LITRI ACQUA: 2000 LITRI ACQUE GRIGIE: 50 LITRI REFITS: INVERNO 2020/21 -  2021/22 – RICOSTRUZIONE COPERTA DI PRUA , – SOSTITUZIONE DEI BAGLI E DI UNA PORZIONE DEL DRITTO DI PRUA. – SEDUTA PRENDI SOLE DI PRUA : RICOSTRUZIONE. – RESINATURA OPERA VIVA CON RESINA EPOSSIDICA C10-10 SISTEM. – REVISIONE MOTORI, SOSTIZIONE SENSORI E CABLAGGIO MOTORI, SOSTITUZIONE MARMITTE,  SOSTITUZIONE GENERATORE. – SOSTIZIONE 3 CARICA BATTERIE E BATTERIE SERVIZI, MOTORI, GENERATORE. – VERRICELLO SALPA ANCORE REVISIONE. – POMPE WC, ARIACONDIZIONATA, SENTINA, 2 AUTOCLAVI,  POMPA IDRAULICA , PILOTA AUTOMATICO: REVISIONE. – POMPA LAVAGGIO  CATENE: SOSTITUZIONE. – 2 FANCOIL RIPARAZIONE, – 1 FANCOIL SOSTITUZIONE. – ELICA DI PRUA :REVISIONE PIEDE TRUSTER. – ISTALLAZIONE TZT FURUNO, SCHERMO CARTOGRAFICO MULTIFUNZIONE, RADAR FURUNO, ECOSCANDAGLIO FURUNO, ANTENNA ESTERNA WIFI, EPIRB FURUNO. – UN WC SOSTITUITO CON WC TECMA