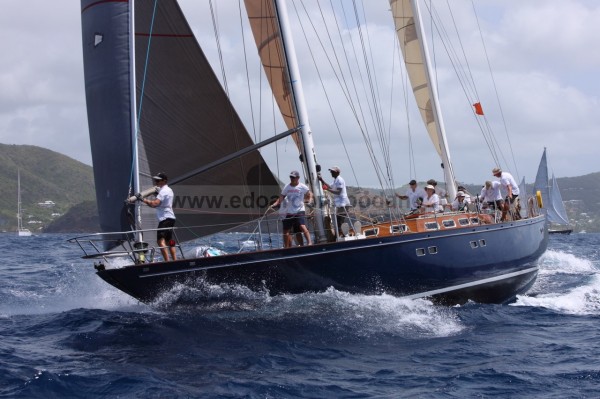 El Oro is the sister-ship to the famous Whitbread round-the-world racer Kriter, built for Baron Bich as his cruising yacht.
The current owner purchased El Oro in Spain in 2007. She was then sailed to a shipyard in Myanmar (Burma) where she underwent a complete rebuild/refurbish over 2 years. Rebuilt to MCA Survey Specifications (survey report available) and finished-off to exceptional standard she is now offered for sale in "as new" condition.
Burmese teak has been used throughout and teak for the decks and cabin soles is seasoned timber sourced from Colonial buildings as they were demolished.
Apart from the Kohler Generator, Renault-Coauch engines and Seafresh water maker, all other components and systems installed in the boat are new. Many systems are custom designed and built
including the revolutionary design for the 500 litre fridge! The engines, generator and water maker have been completely overhauled and rebuilt to as-new condition. All above deck hardware and rigging was serviced, tested and replaced as required. The yacht's power systems are designed around an exceptionally low-power DC electrical configuration with DC fridge and freezer compressors and LED lighting used exclusively throughout, including all interior and navigation lights.
The latest B&G and computerised high-tech navigation and control systems round out an incomparable refit of a classic yacht with a great performance and an enviable pedigree.
Serious offers recommended
Year 1975 (Relaunched 2009)
Designer Auzepy-Brenner
Builder Nautic Saintonage, France
Loa 20.72m
Lwl 18.62m
Beam 4.93m
Draft 2.68m
Displ 38.7 ton
Engines 2x Nanni N 100 – Borg Warner gear boxes
Prop 2x bronze feathering "Autoprop"
Max speed 12+ knots (2400 RPM)
Cruise speed 8 knots (1600 RPM)
Range 2 engines = 2115 nm (3,900km). 1 engine = 2900nm (5,400km)
Hull 5 layers diagonally strip-planked cold-moulded mahogany, epoxy sheathed.
Deck Laminated mahogany beams and frames. 15mm 100yr seasoned teak bedded on 18mm marine grade ply
Interior All-teak varnished sole, varnished timber planked walls, white panelled ceilings and deck heads with exposed timber frames and beams. BMW leather covered saloon cushions
Keel Stainless steel fin keel. 10 ton lead in lower third. Integrated freshwater tank 1.4 ton.
Rudder Hollow stainless steel skeg-hung rudder
Machinery
generator Kohler 8EF0Z. 8KVA, 220V AC, 50Hz
Fuel System 8x steel Tanks. 1,850 litres capacity. Electric fuel feed pump to 2x Primary RACOR fuel filters/water separators. External master fuel shut-off valves.
Air-cond 3x 9,000btu Danfoss 50 AC raw water-cooled units. Master cabin plus 2x Guest cabins with diverting vents for Saloon.
Stove/oven "Force 10" 3 burner, oven with grill. LPG.
Sink S/S large sink. Hot + Cold freshwater with commercial kitchen extending pressure nozzle. Includes separate sea water tap.
Refrigeration Custom built S/S with DC Danfoss compressor.
Freezers 2x custom built-in freezer with separate Danfoss DC compressors. Total capacity 175 ltrs.
Ice maker Isotherm
Laundry Fisher & Paykel washing machine
BBQ Pushpit mounted S/S Marinised LPG. Own 5 ltr LPG cylinder.
Alarms BEP Gas Monitor and Remote gas solenoid cut off switch
Gas 2x 9 ltr LPG bottles located in closed compartments in lazarette. External tank selector valve and remote solenoid shutoff positioned between tank compartments. Plus 1x 6ltr separate BBQ bottle.
LIVING SPACES
10 berths. Master cabin (aft) and 2x Guest cabins (mid-ships). 2x Crew cabins (fwd). 3 large fully equipped Heads
with hot/cold showers and basin fresh water. Full head room throughout living spaces, max in Saloon is 6'6".
Saloon
The Saloon comprises the whole mid-ships area aft of the Guest Cabins. To the sides are horse-shoe shaped lounges with BMW leather covered cushions. To starboard is a large fold-out dining table with pneumatic height adjustment. To port, a coffee-table is focused in the middle of the semi-circular lounge. The coffee-table can be unscrewed from this position and relocated to act as an extension for the main dining table on the starboard side.
Entertainment
Mounted in a corner of the Saloon is the LCD monitor, Multimedia Player and DVD player. A Marine Sony stereo system is installed at the Nav Stn area and amplifies input sound to the Saloon and/or the Cockpit speakers.
RIGGING, SAILS AND DECK HARDWARE
The boat is a cutter-rigged ketch with a full complement of sails on original aluminium masts and spars. All standing rigging was checked and certified during the 2008 refit. Most running rigging was renewed following the refit with a combination of Poly, Dyneema and Vectran lines as best suited for their usage. Lewmar 3-speed winches, Lewmar tracks and blocks.
A manual "Pro Furl" furler is installed on the forestay with dual feed tracks and operated via a dedicated winch in the cockpit.
New 160% Mylar, Spectra and carbon fibre light air genoa.
NAVIGATION, CONTROL AND COMMUNICATIONS
Digital
3x GPS, PC based chartplotter with 21" external monitor, AIS transponder, RADAR, autopilot, fluxgate compass, complete set of B&G sensors and instruments for boat speed, apparent wind speed and angle plus depth. B&G Hydra 3000 full-function-display (FFD).
Aanalogue
Mast head Windex wind indicator, helm compass and traditional barometer and clock.
Comms
ICOM SSB Radio. Navman DSC/VHF radio. 2x ICOM waterproof floating handheld radios. 406/121 Mhz EPIRB. Iridium 9505a satellite phone.
ELECTRICAL SYSTEMS
Battery Banks House 16x AGM (720 Ahr), Engines x4 (630CCA), Generator x1.
BMV-500 for battery/charge monitoring.
Victron Quattro combination dual AC charger and pure sinewave inverter 220AC, 5000 W. Victron Skylla
charger (50Amp), 2x 110Amp alternators on engines, 2x 50Amp alternators on engines.
WATER SYSTEMS
Water Maker
180 ltr/hour "Seafresh" reverse osmosis water maker. Raw water feed through triple filtration via a 220V AC high pressure pump.
Water Storage
Total tank capacity approx 2,000 litres (1x keel tank 1400 litres, 4x stainless steel tanks)
Pressure
2x 24V DC electric diaphragm pumps (flow rate of 14 ltrs/min) and 2.5Bar accumulator tank
Deck
2x deck outlets (cockpit + aft deck)
Hot Water
75 litre Westinghouse (TCW-75N 220V AC) electric hot water heater.
Salt
24V DC 14ltr/hour diagram pump. Salt water tap in Galley and 2x salt-water deck fittings
(forward deck + aft deck).
Liferaft
"Sea-Safe" 6-man liferaft. New 2009.
Bilge pump
7x automatic electric bilge pumps. High capacity engine driven clutch pump on stbd engine, 2x manual pump (cockpit + eng room)
Anchor
50kg stainless steel CQR + 100m 13mm chain, 40Kg Danforth + 11m 13mm galv chain and 100m of 22mm Ø rope. Spare 35Kg galv. CQR .
Windlass
Anchor winch dual chain/rope 24V DC electric. Custom electric 24V DC capstan on aft-deck.
Tender
11-foot Sirocco rigid inflatable (fibreglass hull) with 30Hp electric start Tohatsu outboard. Centre console wheel steering and forward gear/throttle control lever. Garmin fish-finder/depth-sounder (with volt and water temp display) + Navman DSC/VHF radio. Single-arm rotating Davit mounted on aft deck with stainless steel support arms for cradling.
The hull construction and woodwork of this boat was built by the NABU Wooden Boat Company PL in Yangon, Myanmar at a facility where the high quality restoration and building of classic yachts has been undertaken for the past 17 years : Moonbeam IV (105ft Fyfe Gaff Cutter1914), Sunshine (121ft Fyfe replica schooner 2004), Cordelia (80ft Ben Lexen designed maxi 2006), El Oro (75ft ketch, sistership to Whitbread champion Kriter owned previously by Baron Bich 2009), Castalia (another sistership to Kriter – in progress). Current production projects include the Hood, a "gentleman's" production motor-boat and the Ringle, a high-tech 38 ft day sailer of composite/carbon construction with fine timber finishes, the first two due for imminent launching. The facility, in the heart of Yangon, provides employment for 50 local workers and their extended families. It is also linked to vocational centres providing training in engineering, electronics and woodworking.