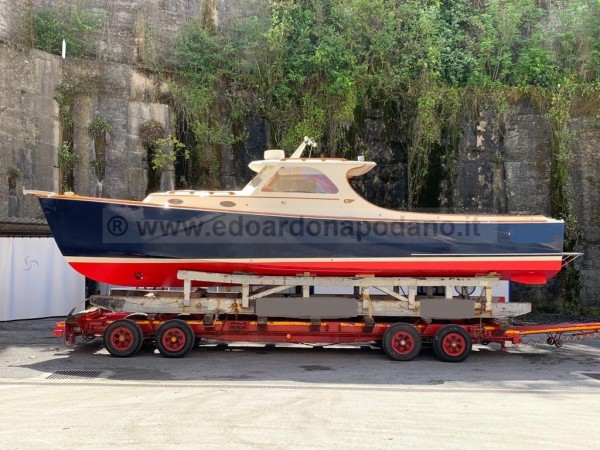 Many pics and video soon to be published.

More than rare, the only Hinckely in European waters! The iconic ORIGINAL lobster, later copied in Europe
Video WhatsApp 2023-10-02 HINCKLEY 36



Please have a look to the video above
Hinckley 36′ Picnic Boat
Loa 11,00 m
Beam 3,00 m
Year 1997
Max speed 25 kn
Cruising speed 20 kn
Displ 9000 Kg
Draft 1,00 metri
Flag Ita
DESCRIZIONE
Materiale di costruzione Kevlar / carbonio.
Una cabina a prua con locale bagno, cucina. Completa di cuscineria prendisole, anche a prua. Tendalino parasole.
Plancetta di poppa. Bottazzo in mogano. In mare per 4 mesi l'anno, in cantiere di rimessaggio per 8 mesi l'anno.
N° Serbatoi

1

Materiale Serbatoi

inox

Revisione Motori

annuale
Capacità Serbatoi

600 litri

Tipo Carburante

Diesel
Motori Yanmar 1 x 350

Ore di moto 950

Trasmissione Idrogetto Hamilton
Scafo Kevlar / Carbonio
Tuga vtr
Serbatoi Acqua
1 x 150 litri

Dissalatore

Non Presente
Materiale Serbatoi

inox

Autoclave

Presente
Tipo Boiler

–

Boiler

Presente
Tensione

12 / 24

Generatore

Non Presente
N° Batterie

4

Carica Batterie

Presente
Inverter

Presente

Radar con navigatore
INTERNI
Una cabina di prua con locale bagno, cucina.