also available for charter
Gentleman\'s Wager\' please click on this link to look at the short video with Giancarlo Giannini and Jude Law

Gentleman\'s Wager\' https://www.youtube.com/watch?feature=player_detailpage&v=kQ7kWpTrtJw
The story of a man on a quest for a rare experience; 'The Gentleman's Wager' tells the story of a wager between two men which results in a truly rare experience as part of their quest for personal progress. Filmed in the British Virgin Islands and London, the beautifully shot film sees Law in the role of a man who, despite having it all, proposes a wager as an opportunity to challenge himself to create an original performance in order to win a money-can't-buy experience.
JOHNNIE WALKER BLUE LABEL, the leading luxury blended Scotch Whisky, as per IWSR 2013, presents a short film starring actors Jude Law and Giancarlo Giannini
today's hull is white -like at the time of launch- as the movie shows
please click on this link mix of pics to see another older video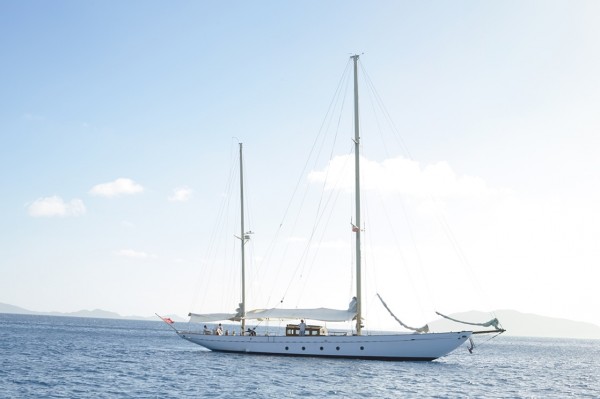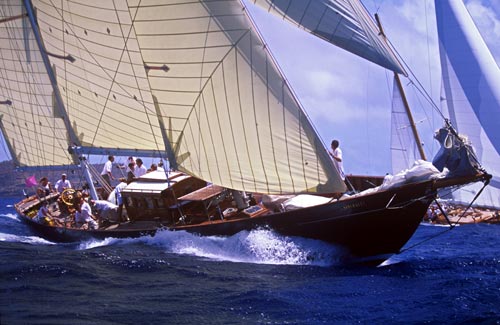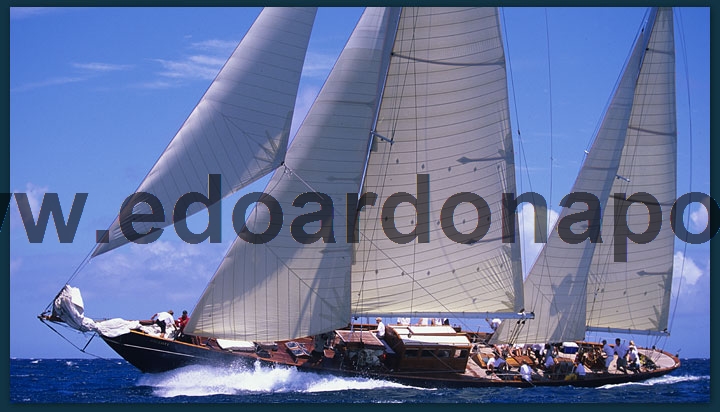 ex MAUCIAU II ex ESTER VII ex JANUA
shipyard Baglietto 1928
designer Vincenzo Baglietto
loa 95′
lwl 70′
beam 16′7″
engine 230 hp Volvo
5 berths in 3 cabins +crew 2-4
Sincerity was designed by Ing. Vincenzo Bagletto and built at Cantieri Baglietto in Varazze near Genoa, Italy. She was named Janua and launched on Saturday August 4, 1928. She was built of three inch teak on oak frames under the strict survey of Lloyd's register to obtain the highest specification.
Vincenzo Baglietto (1891-1978) earned a degree in naval engineering from the University of Glasgow. His career spanned from World War I into the 1970s. Baglietto was best known for his meter boat designs, including the first 12 meter yacht built in Italy, La Spina. Few designers have attractive consistent victories in both sailing and powerboat competition, Baglietto did.
Sincerity was designed as a fast and comfortable cruising boat which is apparent in her lines. Her cut away forefoot and Bermudan masthead rig makes for a fast and easily handled yacht, which was unusually modern for her time. High bull-works and plenty of reserve buoyancy in the bow and stern keep her long sweeping decks dryer then almost any comparable yacht.
Rich mahogany paneling and furniture, bronze portholes and detailed marquetry provide comfortable accommodation for 5 to 7 guests in 3 well appointed cabins. Solid oak parquet cabin sole runs throughout the yacht.
Sincerity's main saloon is outstanding. Being there is truly an experience that sets you back to an era long gone by.
The aft cabin runs the width of the yacht, has a double bunk to starboard, a single bunk to port and a personal wash basin. The cabin is spacious and accented with a large overhead skylight providing plenty of light and air.
The starboard cabin has two large portholes, both of which can be fully opened. An intricate ventilation hatch into the deckhouse also provides a steady flow of fresh air through the cabin. There is a large 8 foot single bunk to starboard, commonly used as a double, and a single bunk athwart ship. On the port side directly opposite the curved stairs leading down from the deck house is a single cabin with beautiful cabinetry, hanging locker and porthole.
One of the most enchanting places to relax is in the deckhouse, where you have full view of your surroundings in old world luxury and comfort. If the weather prohibits an outdoor setting, then this is the ideal place curl up with a good book or sip sunset cocktails.
Sincerity is a true classic, she sails well and is easily handled. Simply a fantastic interior. Skipper handles her better then most skippers I have seen! She is one of the best, and I have seen quiet a few!
- Donald M Street, yachting know-it-all
(and author of "The Oceen Sailing Yacht" and numerous guides to the Caribbean and Atlantic)
A great crew and a damn good yacht. Just the best time I have ever had on a boat.
- Simon Frank
My second time on Sincerity. She is a fabulous boat with a lot of charm and pedigree, in combination with an excellent crew. We thoroughly enjoyed ourselves.
- Elizabeth Meyer (Queen of J's)
Construction
Teak planking on oak frames, copper-rivet and bronze-screw fastened, all thru-hulls are bronze. Flush deck with high bulwarks affording privacy and shelter. Much of the hull below the waterline was renewed in 1997 and 1998. Blue hull with white boottop, gold cove stripe, and red bottom.
Engine
1998 Volvo TAMD63 230-hp 6-cyl. diesel engine (fully serviced 2009 and 2005). 4,000 engine hours as of July 2010. 3-blade fixed propeller on 2004 stainless-steel shaft. Cruises speed est. 8 kn. at 1,950 r.p.m.
Tanks
1,000 lt. fuel in stainless steel, 1,000 lt. water in stainless steel, stainless steel gray-water holding tank.
Electrical
24V lighting and 24V starting systems, 24V engine-driven alternator, circuit-breaker panel, 220V shore-power hook-up, Master V charger, generator (rebuilt 2006). The vessel is grounded.
Accommodations
Well suited for owner's party of 5 with crew of as many as 4. Three cabins (two double staterooms, the owner's being unusually large and light)—the aft cabin features a double bunk to starboard with a single bunk opposite to port and a personal washbasin recessed in an antique vanity cabinet; the starboard cabin has an 8' single bed (commonly used as a double) to starboard and a single athwartship; and opposite to port is a cozy, hardwood-paneled single stateroom, which with its ample storage space and location at the bottom of the curved staircase, can easily serve as the captain's cabin. There are 2 large opening portholes and a ventilation hatch into the deckhouse. The crew quarters for 4 (including head with wash basin) are in the forepeak, forward of the galley, allowing excellent service with maximum privacy for guests. The main saloon offers dining for 8 adjacent the galley (and there is also a dining table for 8 to 12 on the deck). The galley is equipped with a Electrolux 4-burner propane stove with oven, stainless steel ice box, Electrolux 2kW professional steamer, Electrolux microwave, large built-in 220V refrigerator/freezer, and a dining space for crew. Interior is mahogany marquetry paneling with birds-eye maple inlays, solid red-oak parquet cabin sole. Ventilation provided by 10 opening portholes, hatches, companionways, skylights, and 8 thru-hull deck vents.
One of SINCERITY's most distinctive qualities is her interior. Unlike the great majority of vessels of this vintage, which have been gutted and had their interiors replaced, perhaps as much as 90% of SINCERITY's original interior has been lovingly preserved, resulting in the warm and inviting accommodations that were one of the hallmarks of quality yachts of her era.
Sails & Rigging
Originally built and maintained as a Bermudan ketch rig, now with painted aluminum spars, stainless steel standing rigging (in good condition). Sail Inventory: Doyle Norway 2002—flying jib (300 sq. ft.), jib (500 sq. ft.), staysail (500 sq. ft.), full-batten mainsail (1,100 sq. ft.—rebuilt 2006), mizzen jib (200 sq. ft.), and mizzen (450 sq. ft.), mizzen staysail (1,500 sq. ft.), and asymmetrical spinnaker (2,700 sq. ft.).
Ground Tackle
CQR-type anchor on bow roller, galvanized chain, 220V electric anchor windlass.
Equipment
Two 24V and one 220V electric bilge pumps, 4 fire extinguishers, brass bell, flares, 10 PFDs, safety harness, 8-person Viking offshore life raft (last inspected 2010), 2 horseshoe rings, 2 strobe lights, docking lines, boathook, fenders, spreader lights, EPIRB, covers for all sails, lifelines, large new cockpit awning, fitted cockpit cushions for aft deck.