An historical documentation-survey is going on;
here below the first information from the owner;
the boat is in perfect condition as the engine
rare opportunity to own a piece of glorious X Flottiglia MAS "barchino esplosivo", modified in pleasure boat during post II WW
very "made in Italy":
CABI CATTANEO meccanica -piede poppiero -sterndrive/outdrive mechanics and gearbox
BAGLIETTO carpenteria – hull
ALFA ROMEO motore – engine
RIVA trasformazione – first refitting from Navy to pleasure boat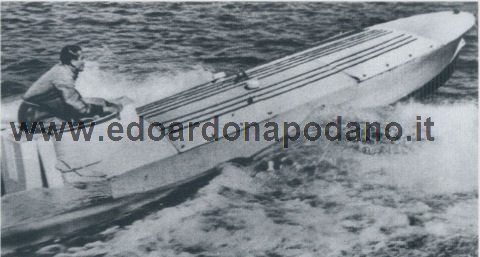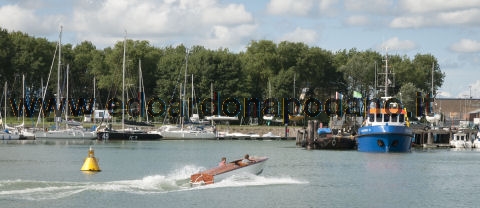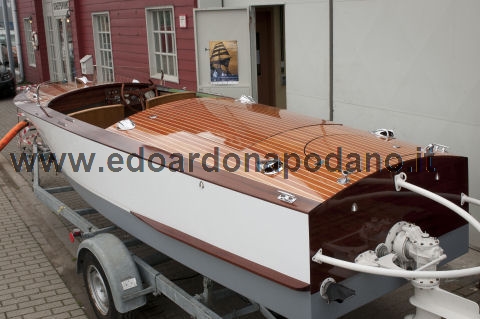 The idea to build a small and powerful motorboat which could attack and destroy with explosives enemy vessels at sea came in 1935 from Amedeo, the Italian Duke of Aosta. The Dukes's brother Admiral Aimone and fellow Navy officers developed the concept further which resulted in the production of 6 Barchinos in 1938.
The MTM concept (Motoscafo Turismo Modificato) consisted in a beautifully designed light wooden hull allowing high speed on the water propulsed by the best available Italian engine at that time, the 6 cylinder twin overhead cam Alfa Romeo 6C 2500. This 'state of the art' engine transmitted 90 HP to an almost futuristic Isotta Fraschini developped Z-drive with twin contra-rotation propellors.
Loaded with 300-330 Kg of explosives and 1 pilot these MTM Barchinos were capable of 33 Knots or 61 Km/h. during 3 hours.
The operator was seated in the back and at the distance between 100 and 50 m from the target left the craft by falling backwards. He disposed of a folded floating cushion on which the operator climbed to avoid the consequences of the close explosion.
In the early morning of March the 26-th 1941 3 Barchinos attacked succesfully the cruiser HMS York and the tanker Pericles in the shallow waters of Suda Bay (island of Crete). Later during the war the Italian Decima Flottiglia MAS  moved north operating along the coastline of the Provence and Liguria. The most significant action resulted in the heavy damaging of the French destroyer Trombe in mid-April 1945.
The production during the war was in hands of the CABI Cattaneo shipyard in Milano – Italy wich produced Barchinos in small series of 6 or max 12 examples at a time. Some Barchinos were also delivered to German units.
Most of these Barchinos were destroyed and only 5 or 6 have survived to these days. Three are exhibited in the Italian war museums of La Spezia, Milano and Venezia.
[...] " must be one of a couple of Barchinos which they sold to the Riva shipyard in Sarnico who transformed them for leisure utility.
The now in speed boat transformed Barchino was imported by a first owner into Switserland on 12-02-1947 and registered on Zürich See under the name 'Alfetta'.
Next owner was very well known works Alfa Romeo racedriver with Klaussenrennen fame, Willy Daetwyler (° 1919), who later in his life sold this boat to his mechanic Bruno Picco (° 1903), a very well known Alfa Romeo Specialist in Zürich with international fame in Alfa Romeo Bimotore, 6C and 12C racecar tuning for customers from all over the world.