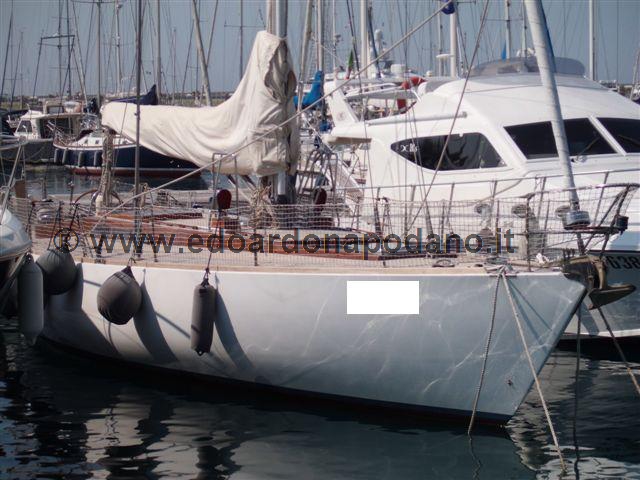 NEW PRICE REDUCTION The owner is highly motivated to sell -  ORDINARY AND EXTRAORDINARY MAINTENANCE WORKS LIST IS AVAILABLE
I personally inspected this Sciarrelli many times, she was in good shape – on my opinion this is a great bargain. Please ask for more pictures. Now she needs some works.
Lo Sciarrelli, da me ispezionato più volte, si trovava in eccellenti condizioni. L'armatore ha ridotto la richiesta - a fronte di una serie di interventi ordinari e straordinari.
Maggiori informazioni e foto su richiesta.

desiger Carlo Sciarrelli
builder F.lli Marchi
loa 14.30 mt- 46.92 ft
beam 4.00 mt
draft 2.00 mt
displ 14 t
engine yanmar 125 hp rev 2010 (2.800 h)
cruise speed 8 kn
SA 180 sm
fuel 320 lt
water 600 lt
3 cabins
7  berths
2 wc
vele:
randa:
50 mq., randa steccata –
vele di prua:
genoa di 79 mq. avvolgifiocco – gennaker
descrizione vele:
armo a cutter, superfice velica complessiva 180mq. Randa, Genoa 1, 2,3. Trinchetta, Yankee pesante, trinchettina pesante, gennaker, tutte in buone condizioni.
interni:
portata persone:
11
cabine:
3
posti letto:
7
bagni:
2
descrizione interni:
cabina di poppa a due letti grandi, Bagno principale wc man. e doccia, cucina a dx, carteggio a sx, quadrato con due posti letto, cabina singola, bagno con wc elettrico e doccia, cabina di prua.
dotazioni :
cucina, forno, frigo, autoclave, boiler, doccia interna, doccia esterna
2 lavelli, frigo boat, frigo elettrico 12 v
strumentazione:
VHF, GPS, LOG, ecoscandaglio, chart plotter, stazione del vento, pilota automatico, salpa ancore elettrico, 6 batterie, caricabatterie
elettronica raymarine serie ST60perfettamente funzionante con tridata interno, radio stereo, co n box cd, cqr, danfort, linee di ancoraggio 80 mt catena 8, cima 50 mt,