The Fiji Times
By Megayachtnews.Com
Wednesday, May 22, 2013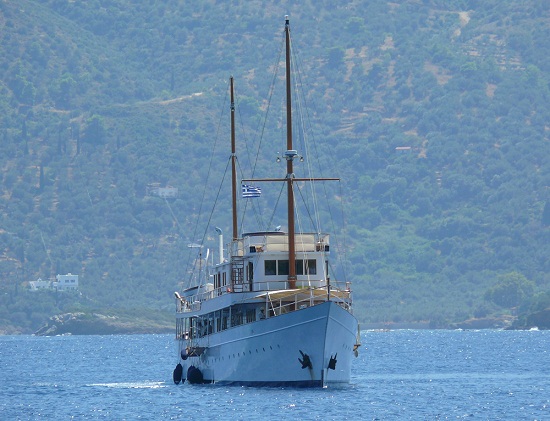 Photo by Maarten Janssen
New yachts naturally attract a lot of attention. However, several megayachts making the rounds of the world's oceans merit equal, if not more, attention because they're the oldest yachts in the world.
In the case of the six yachts on the following list, age doesn't mean "aged."
Indeed, despite their hulls having seen dozens of decades, these six superyachts are in Bristol condition.
This week, Waterfront presents three of the six vessels.
They also exude the grace and style of their eras, both inside and out.
* Madiz. Year of build: 1902. Not only is Madiz the oldest yacht in the world, but she's also the oldest with either a steel or iron hull to still have Lloyds classification.
Ailsa Shipbuilding in Scotland constructed her, to a design by G.L. Watson & Co. Imagine if her bulkheads could talk.
She was a purely pleasure yacht from delivery to 1914, when she was put into service as a patrol boat during World War I.
She did the same in World War II, then returned to private usage.
Her current owner had her undergo a rigorous three-year refit starting in 2003 to bring her back to Lloyds classification, as a previous owner had let it lapse. Amazingly, much of the original woodwork was salvageable.
This includes teak decking and interior paneling such as the Cuban mahogany used in the master staterooms and the oak used in saloons and other gathering areas. Madiz spends time these days in Greece.
* Delphine. Year of build: 1921. Great Lakes Engineering Works may be long gone, but Delphine keeps the builder's name alive. She was commissioned by Horace Dodge, of the famous automobile family of the same name.
Delphine hosted many a cocktail party and viewing party for the speedboat races that Dodge's son participated in.
Despite a horrific fire in 1926 that sank her, Delphine was salvaged and restored. Like Madiz (and pretty much every other yacht of the early 20th century), she, too, saw wartime service. She later served stints as a training ship.
From 1998 to 2003, she underwent a thorough refit, since plans under previous owners never came to fruition. Today, Delphine spends time in Monaco, hosting day and weekly charters.
* Haida G. Year of build: 1929. Launched as Haida for American millionaire Max Fleischmann, Haida G undertook an ocean crossing from Germany to New York as her maiden voyage. Fleischmann had her continue on to California, where she remained under his ownership until 1940.
That's when she was handed over to the Navy for military duty, though she remained on the West Coast.
Following the end of the war, Haida returned to pleasurecraft status and was rechristened Sarina and relocated to Egypt, then the South of France.
A few more dedicated owners followed through the 1960s, including music and movie producer Robert Stigwood, who entertained plenty of celebrities onboard on a regular basis on both sides of the Atlantic.
Another famous owner, after Stigwood: the late Andreas Liveras, who ran the successful charter firm Liveras Yachts.
Under Liveras' ownership, the yacht was known as Rosenkavalier. Finally, in 1999, the current owner acquired her and gave her the name she bears today, as a tribute to her origins.
While the yacht had been maintained, she still needed quite a bit of work because of her age.
Haida G now cruises and charters regularly, amazingly powered by her original engines.