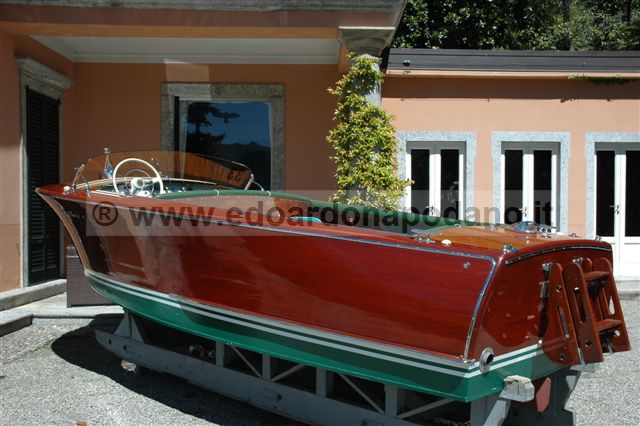 | | |
| --- | --- |
| SCAFO | MOTORE |
| Cantiere: Riva Sarnico 1956 | Chris Craft |
| Lunghezza: 4,96 mt | Mod. 60 hp |
| Larghezza: 1,72 mt | Anno 1956 |
| Materiale: legno | Motore originale Chris CraftMod.B |
Oggi è, al di fuori del Corsaro di cui si conosce solo un esemplare e dello Scoiattolo che è però un piccolo fuoribordo, è il modello più raro della produzione Riva.
Ne sono infatti stati costruiti solo 119, al contrario per esempio dei 426 Florida, 711 Super Florida, 971 tra Ariston e Super Ariston, 258 Tritone e Super Tritone, 483 Aquarama e Super Aquarama.
courtesy RHS
E' il primo scafo progettato esclusivamente per la produzione in serie e per una motorizzazione Chris Craft di 60 Hp. Costruito interamente in fasciame di mogano Honduras. Originariamente nasce dotato di un parabrezza in cristallo, in due parti senza cornice, cruscotto e sedute in vinile verde scuro, amaca portaoggetti sotto coperta e cuscino prendisole in tela verde. Con la serie 1953 i fianchetti interni vengono rivestiti in vinile verde imbottito, il parabrezza è in pezzo unico. Nel 1955 si aumenta il numero delle ordinate portando l'interasse a cm. 16. Scatola sterzo di nuovo modello, in bronzo con interni in acciaio inox. Alberi porta elica in Monel metal. Il fasciame delle murate viene applicato con l'ausilio di collanti. La carena viene applicata con viti ad alta resistenza "Phillips", con testa a croce. Dal # 98 della fine del 1956 la carena è in compensato in un solo pezzo, con il # 101 anche la coperta è in compensato, filettato. La serie 1957 è, inoltre, caratterizzata dal parabrezza avvolgente in cristallo.
This was the first boat designed exclusively for series production using a 60 Hp Chris-Craft engine. It was built using Honduras mahogany planking throughout. It was originally made with a two-part frameless glass windscreen, dark green vinyl dashboard and seating, an article holder under the deck and a green fabric sunbed. From the 1953 series the inner panels were lined with padded green vinyl and the windscreen was in a single piece. The number of frames was increased in 1955 and their centre distance set at 16 cm. A new steering box made of bronze with stainless steel parts and a Monel propeller shaft were fitted. The side planking was installed with the aid of adhesives. The bottom was fitted using corrosion resistant Phillips cross-head screws. From # 98, at the end of 1956, the bottom was a single piece of plywood and, from 101, the decking was also made of plywood, with inlaid veneers. The 1957 series is also typified by the wrap-around glass windscreen.