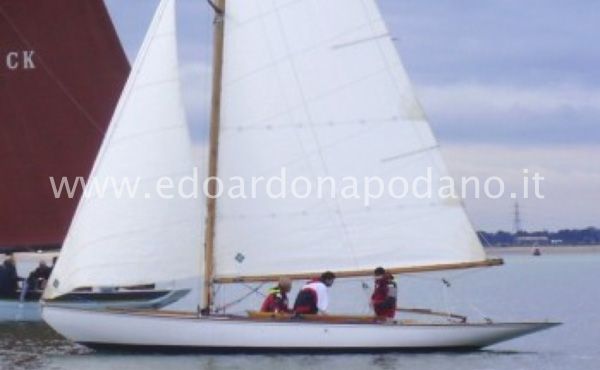 EAST COAST ONE DESIGN
Gentleman's Race cruiser
TIPO/TYPE: Gaff cutter
ANNO/YEAR 1913
CANTIERE/BUILT BY: Kings of Burnham
DESIGNER: G.U. Laws
LUNG.f.t./LOA: mt 9,14
LARG./BEAM M.: mt 1,98
PESC./DRAFT: mt 1,37
BANDIERA/FLAG:
MAT.SCAFO/HULL MATERIAL: Legno / Wood
COL. SCAFO/HULL COLOR: Bianco/ White
MOTORE / MACHINERY
NO MOTORE / NO ENGINE
ACCESSORI/ACCESSORIES
Cagnaro – Tangone – winch self-tailing – Ancora con catena e cima – cime d'ormeggio – parabordi – vele: randa, fiocco e spinnaker – rimorchio stradale a Doppio asse galvanizzato
Awning – Spinnaker pole – self-tailing winch – Anchor with chain and rope – mooring lines – fenders – sails: mainsail, jib and spinnaker – Twin axle galvanised road trailer
NOTE /NOTES
East Coast One Design, N° 6 di 10  della sua classe, Gentleman's race cruiser, tutte quante ancora esistenti (non tutte in condizioni di navigazione.). Questa barca è stata la vincitrice della regata del Centenario della sua classe nel 2013. Refit totale effettuato nell'inverno del 2014. Mantenuto durante la stagione agonistica su cradle. Ha preso parte a diverse regate classiche.
East Coast One Design 1913 classic gaff sloop, 3/4 decked,Gentleman's race cruiser built at Kings Yard, Burnham on Crouch 1913. Designed by G.U.Laws, She is N°6 of 10 Total in Class and all still exist (not all in sailing condition.) The fleet committed to remain together on the East Coast. This boat was the winner of their 100th Centennial Race in 2013. Extensive refit carried out  Winter 2014. Kept during the racing season on a swinging mooring. She has part taken in several Classic regattas and local river's races.