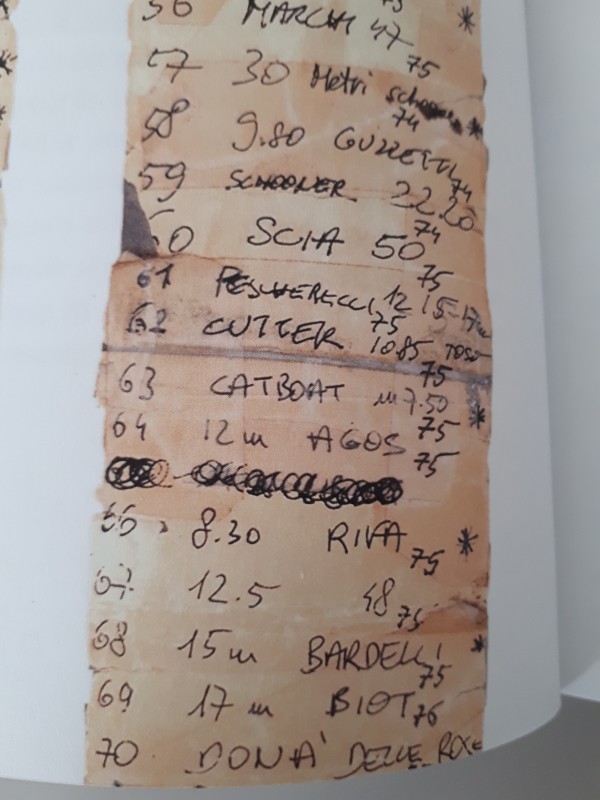 PAPAYA (O PAPAIA) PROGETTO N°66 DI CARLO SCIARRELLI DEL 1975 PER LIPPO RIVA. CON ASTERISCO. RIPORTATA SULLA FAMOSA STRISCIA.
"Accanto ad alcuni nomi, un asterisco: autovalutazione di Sciarrelli, un suo giudizio -tanto ambito dagli armatori- sulla corrispondenza tra opera realizzata e la sua ragion d'essere, secondo due parametri: l'utilità e la bellezza." (Carlo Sciarrelli – Architetto del mare – Comunicarte Edizioni Trieste 2008)
The owner is very motivated to sell – please plan a fast inspection to appreciate the good condition of this marvellous lovely classic little sloop: a kind of boat really practical and easy to maintain, NO PLATE – NO BUROCRACY. No teak deck, crossed plates that means you can leave her on cradle without any suffering for the hull. To enjoy a classic yacht race or to spend few hours as a daysailer: the perfect yacht for a young… or very old owner.
I personally inspected this Sciarrelli all over the years, floating or dry, with great satisfaction.
year 1975
rig sloop
designer Carlo Sciarrelli
builder Crisman & Giraldi
loa 8.30 mt
lwl 7.30 mt
beam 2.90 mt
draft 1.60 mt
displ 1.9 t
ballast 900 kg
engine new Yanmar 10 hp (100h)
2 spi 2 mainsail, 2 genoa (one genoa and mainsail new)
fridge
battery charger
autopilot Autohelm
windex
tilting cookers
ladder
new updated pics: