Ernesto Riva

Restauri, qualunque scafo in legno: Riva, Timossi, taxi acquatici; realizzazione di coperte su misura (mediante dima) per conto terzi. Tipologia produzione: piccole imbarcazioni in legno, a vela e a motore, dai 2,30 metri (Optimist) agli 8 metri (jole); il cantiere ha recentemente costruito uno sloop cabinato di 13 metri di lunghezza e, su commissione, realizza anche barche di maggiori dimensioni su disegno (fornito dal committente). La produzione è perlopiù concentrata nel periodo invernale, in quanto la primavera e l'estate sono dedicate alla consegna, all'approntamento e alla messa in armo delle nuove barche;
occorrono circa 4 mesi per realizzare e consegnare una nuova barca. Cantiere storico: sul litorale del centro storico di Laglio, sul lago di Como. Insediamento produttivo (dal 2005): a Cernobbio (Co), a pochi chilometri nell'entroterra.
Restorations, of any wooden boat: Riva, Timossi, water taxis; construction of custom decks (using templates) for third parties. Type of production: small wooden sail and motor boats, from 2.3 m (Optimist) to 8 m (jole); the yard has recently built a 13 m cabin sloop and, to order, builds even larger boats to designs supplied by the customer. Production is mostly concentrated in the winter, since spring and summer dedicated to deliveries, preparation and rigging of new boats; it takes about four months to build and deliver a new boat. Historical yard: on the shore of the old centre of Laglio, on Lake Como. Production site (since 2005): in Cernobbio (Co), a few kilometres inland.
>> approfondimento sul cantiere – read more about the yard
Magboat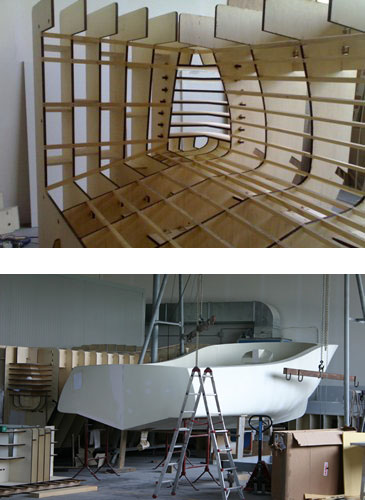 Magboat è un'imbarcazione ideata per accogliere a bordo molte persone e offrire rendimento e comfort elevati in qualsiasi condizione di carico e di tempo. Disponibile in tre allestimenti: Taxi Boat (oltre 25 passeggeri), Pic Nic e Pic Up. Per la costruzione dell'imbarcazione sono impiegati i più moderni sistemi e materiali. Lo scafo è realizzato in infusione con resina epossidica affinché possa avere la massima durata e la migliore difesa dai fenomeni osmotici. La coperta in sandwich minimizza il peso e mantiene basso il baricentro a favore delle prestazioni e della stabilità. L'alta affidabilità del sistema di propulsione è affidata a una tradizionale linea d'asse e, per le prime barche, al turbodiesel FPT  da 370 cavalli che porterà lo scafo oltre i 30 nodi.
Magboat is designed to carry a large number of people in comfort and offer high performance with any load and in all weathers. Magboat is built using the most up-to-date materials and methods to work long and hard in any weather. The hull has a deep section at the bow to ease its passage through the waves even in rough seas and a flatter section astern that permits planning at remarkably low speed. It's made in epoxy resin to ensure long life and maximum resistance to osmosis. The deck is in sandwich to minimise weight, thus keeping the centre of gravity low to improve performance and stability.