Browse:
Home
/
alluminium sloop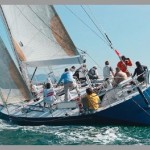 By admin on 21 marzo 2020
Woderfull, seaworty, fast racer and cruiser designed by German Frers and alluminium built. Real great pedigree.
Plenty of info and pics available. Second owner is a great yachtsman, winner and a friend. Very convenient asking price.
Please write to receive spec and pics.
Posted in moderne - modern, second hand, vela - sailboats | Tagged al sloop, alluminium sloop, german frers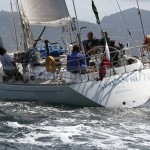 By edoardo on 6 giugno 2019
current owner bought her from the first owner Leopoldo Pirelli
Cantiere: Royal Huisman Shipyard (OL). www.royalhuisman.com
Costruzione in alluminio n. 340, dicembre 1985.
Designer: German Frers su commessa Ing. Leopoldo Pirelli.
Scafo in alluminio verniciato bianco, coperta integralmente in teak 14 mm. gommato nero.
LOA: m. 18.32
Beam: m. 5.01
Draught: m. 3.25
Displacement: 33 tons.
Classifica: classe A
Iscritta IMA [...]
Posted in moderne - modern | Tagged 18 metri alluminio, alluminium sloop, barca alluminio, barca olandese alluminio, leopoldo pirelli, royal huisman, royal huisman al, seilan, seilan iii, sloop alluminio