Browse:
Home
/
baglietto epoca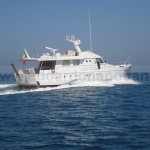 By admin on 28 dicembre 2020
It is very rare to find a Baglietto of Seventies/Eighties age in running shape -and more!- in tructurally good shape. This one was already deeply restored and always used. Maybe the best condition for such a kind of boat You may find on the market.
All works done recorded and hundreds of pics about available.
Baglietto 20
Lunghezza [...]
Posted in epoca - classic, moderne - modern, motore - powerboats, second hand | Tagged baglietto, baglietto 20, baglietto epoca, baglietto motore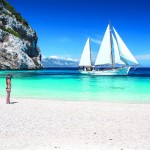 By edoardo on 7 marzo 2019
ketch 1955
shipyard Baglietto
design Baglietto
hull oak – teak deck
loa 21 mt
beam 4.45 mt
engine GM (rev. 2000)
some restoration need
fuel 5000 lt
water 2500 lt
flag ITA
Posted in epoca - veteran, second hand, vela - sailboats | Tagged baglietto da lavoro, baglietto epoca, baglietto ketch, baglietto refittato baglietto restaurato, baglietto refitting, baglietto vela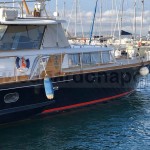 By edoardo on 20 giugno 2018
Other pics of a recent survey available
Please ask for more info and updated pics- some restoration need
Baglietto Ischia Super 1964
builder Baglietto Varazze
designer Baglietto
loa 16.45 mt
beam 4.20 mt
draft 4.20 mt
displ. 34.60 t
hull mahogany
engine 2 X Mercedes MTU 675 hp (year 1995)
berths 7 + 2
cruising speed 25 kn
max speed 32 kn
diesel consumption 150 lt/h
range 16 [...]
Posted in epoca - classic | Tagged baglietto, baglietto classic, baglietto epoca, baglietto fast cruiser, baglietto ischia super, baglietto motor yacht, baglietto super ischia, baglietto superischia, baglietto vintage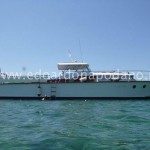 By admin on 6 maggio 2016
Baglietto Elba
TIPO/TYPE: Motor Yacht
ANNO/YEAR 1960
CANTIERE/BUILT BY: Baglietto
DESIGNER: Baglietto
LUNG.f.t./LOA: mt 11,52
LARG./BEAM M.: mt 3,05
PESC./DRAFT: mt 1,00
BANDIERA/FLAG: Italiana
MAT.SCAFO/HULL MATERIAL: Legno / Wood
INTERNI / ACCOMODATION
CABINE/CABINS: 2
POSTI LETTO/BERTHS: 4
BAGNI/TOILET: 1
COL. SCAFO/HULL COLOR: Bianco/ White
MOTORE / MACHINERY
MARCA /BRAND: 2 x General Motors 160HP
NOTE /NOTES
Barca [...]
Posted in epoca - classic | Tagged baglietto, baglietto elba, baglietto epoca, General motors, wooden boat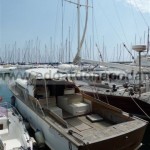 By admin on 4 agosto 2013
MANY OTHER PICS AVAILABLE
owner is very motivated to sell
symbolic asking price 10.000 €
Baglietto Elba
year 1960
engine 2X GM mod 4 A 4652 cyl. 130 hp 1959
dal libro "Baglietto 160 anni di nautica italiana" e altre immagini di repertorio
courtesy Baglietto
Posted in epoca - classic | Tagged baglietto, baglietto elba, baglietto epoca, elba baglietto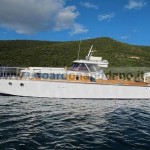 By admin on 4 luglio 2013
designer Pietro Baglietto
builder Cantieri Baglietto Varazze
Baglietto Elba N°42
year 1963
Loa 11.50 mt
beam 3.10 mt
draft 1.00 mt
hull mahogany double planking cross
engine 2 X GM
max speed 30 kn
cruise speed 24 kn
fuel 1000 lt
water 350 lt
Posted in epoca - classic, motore - powerboats, second hand | Tagged baglietto, baglietto elba, baglietto elba da restaurare, baglietto elba for sale, baglietto elba in vendita, baglietto epoca, baglietto legno, elba, elba baglietto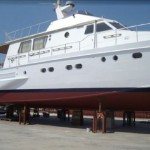 By edoardo on 1 giugno 2011
builder CANTIERE: BAGLIETTO
model MODELLO: 21 METRI
year ANNO DI COSTRUZIONE: 1975
hull MATERIALE DI COSTRUZIONE: LEGNO wood
loa LUNGHEZZA: 20,95
beam LARGHEZZA: 5,07
draft PESCAGGIO: 1,30
engines MOTORIZZAZIONE: 2 X 850 CV – ISOTTA FRASCHINI
FUEL 3.800 LT
WATER 1.800 LT
flag UK BANDIERA : INGLESE
DISPOSIZIONE INTERNA
ZONA GIORNO: AMPIA DINETTE CON GRANDE DIVANO A "C" E TAVOLO TELESCOPICO, AMPIA CUCINA COMPLETAMENTE SEPARATA E CON [...]
Posted in epoca - classic | Tagged baglietto, baglietto classic, baglietto epoca, baglietto for sale, classic baglietto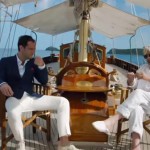 By edoardo on 26 marzo 2011
https://www.youtube.com/watch?feature=player_detailpage&v=kQ7kWpTrtJw
The story of a man on a quest for a rare experience; 'The Gentleman's Wager' tells the story of a wager between two men which results in a truly rare experience as part of their quest for personal progress. Filmed in the British Virgin Islands and London, the beautifully shot film sees Law in the role of a man who, despite having it all, proposes a wager as an opportunity to challenge himself to create an original performance in order to win a money-can't-buy experience.
JOHNNIE WALKER BLUE LABEL presents a short film starring actors Jude Law and Giancarlo Giannini
ALSO AVAILABLE FOR CHARTER
shipyard Baglietto 1928
designer Vincenzo Baglietto
loa 95′
lwl 70′
beam 16′7″
engine 230 hp Volvo
5 berths in 3 cabins +crew 2-4
Posted in charter, epoca - veteran, proposte: epoca - suggestions: classic, second hand, vela - sailboats | Tagged baglietto 1928, baglietto classic yacht, baglietto epoca, baglietto sailing yacht, baglietto sincerity, balietto sincerity, blue label, blue label johnnie walker, designer vincenzo baglietto, ex. MAUCIAU II ex. ESTER VII ex. JANUA, giancarlo giannini, johnnie walker, jude law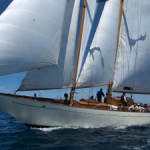 By admin on 10 marzo 2011
Shipyard and designer Vittorio Baglietto 1929-1932.
gaff schooner /aurico.
loa 20.85 mt
beam 4.32 mt
draft 2.43 mt
engine 115 HP Perkins
displ 55 t.
Unici proprietari prima degli attuali, i conti Bruzzo di Genova fino al 1971
Count Bruzzo of Genova first owners till 1971
good condition
One of the very best original yacht in the world
Posted in epoca - veteran, second hand, vela - sailboats | Tagged baglietto, baglietto 1929, baglietto epoca, baglietto schooner, baglietto vela, baglietto vela epoca, goletta americana, nina luisita, schooner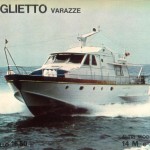 By edoardo on 3 novembre 2010
Baglietto 16.50
lauch 1969
loa 17.30 mt
beam 4.40 mt
engine 2 X 420 hp Detroit (rev. 2004)
Rina 2006
gen Onan 12 kw
Posted in epoca - classic, motore - powerboats, second hand | Tagged 17.30 mt BAGLIETTO, 50, baglietto 16, baglietto 16.50, baglietto epoca, baglietto legno