Browse:
Home
/
barca d'epoca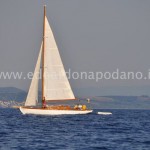 By admin on 6 marzo 2023
Boat now finally safe and well recovered in a shipyard waiting to be restored – please feel free to call me for info.
"Nel 1937 il Conte Guido Biscaretti di Ruffia, ammiraglio di Squadra della Regia Marina, aiutante del Re Vittorio Emanuele III e Senatore del Regno d'Italia decise di farsi costruire una nuova barca [...]
Posted in epoca - veteran, SAVED BOATS, vela - sailboats | Tagged 6 metri baglietto, baglietto, baglietto maro II, barca d'epoca, marò, maro 2, marò II, sloop, wooden boat, yacht club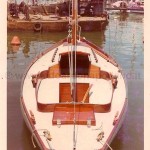 By edoardo on 11 gennaio 2022
Some easy restoration needed
Keen seller – great price reduction for a fast sale: 25.000 € = 16.000 €
Again for sale after some years for owner's upgrade – good condition – please ask for info and pictures – prevoius restoration by a very well apperciated carpenter.
Could be available also a specific cradle for the boat.
Storico [...]
Posted in Sciarrelli | Tagged astrea, astrea sciarrelli, barca d'epoca, carlo sciarrelli, natante, natante sciarrelli, Sciarrelli, sciarrelli astrea, sciarrelli natante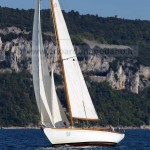 By admin on 5 giugno 2021
more info and pictures available
Some extra maintenance needed.
All history and ancient documents available.
Year 1954 – actually sloop ex yawl (mizzen mast available)
Builder Sangermani
Designer Sangermani
Loa 14.99 m
Beam 3.55 m
Draft 1.94 m
Weight 17,5 t
Gross tonnage 15.31 t
Net tonnage 12.67 t
Engine Perkins 6 cyl. 100 hp
Cruise speed 7 kn
Fuel 1 x 440 lt
Water 900 lt
10 berths
12 [...]
Posted in proposte: epoca - suggestions: classic, Sangermani | Tagged barca classica, barca d'epoca, barche classiche, barche dìepoca, Sangermani, sangermani sloop, sangermani yawl, sloop, sloop sangermani, yawl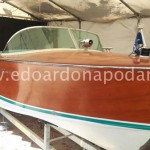 By admin on 22 novembre 2016
TIPO/TYPE: Florida N° 557
ANNO/YEAR 1962
CANTIERE/BUILT BY: Cantieri navali Riva – Sarnico BG
DESIGNER: Riva
LUNG.f.t./LOA: mt 5,50
LARG./BEAM M.: mt 2,03
BANDIERA/FLAG: Monaco
MAT.SCAFO/HULL MATERIAL: Legno / Wood
LIMITI NAVIGAZIONE Entro le 12 Miglia
MOTORE / MACHINERY
MARCA /BRAND: Mercruiser 5.7 V.8 – 240 HP
VELOCITA'/SPEED: 32 Kn
CAPACITA' SERBATOIO/FUEL TANK: 100 lt
ACCESSORI/ACCESSORIES
Bussola Ritchie by [...]
Posted in RIVA e tender | Tagged barca d'epoca, barca d'epoca in vendita, Riva, riva florida, riva usato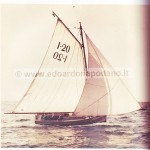 By admin on 12 luglio 2016
Cutter aurico Inglese costruito nel 1889 da J.T. Howard Maldon nell'Essex, con fasciame di teak e chiodi di rame, e progettato da un architetto famoso: C.P. Clayton, specializzato nel creare piccole barche da regata. Agli inizi del novecento il Bat arrivò a Blevio, sul lago di Como, e poi la sua storia ha delle [...]
Posted in epoca - veteran, Sciarrelli | Tagged barca d'epoca, bat, cutter, cutter aurico, Sciarrelli