Browse:
Home
/
benetti delfino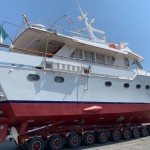 By edoardo on 20 gennaio 2019
New pics Sept 2019 below
Lovely little steel Benetti displacement motoryacht, mainly original, thickness test available, engines, electric and hydraulic systems in good conditions, extraordinary maintenance in progress.
TIPO/TYPE: Motor yacht
CANTIERE / SHIPYARD: Benetti
DESIGNER: Benetti
ANNO/YEAR: 1967
LUNG.f.t./LOA: mt 18,70
B. Max: mt 5,04
PESCAGGIO / DRAFT: mt 1,80
MAT.SCAFO/HULL MATERIAL: acciaio / steel
MAT.SOVRASTRUTTURA: acciaio / stell
COPERTA / DECK: Teak [...]
Posted in epoca - classic, motore - powerboats, proposte: motore - suggestions: powerboats, second hand | Tagged benetti, benetti 20, benetti delfino, benetti delfino 20, delfino benetti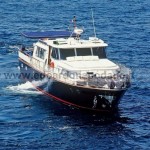 By admin on 21 gennaio 2018
Please ask for detailed info. The boat is much more than mint condition. Direct from owner.
I personally inspected this yacht that is more than perfect. Every single or small detail is well-finished.
A full description available.
TIPO/TYPE: Motor Yacht
ANNO/YEAR 1963
CANTIERE/BUILT BY: Cantieri navali Benetti
DESIGNER: Cantieri navali Benetti
LUNG.f.t./LOA: mt 18,70
LARG./BEAM M.: mt 5,04
PESC./DRAFT: mt 1,80
BANDIERA/FLAG: Italiana
MAT.SCAFO/HULL MATERIAL: [...]
Posted in epoca - classic, motore - powerboats | Tagged benetti, benetti delfino, delfino, displacement motor yacht, motor boat, motor yacht, navetta, navetta benetti, navetta dislocante, original benetti, panfilo