By admin on 23 ottobre 2019
Please ask for more info and pics. Boat in mint condition.
Year 1969
Builder Bertram
Designer hull- Ray Hunt
Loa 9.32 m
Beam 3.40 m
Engine 2 X Cummins 360 hp 2017
Posted in moderne - modern, motore - powerboats, second hand | Tagged b 31, b 31 fly, b31, b31 fly, bertram, bertram 31 fly, Fisherman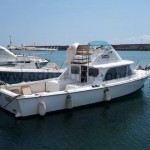 By admin on 1 settembre 2019
Bertram 31 Fly funzionante e galleggiante da refittare e personalizzare a piacere.
Motori Cummins diesel provati ago 2019.
Telaio alluminio finestrature in buono stato.
Posted in moderne - modern, motore - powerboats, second hand | Tagged bertram, bertram 31, bertram 31 fly, bertram da restaurare, bertram for sale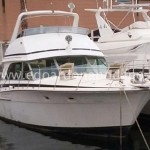 By admin on 28 gennaio 2019
TIPO/TYPE: BERTRAM 46.6
ANNO/YEAR 1979
LUNG.f.t./LOA: mt 14
MAT.SCAFO/HULL MATERIAL: GRP
CLASSE RINA/REGISTRY Valida fino a 2022
INTERNI / ACCOMODATION
CABINE/CABINS: 2
POSTI LETTO/BERTHS: 4
BAGNI/TOILET: 2
COL. SCAFO/HULL COLOR: Bianco/ White
MOTORE / MACHINERY
MARCA /BRAND: General Motors 2 x 450hp
ORE UTILIZZO: 450
VELOCITA': 20 KN / 24 KN
ACCESSORI
Onan 6.5KW – Aria condizionata
Posted in moderne - modern, motore - powerboats | Tagged bertram, Bertram 46.6, General motors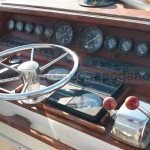 By admin on 20 dicembre 2018
Please ask for more info and pics – the boat is very seaworthy and structurally ok; she has an age and a scent of Eighties: it would be wonderful to make a refit mainly of interiors as I did for other boats.
Posted in moderne - modern, motore - powerboats | Tagged american fisherman, bertram, bertram 42, bertram fisherman, Fisherman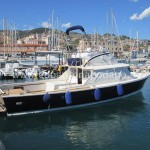 By admin on 26 settembre 2018
TIPO/TYPE:                Fly
CANTIERE:                 Bertram
ANNO/YEAR              1979
LUNG.f.t./LOA:         mt 9,42
B.Max:                         mt 3,40
MAT.SCAFO/HULL MATERIAL:        Vetroresina
CLASSE RINA/REGISTRY    NATANTE
INTERNI / ACCOMODATION
CABINE/CABINS:             1
POSTI LETTO/BERTHS:         4
BAGNI/TOILET:            1
COL. SCAFO/HULL COLOR:        Blu
MOTORE / MACHINERY
MARCA /BRAND:            Cummins 2003 240HP [...]
Posted in moderne - modern | Tagged bertram, bertram 31 fly, classic boat, daycruiser; folkboat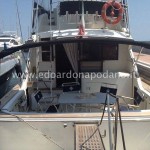 By admin on 31 ottobre 2017
ANNO/YEAR 1987
CANTIERE/BUILT BY: Bertram
DESIGNER: Bertram
LUNG.f.t./LOA: mt 11,51
LARG./BEAM M.: mt 4,05
MAT.SCAFO/HULL MATERIAL: VTR
INTERNI / ACCOMODATION
CABINE/CABINS: 2
POSTI LETTO/BERTHS: 6
BAGNI/TOILET: 1
COL. SCAFO/HULL COLOR: Bianco / White
MOTORE / engine
G.M. da HP 450 cad. mod. 6V 71 TA
ORE DI MOTO / HOURS: 700
V. CROCIERA/ CUISING SPEED: 24kt
STRUMENTI/INSTRUMENTS
Ecoscandaglio VHF, GPS (originali)
ACCESSORI/ACCESSORIES
Passerella idraulica, attrezzatura da pesca, sedia [...]
Posted in moderne - modern | Tagged bertram, bertram 37, bertram 37 convertible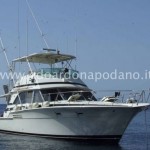 By edoardo on 15 aprile 2016
Convertible
TIPO/TYPE: Fisherman
ANNO/YEAR 1986
CANTIERE/BUILT BY: Bertram
DESIGNER: Bertram
LUNG.f.t./LOA: mt 14,20
LARG./BEAM M.: mt 4,70
PESC./DRAFT: mt 1,30
BANDIERA/FLAG: Italiana
MAT.SCAFO/HULL MATERIAL: Vetroresina
INTERNI / ACCOMODATION
CABINE/CABINS: 2
POSTI LETTO/BERTHS: 6
BAGNI/TOILET: 2
COL. SCAFO/HULL COLOR: Bianco/ White
MOTORE / MACHINERY
MARCA /BRAND: DD n.02 8V 92Ti Cad. 600HP
VELOCITA'/SPEED: 21/23 Kn – 27/29Kn max
ORE MOTO/ENGINE HOURS: 2400 – Rev. 2005
CAPACITA' SERBATOIO/FUEL TANK:
STRUMENTI/INSTRUMENTS
Radar [...]
Posted in moderne - modern, motore - powerboats, second hand | Tagged barca usata, bertram, bertram 46, bertram convertible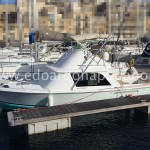 By edoardo on 25 gennaio 2016
Anno: 1971 (Refit completo nel 2010 di scafo, sovrastrutture, impianti e allestimento interni)
Velocità di crociera: 28 kn
Velocità max: 35 kn
Range: 290 nmi
LOA: 9.5 m
Larghezza: 3.5 m
Dislocamento: 6500 kg
Dislocamento tipo: Mezzo carico
Dinette convertibile: Si
Circuito Elettrico: 12V
Capacità serbatoio gasolio: 930 L
Materiale serbatoio : Alluminio
Capacità serbatoio acqua: 280 L
materiale serbatorio acqua Alluminio
Numero cabine doppie: 1
Numero bagni: 1
Motori: 2x VOLKSWAGEN [...]
Posted in moderne - modern, motore - powerboats, second hand | Tagged bertram, bertram 31, bertram 31 fly, bertram for sale, natante, refit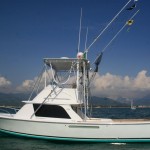 By admin on 23 febbraio 2015
ott 2014
di Edoardo Napodano
Lo sappiamo , in poche ore tutto può cambiare e aggiornamenti mirabolanti ci possono smentire o invecchiare senza misericordia: "è la stampa, bellezza". Eppure l'occasione dell'aumento di capitale, pari a 80 milioni, del Gruppo Ferretti al momento di andare in stampa, ingolosisce e ci permette di rompere il tabù della stampa specializzata: [...]
Posted in diario (blog) | Tagged bertram, direttore nautech, gruppo ferretti, Nautech