Browse:
Home
/
cantieri di pisa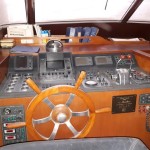 By admin on 10 settembre 2019
Ready to be prepared, overhauled, antifouled and washed for launching.
Maintenance and restorations all over the years (by same shipyard) documentable and with pictures.
Woderfull Seventies details: everything (ext/int) was loved, keeped, maintained, improved by owners
Soon more pics!
Teak deck 2001 – perfect condition
Bottom – 2009
Tanks – 2009
Alluminium parts replaced in steel
Engines GM – 0 hours totally [...]
Posted in epoca - classic, motore - powerboats | Tagged atlas, atlas cantieri di pisa, barca motore classica, barca motore epoca, barche epoca e classiche, can pisa, cantieri di pisa, motor yacht, motoryacht, RESTAURO BARCA EPOCA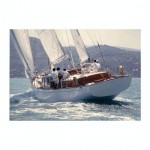 By admin on 22 febbraio 2019
Please ask for more info and pics: the boat needs restoration but structurally ok. POA
Download spec here:
Scheda tecn. – Kalea.
TYPE: Ketch
ANNO/YEAR 1964
CANTIERE/BUILT BY: Cantieri di Pisa
DESIGNER: Bruno Veronese
LUNG.f.t./LOA: mt 21.01
LARG./BEAM M.: mt 4.64
PESC./DRAFT: mt 2.30
DISPLACEMENT: 42.120 Kg
CONSTRUCTION MATERIALS: hull: mahogany
deck: teak (completely redone in 2003)
superstructures: mahogany
mast: aluminum painted with Awlgrip (repainted in 2003)
MOTORE / engine [...]
Posted in classiche - classic | Tagged cantieri di pisa, kalea, veronese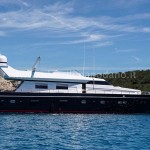 By admin on 24 ottobre 2018
Significant Price Reduction on Akhir: please ask for info.
ANNO:                                     1989
LUNG.f.t.:                                     mt 22,50
LARG.mt:                                     mt 5,80
STATO:                                     Buono
CANTIERE:                                     Cantieri di Pisa
PESC.mt:                                     CARENA V Planante
BANDIERA:                                    Italiana
MAT.SCAFO:                                    Legno
CLASSE RINA:                                    A
INTERNI
CABINE:                                    3 [...]
Posted in moderne - modern, motore - powerboats | Tagged Akhir 25, cantieri di pisa, classic italian boat, wooden boat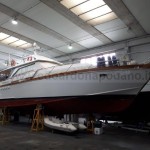 By admin on 7 febbraio 2018
Barca in ottime condizioni, costantemente utilizzata e ricoverata ogni anno in cantiere da unico proprietario. Sempre revisionata e mantenuta da personale fisso imbarcato in tutte le sue parti e impianti. Sala macchine in perfetto stato con motori CAT sbarcati 2005; fondo e coperta a posto.
Molte altre foto disponibili su richiesta.
Boat in great shape. Always well [...]
Posted in epoca - classic, motore - powerboats | Tagged cantieri di pisa, cantieri di pisa Cantieri di Pisa, classic yacht, kitalpha, wooden boat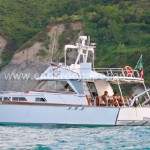 By admin on 12 ottobre 2014
Sensible price reduction: 35.000 €
other pictures available
KITALPHA
TIPO: Fly
LUNG.f.t.: mt 14,60
ANNO: 1° imm. 1967
LARG.mt: 4,40
STATO: Buono
CANTIERE: Cantieri di Pisa
PESC.mt: CARENA V Planante
DESIGN: In House DISLOC.
BANDIERA: Italiana
MAT.SCAFO: Legno
CLASSE RINA: ND
INTERNI
CABINE: 3 cabine ( 1 doppia con letti in piano, due doppie con letti a castello ) + 1 equipaggio
POSTI LETTO: 6 + 1
BAGNI: 2 nuovi
COLORE SCAFO: [...]
Posted in epoca - classic | Tagged cantieri di pisa, kitalpha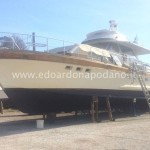 By admin on 17 dicembre 2013
Immediately ready for any sea-trial.
Needs some restoration
and we have a full plan to refit
Super Saturno 1966
builder cantieri di Pisa
loa 17.40 mt
beam 4.62 mt
tonnage 45,76
engine 2 X 400 hp GM
flag ITA
detailed survey 2011
http://www.rivistedigitali.com/NauTech/2013/4/?targetPagNum=030&searchTerms=
Posted in epoca - classic, motore - powerboats, second hand | Tagged cantieri di pisa, cantieri di pisa Cantieri di Pisa, classic motoryacht, fly epoca, MEDITERRANEAN STYLE, motor yacht, motoryacht anni 60, motoryacht epoca, super saturno, supersaturno, veteran motoryacht, vintage motoryacht
By admin on 20 agosto 2010
AKHIR
TIPO: Fly
LUNG.f.t.: mt 18,36
ANNO: 1° imm. 1982
LARG.: mt 5,30
STATO: Buono
CANTIERE: Cantieri di Pisa
PESC.mt: CARENA V Planante
BANDIERA: Italiana
MAT.SCAFO: Legno
INTERNI
CABINE: 3 cabine ( 1 armatoriale con letto matrimoniale, due doppie)
+ 1 equipaggio
POSTI LETTO: 6 + 1
BAGNI: 3
COLORE SCAFO: Bianco con banda blu su falchetta
MOTORE
MARCA: 2 MAN x 760 hp
VELOCITA': ND
ORE MOTO: 2200h
CAPACITA' SERBATOIO: 3600L
STRUMENTI
Gps cartografico Raymarine, radar ecoscandaglio Furono, Antenna TV satellitare Navysistem.
ACCESSORI
Generatore Onan [...]
Posted in epoca - classic | Tagged akhir, akhir 18, cantieri di pisa