Browse:
Home
/
cantieri di pisa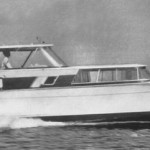 By admin on 28 settembre 2022
An interesting total restoration: the boat is already well recovered and a clever carpenter is ready to start the job. Please ask for info.
Builder C.N.I. Porta a Mare – Cantieri di Pisa
Year 1963
Loa 10, 56 m
Beam 3,64 m
Gross tonnage 12,69 t
Engine 2X 207 GM 6V53 M (1965)
Passengers admitted 12
Pics and video available.
WhatsApp Video 2022-09-21 at [...]
Posted in epoca - classic, motore - powerboats, second hand | Tagged cantieri di pisa, cantieri di pisa jupiter, jupiter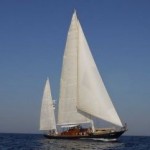 By admin on 12 novembre 2021
This impressive classic Giles yacht stopped 5 years ago (well recovered), so she needs some restoration that means a possible interesting price.
Year 1961 ketch
Builder Cantieri di Pisa
Designer L. Giles
Loa 24 m
Beam 5.60 m
Displ 60 t
Engine 1x GM 235 hp (1200 h)
Cruising speed 9 kn
Max speed 10.5 kn
Giraglia overall winner in 1964 and second in 1965.
Beconcini refitting in [...]
Posted in classiche - classic, second hand, vela - sailboats | Tagged cantieri di pisa, cantieri di pisa ketch, cantieri di pisa vela, vela epoca cantieri di pisa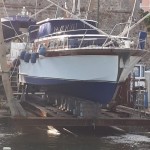 By admin on 3 dicembre 2020
Many pics and info available and also an engine video.
Year 1968
Builder Cantieri Navali di Pisa
Loa 13.25 m
Beam 3.89 m
Draft 0.80 m
Displ 18 t
Engine GM 275 hp 170 h (completely overhauled)
Fuel 1000 l
Passengers 12
Flag ITA
Inventory pics
Posted in epoca - classic, motore - powerboats, second hand | Tagged cantieri di pisa, polaris, super polaris, superpolaris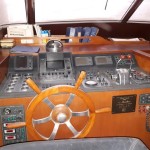 By admin on 10 settembre 2019
OWNER MORE MOTIVATED TO SELL – A DEEP VIDEO INSPECTION AVAILABLE – UPDATED SEA TRIAL
Ready to be prepared, overhauled, antifouled and washed for launching.
Maintenance and restorations all over the years (by same shipyard) documentable and with pictures.
Woderfull Seventies details: everything (ext/int) was loved, keeped, maintained, improved by owners
Soon more pics!
[...]
Posted in epoca - classic, motore - powerboats | Tagged atlas, atlas cantieri di pisa, barca motore classica, barca motore epoca, barche epoca e classiche, can pisa, cantieri di pisa, motor yacht, motoryacht, RESTAURO BARCA EPOCA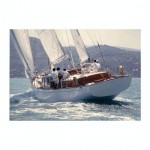 By admin on 22 febbraio 2019
Please ask for more info and pics: the boat needs restoration but structurally ok. POA
Download spec here:
Scheda tecn. – Kalea.
TYPE: Ketch
ANNO/YEAR 1964
CANTIERE/BUILT BY: Cantieri di Pisa
DESIGNER: Bruno Veronese
LUNG.f.t./LOA: mt 21.01
LARG./BEAM M.: mt 4.64
PESC./DRAFT: mt 2.30
DISPLACEMENT: 42.120 Kg
CONSTRUCTION MATERIALS: hull: mahogany
deck: teak (completely redone in 2003)
superstructures: mahogany
mast: aluminum painted with Awlgrip (repainted in 2003)
MOTORE / engine [...]
Posted in classiche - classic, SAVED BOATS | Tagged cantieri di pisa, kalea, veronese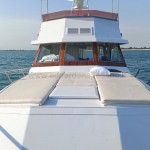 By admin on 12 dicembre 2017
2022 updated pics below:
Sensible price reduction: 35.000 €
Please download spec and pics here:
KITALPHA
other pictures available
KITALPHA
TIPO: Fly
LUNG.f.t.: mt 14,60
ANNO: 1° imm. 1967
LARG.mt: 4,40
STATO: Buono
CANTIERE: Cantieri di Pisa
PESC.mt: CARENA V Planante
DESIGN: In House DISLOC.
BANDIERA: Italiana
MAT.SCAFO: Legno
CLASSE RINA: ND
INTERNI
CABINE: 3 cabine ( 1 doppia con letti in piano, due doppie con letti a castello ) + [...]
Posted in epoca - classic | Tagged cantieri di pisa, kitalpha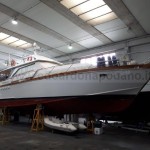 By admin on 7 febbraio 2016
Barca in ottime condizioni, costantemente utilizzata e ricoverata ogni anno in cantiere da unico proprietario. Sempre revisionata e mantenuta da personale fisso imbarcato in tutte le sue parti e impianti. Sala macchine in perfetto stato con motori CAT sbarcati 2005; fondo e coperta a posto.
Molte altre foto disponibili su richiesta.
Boat in great shape. Always well [...]
Posted in epoca - classic, motore - powerboats | Tagged cantieri di pisa, cantieri di pisa Cantieri di Pisa, classic yacht, kitalpha, wooden boat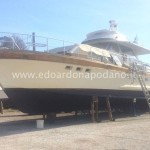 By admin on 17 dicembre 2013
Immediately ready for any sea-trial.
Needs some restoration
and we have a full plan to refit
Super Saturno 1966
builder cantieri di Pisa
loa 17.40 mt
beam 4.62 mt
tonnage 45,76
engine 2 X 400 hp GM
flag ITA
detailed survey 2011
http://www.rivistedigitali.com/NauTech/2013/4/?targetPagNum=030&searchTerms=
Posted in epoca - classic, motore - powerboats, second hand | Tagged cantieri di pisa, cantieri di pisa Cantieri di Pisa, classic motoryacht, fly epoca, MEDITERRANEAN STYLE, motor yacht, motoryacht anni 60, motoryacht epoca, super saturno, supersaturno, veteran motoryacht, vintage motoryacht