Browse:
Home
/
classic yawl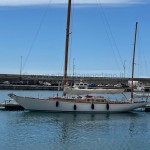 By admin on 13 settembre 2022
Info and pics available. Some maintenance has to be explained.
Year 1957/58 yawl
Builder: Sangermani
Designer: S&S
Loa 14,30 m
Lwl9,90m
Beam 3,70 m
Draft 1,34-2,30 m
Displ 11,73 t
SA 93,30 sm
Engine Yanmar mod 4EM57 anno 2017, 42 Kw
Passengers 12
Posted in occasione, Sangermani | Tagged baca epoca vintage boat, barche classiche, barche d'epoca, barche d'epoca e classiche, barche d'epoca e classiche in vendita, barche interesse storico, classic yacht, classic yawl, Sangermani, sangermani yawl, yawl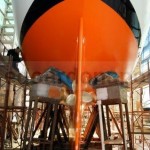 By edoardo on 7 gennaio 2019
Some varnish maintenance required – very covenient asking price – great bargain!
Engine overhauling – tagliando motore completo
Generator overhauling -tagliando gruppo elettrogeno
Boiler replaced -sostituzione boiler
Autoclave replaced – sostituzione autoclave
Steel and deck hardware polishing/chrome – lucidatura acciai coperta
New mainsail and mizzen easy bags – rifacimento nuovi easy bag randa e mezzana
Winter tent/canopy reinforcement – sistemazione in [...]
Posted in Sangermani | Tagged barca classica, classic sangermani, classic yawl, EOS, GIGA, Sangermani, sangermani 16 metri, sangermani 1962, sangermani eos, sangermani giga, sangermani laurent giles, yawl epoca, yawl giles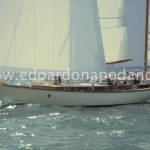 By edoardo on 8 febbraio 2016
TIPO/TYPE:                                             Sailing yacht
ANNO/YEAR                                           2013
LUNG.f.t./LOA:                                      mt 16,60
LARG./BEAM M.:                                  mt 4,85
STATO/CONDITIONS:                        Buono / Good
CANTIERE/BUILT BY:                       Attilio Perin
DESIGNER:                                             Tarcisio Todesco
PESC./DRAFT:                                       1,50 / 3,00
BANDIERA/FLAG:                               Italiana
MAT.SCAFO/HULL MATERIAL:   Legno / Wood
[...]
Posted in moderne - modern | Tagged classic yawl, Sail yacht, wooden boat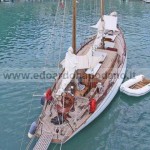 By admin on 30 gennaio 2015
New pics of interior above – please ask for more pictures of details – updated
AVAILABLE FOR CHARTER
migliorate  condizioni dopo recente restauro
new restoration done
yawl 1948
shipyard Sangermani
designer Sangermani
loa 17.68 mt
lwl 12.29 mt
beam 3.81 mt
draft 2.90 mt
displ 14,225 kg
engine Ford 80 hp
cabins 3
berts 8
flag ITA
EQUIPAGGIAMENTO
Radar Raytheor,GPS Raytheon, Chartplotter interfacciato con il Radar, Strumenti del vento, [...]
Posted in charter, Sangermani | Tagged classic yacht, classic yawl, Rondine II, Sangermani, sangermani 1948, yawl 1948, yawl sangermani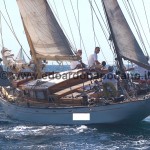 By edoardo on 15 novembre 2012
A first restoration started 2014/15: here some pics; MANY OTHER PICTURES OF MY 2 INSPECTIONS AND INFO ARE AVAILABLE UNDER REQUEST
href="http://www.edoardonapodano.it/public/immagini/2011/02/IMG_20140616_174933.jpg"> ONE OF THE MOST ELEGANT YACHT IN THIS WEBSITE – heavy restoration – GREAT OPPORTUNITY OF COMMON SENSE RESTORATION – CALL ME FOR INFO restoration in progress [...]
Posted in classiche - classic, second hand, vela - sailboats | Tagged beltrami, beltrami 1963, beltrami nora I, beltrami yawl, classic yawl, yawl classico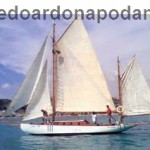 By edoardo on 3 febbraio 2011
great bargain, big restoration, let's move before it becomes heavy
gaff yawl – yawl aurico 1920
builder Shepherd Scotland
designer P.C. Crossley
first owner: sister in law of Sir Francis Chicester
loa 11.31 mt (without bowsprits)
beam 2.62 mt
draft 1.80 mt
displ 12 t
engine 35 hp Volvo
bad conditions
Posted in epoca - veteran, second hand, vela - sailboats | Tagged barca epoca, british yawl, classic yawl, gaff yawl, kathleen, sir francis chicester, vela epoca, yawl aurico, yawl epoca, yawl inglese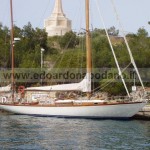 By edoardo on 31 ottobre 2010
1964 yawl
Designer Sparkman & Stephens
Builder in Palma de Mallorca
LOA: 14.69 mt (48.7 feet)
LWL: 10.42 mt
Beam: 3.78 mt
Draft: 2.13 mt
Weight: about 18 tons
Engine: Yanmar (100HP – anno 2000 – 1540h)
6 single bunks
Posted in S&S | Tagged classic yawl, olin stephens, S&S, S&S for sale, s&s yawl, sparkman & stephens, sparkman & stephens epoca, yawl, yawl sparkman & stephens