Browse:
Home
/
craglietto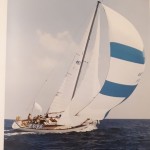 By edoardo on 1 aprile 2023
interesting possibility to be protected by Italian Ministry "Beni cuturali" for future benefits
GUIA 45 ' sloop
year 1970
buider Craglietto
designer S&S
loa 45 '-13.9 mt
lwl 33′- 10.2 mt
beam 12′- 3.9 mt
keel fin and skeg
draft 33′- 2.2 mt
displ. about 12 t
engine: Nissan 65 hp marinized 2002
construction: mahogany planking on laminated oak frames
history: Guia participated in the first Whitbread Round the World Race in 1973 finishing 5th individually – and the Italians winning as a team. Trophies from this, the Cape Town to Rio race of 1971 and others are kept in and belong to the boat
Posted in proposte della settimana, S&S | Tagged craglietto, giorgio falck, giorgio falk, guia, guia falck, guia whitbread, luciano ladavas, S&S, s&s 45, sparkman & stephens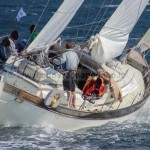 By admin on 30 novembre 2022
Varo               Agosto 1964
Progetto        John Griffin Hannah – Carol Ketch
Lft                   mt 11.49              Lwl        mt 10,95
Baglio             mt 3.47
Pescaggio       mt 1,57
Stazza             Ton. 14,91
Costruttore    Cantiere [...]
Posted in epoca - veteran, second hand, vela - sailboats | Tagged carol ketch, craglietto, John Griffin Hannah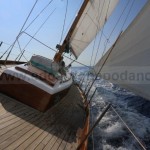 By admin on 4 novembre 2022
Some restoration required – All arichive images here – please ask for info – detailed and updated pics available.
Adria II è uno sloop in legno lungo 13 metri, costruito da Craglietto e varato nel 1968. Sciarrelli ne segnala due repliche, una delle quali porta il nome di Franca III.
Compare nel famoso elenco di [...]
Posted in Sciarrelli | Tagged adria, adria 2, adria II, BARCA EPOCA DA RESTAURARE, carlo sciarrelli, craglietto, Sciarrelli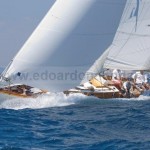 By edoardo on 5 aprile 2017
Great pedigree, great shape, please ask for more info
ANNO year
1970
CANTIERE buider
MARIANO CRAGLIETTO (TRIESTE – ITALY)
PROGETTO design
CARLO SCIARRELLI (TRIESTE – ITALY)
LUNGHEZZA F.T. loa
11,27 m
LUNG. AL GALLEGGIAMENTO lwl
8,43 m
LARGHEZZA beam
2,98 m
PESCAGGIO draft
1,75 m
DISLOCAMENTO displ.
6 tons
SUPERFICIE VELICA sa
60 m²
Posted in Sciarrelli | Tagged astarte, carlo sciarrelli, craglietto, IOR, ior sciarrelli, one tonner, Sciarrelli, sciarrelli ior