Browse:
Home
/
motoryacht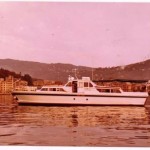 By admin on 16 settembre 2019
Please have look to this short video with magic sound of GM Detroit:
Paraggina
Paraggina in ottime condizioni, assolutamente originale, perfettamente navigante e utilizzabile, impianti e motori costantemente sotto controllo, costruzione robusta e marina, struttura sana. Interni ed esterni assolutamente originali, dalla scala reale ai rubinetti. Dotata di una serie di particolari estetici e accorgimenti tecnici di [...]
Posted in epoca - classic, motore - powerboats | Tagged cantieri di chiavari, cantieri navali di chiavari, gino solari, MEDITERRANEAN STYLE, motoryacht, paraggina, Solari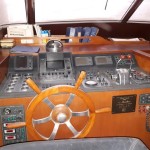 By admin on 10 settembre 2019
OWNER MORE MOTIVATED TO SELL – A DEEP VIDEO INSPECTION AVAILABLE – UPDATED SEA TRIAL
Ready to be prepared, overhauled, antifouled and washed for launching.
Maintenance and restorations all over the years (by same shipyard) documentable and with pictures.
Woderfull Seventies details: everything (ext/int) was loved, keeped, maintained, improved by owners
Soon more pics!
Teak deck 2001 – [...]
Posted in epoca - classic, motore - powerboats | Tagged atlas, atlas cantieri di pisa, barca motore classica, barca motore epoca, barche epoca e classiche, can pisa, cantieri di pisa, motor yacht, motoryacht, RESTAURO BARCA EPOCA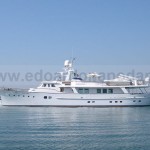 By edoardo on 29 agosto 2017
Much more info available
Length – 32,50 mt.
Beam 6,00 mt
Draft 2,50
Hull material Acciao/Allum.
Engines – Caterpillar H.P. – 2 X 400
Displacement 165 Tonn
Fuel cap – 21.370 lt.
Water cap – 6.690 lt.
Deck – Teak
LAYOUT: 4 Cabins + 4 Toilets
crew 6
EQUIPMENT
Generators- 2 x 35 Kw Northern
Air conditioning (doppio ciclo )
Water maker 400 lt/h
bow thruster
Hydraulic gangway
No 2 aft winches
No [...]
Posted in epoca - classic | Tagged de vries, de vries lentch, displacemente yacht, lentsch, motoryacht, navetta, navetta dislocante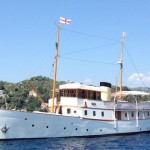 By edoardo on 16 gennaio 2014
Blue Bird of 1938 London – RYS
"visti non in banchina"
da notare guidoni e White Ensign
Posted in diario (blog) | Tagged galateo delle bandiere, guidone, guidoni, motor yacht, motoryacht, navetta, navetta dislocante, panfilo