Browse:
Home
/
motoryacht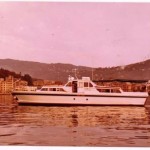 By admin on 16 settembre 2019
Paraggina in ottime condizioni, assolutamente originale, perfettamente navigante e utilizzabile, impianti e motori costantemente sotto controllo, costruzione robusta e marina, struttura sana. Interni ed esterni assolutamente originali, dalla scala reale ai rubinetti. Dotata di una serie di particolari estetici e accorgimenti tecnici di grande charme e utilità pratica.
Paraggina in very good condition, running shape, [...]
Posted in epoca - classic, motore - powerboats | Tagged cantieri di chiavari, cantieri navali di chiavari, gino solari, MEDITERRANEAN STYLE, motoryacht, paraggina, Solari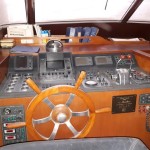 By admin on 10 settembre 2019
Ready to be prepared, overhauled, antifouled and washed for launching.
Maintenance and restorations all over the years (by same shipyard) documentable and with pictures.
Woderfull Seventies details: everything (ext/int) was loved, keeped, maintained, improved by owners
Soon more pics!
Teak deck 2001 – perfect condition
Bottom – 2009
Tanks – 2009
Alluminium parts replaced in steel
Engines GM – 0 hours totally [...]
Posted in epoca - classic, motore - powerboats | Tagged atlas, atlas cantieri di pisa, barca motore classica, barca motore epoca, barche epoca e classiche, can pisa, cantieri di pisa, motor yacht, motoryacht, RESTAURO BARCA EPOCA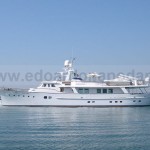 By edoardo on 29 agosto 2017
Much more info available
Length – 32,50 mt.
Beam 6,00 mt
Draft 2,50
Hull material Acciao/Allum.
Engines – Caterpillar H.P. – 2 X 400
Displacement 165 Tonn
Fuel cap – 21.370 lt.
Water cap – 6.690 lt.
Deck – Teak
LAYOUT: 4 Cabins + 4 Toilets
crew 6
EQUIPMENT
Generators- 2 x 35 Kw Northern
Air conditioning (doppio ciclo )
Water maker 400 lt/h
bow thruster
Hydraulic gangway
No 2 aft winches
No [...]
Posted in epoca - classic | Tagged de vries, de vries lentch, displacemente yacht, lentsch, motoryacht, navetta, navetta dislocante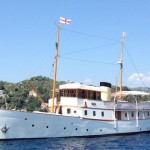 By edoardo on 16 gennaio 2014
Blue Bird of 1938 London – RYS
"visti non in banchina"
da notare guidoni e White Ensign
Posted in diario (blog) | Tagged galateo delle bandiere, guidone, guidoni, motor yacht, motoryacht, navetta, navetta dislocante, panfilo