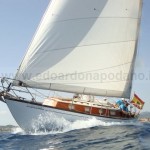 By admin on 21 luglio 2018
Designer Olle Enderlein* (history below -vedi sotto)
Builder Storebro
Loa 10,36 m
Draft 1,73 m
Ballast 2300 Kg
Displ. 5200 Kg
Flag SPA
Engine Nanni 21 hp
diesel 90 lt
water 90 lt
Interiors
1 double cabin bow
1 double berth dinette
1 single berth aft
Sails
Mainsail Hood 2009
Furling genoa Hood 2018
Yankee Hood 2009
Spi
Electric system 2010
Electronic
Log Autohelm st50 tridata
Echo autohelm st50 tridata
Wind station autohelm st50 tridata
Autopilot Autohelm st 4000
GPS-plotter [...]
Posted in classiche - classic, vela - sailboats | Tagged natante, natante classico, natante epoca, natante vela, olle enderlein, storebro olle enderlein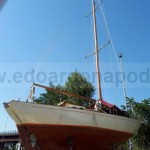 By edoardo on 24 agosto 2017
Please ask for more info – the owner is very motivated to sell
designer Hilyard
loa 10.80 mt
new deck
new engine 28 hp
new electric system
new sails
furling
hull need to be sealed.
Posted in epoca - veteran | Tagged classic daysailer, daysailer, Hilyard, natante, natante epoca, natante vela, vintage daysailer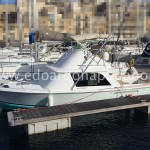 By edoardo on 25 gennaio 2016
Anno: 1971 (Refit completo nel 2010 di scafo, sovrastrutture, impianti e allestimento interni)
Velocità di crociera: 28 kn
Velocità max: 35 kn
Range: 290 nmi
LOA: 9.5 m
Larghezza: 3.5 m
Dislocamento: 6500 kg
Dislocamento tipo: Mezzo carico
Dinette convertibile: Si
Circuito Elettrico: 12V
Capacità serbatoio gasolio: 930 L
Materiale serbatoio : Alluminio
Capacità serbatoio acqua: 280 L
materiale serbatorio acqua Alluminio
Numero cabine doppie: 1
Numero bagni: 1
Motori: 2x VOLKSWAGEN [...]
Posted in moderne - modern, motore - powerboats, second hand | Tagged bertram, bertram 31, bertram 31 fly, bertram for sale, natante, refit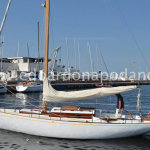 By edoardo on 11 gennaio 2016
Again for sale after some years for owner's upgrade – good condition – please ask for info and pictures – prevoius restoration by a very well apperciated carpenter.
Could be available also a specific cradle for the boat.
Storico progetto di Sciarrelli del 1966, eseguito dal cantiere veneziano dei F.lli Marchi ex Mariner, ne furono prodotti solamente [...]
Posted in Sciarrelli | Tagged astrea, astrea sciarrelli, barca d'epoca, carlo sciarrelli, natante, natante sciarrelli, Sciarrelli, sciarrelli astrea, sciarrelli natante