Browse:
Home
/
STEEL CUTTER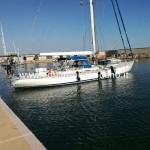 By admin on 17 dicembre 2019
Motivated seller
DESCRIZIONE GENERALE
Elegante cutter acciaio, disegnato dall architetto Rodolfo Foschi. Veloce imbarcazione ogni-tempo, interni con raffinata falegnameria e distribuzione razionale: 4 cabine, 3 bagni e ampia dinette e cucina.
Superaccessoriata e in ottime condizioni, facile manutenzione.
Misura spessori fasciame scafo 2019.
MODELLO Classic Steel Cutter
CANTIERE Viking Gemi Ve Insaat Sanayi Ticaret LTD (Istanbul – Turchia)
PROGETTISTA Rodolfo Foschi
ANNO COSTRUZIONE [...]
Posted in moderne - modern | Tagged classic boat, cutter, Foschi, Rodolfo foschi, STEEL CUTTER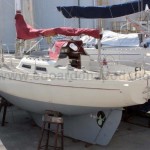 By edoardo on 19 giugno 2017
Steel Cutter of the historic Dutch designer Dick Zaal built by Van de Stadt yards. Fine boat but at the same time extremely marine and equipped for long-distance cruise. She has always received regular maintenance and wintering and it looks in more than excellent conditions.
CUTTER YEAR 1998
BOATYARD VAN DE STADT
DESIGN DICK ZAAL
FLAG DUTCH
loa 11.50 [...]
Posted in moderne - modern | Tagged barca acciaio, dutch steel yacht, STEEL CUTTER, STEEL HULL, steel sloop, steel yacht, VAN DE STADT, yacht acciaio