Browse:
Home
/
steel yacht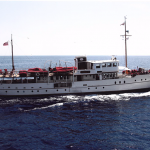 By admin on 2 maggio 2020
MELTEMI
Ex: Amphora, Meltemi MM, Braemar, Clorinde, and Braemer
Cantiere: J.Samuel White & Co Ltd, Cowes, England
Anno di costruzione: 1931
Lunghezza fuoritutto: 37,5 metri
Lunghezza galleggiamento: 36 metri
Baglio: 5,7 metri
Pescaggio: 2,4 metri
Dislocamento: 240 tonnellate
Motori: 2 x Caterpillar 480 HP
Velocità: 12 nodi crociera, 14 nodi massima
Many other pics available
Shipyard: J. Samuel White & Co Ltd, Cowes, England
Year of construction: [...]
Posted in epoca - classic, motore - powerboats, proposte: motore - suggestions: powerboats, second hand | Tagged Amphora, Braemer, Clorinde, J.Samuel White & Co Ltd, meltemi, meltemi for sale, meltemi yacht, meltemi yacht for sale, motor yacht motoryacht, samuel white, samuel white yacht for sale, steel displacement yacht, steel yacht, yacht meltemi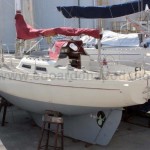 By edoardo on 19 giugno 2017
Steel Cutter of the historic Dutch designer Dick Zaal built by Van de Stadt yards. Fine boat but at the same time extremely marine and equipped for long-distance cruise. She has always received regular maintenance and wintering and it looks in more than excellent conditions.
CUTTER YEAR 1998
BOATYARD VAN DE STADT
DESIGN DICK ZAAL
FLAG DUTCH
loa 11.50 [...]
Posted in moderne - modern | Tagged barca acciaio, dutch steel yacht, STEEL CUTTER, STEEL HULL, steel sloop, steel yacht, VAN DE STADT, yacht acciaio