Browse:
Home
/
VAN DE STADT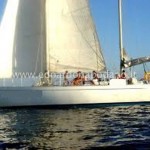 By admin on 9 marzo 2018
Bandiera Olandese
Lunghezza: 15,60 Mt.
Baglio: 4,6 Mt.
Pescaggio: 2,2 Mt.
Costruita in Legno lamellare
Anno: 1983
Cantiere: Mario Mostes
Progettista:  Van De Stadt & Partners. Zaandam, Olanda
Motorizzazione:
Motori: Ford 120 Hp; Tipo di carburante: Diesel
Impianti:
I serbatoi di carburante hanno una capacità di: 1.360 Lt.
La capacità dei serbatoi dell'acqua e' 720 Lt.
Altri equipaggiamenti:
 Generatore ( 6 Kw), Frigo , Congelatore
Alloggi:
Cabine: 4, Bagni: 2. [...]
Posted in classiche - classic, vela - sailboats | Tagged mostes, VAN DE STADT, wooden boat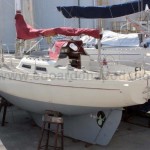 By edoardo on 19 giugno 2017
Steel Cutter of the historic Dutch designer Dick Zaal built by Van de Stadt yards. Fine boat but at the same time extremely marine and equipped for long-distance cruise. She has always received regular maintenance and wintering and it looks in more than excellent conditions.
CUTTER YEAR 1998
BOATYARD VAN DE STADT
DESIGN DICK ZAAL
FLAG DUTCH
loa 11.50 [...]
Posted in moderne - modern | Tagged barca acciaio, dutch steel yacht, STEEL CUTTER, STEEL HULL, steel sloop, steel yacht, VAN DE STADT, yacht acciaio