Browse:
Home
/
yawl sangermani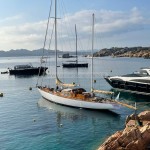 By admin on 14 settembre 2022
I know Magdalus since 2 previous owners and she's one of the largest Sangermani availabe. Very difficult to find 4 real cabins,  a speed of about 11 knots and a cockpit for 12 people; all in one classic yacht. Last but not least very good condition.  2 engines but a real sailing yacht, fast in [...]
Posted in Sangermani | Tagged magdalus, magdalus sangermani, motoveliero sangermani, Sangermani, sangermani 2 motori, sangermani 27 metri, sangermani a vendre, sangermani classico, sangermani d'epoca, sangermani double engines, sangermani due motori, sangermani epoca, sangermani for sale, sangermani in vendita, sangermani magdalus, sangermani motorsailer, sangermani occasione, yawl sangermani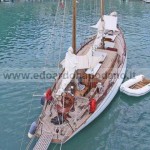 By admin on 30 gennaio 2015
New pics of interior above – please ask for more pictures of details – updated
AVAILABLE FOR CHARTER
migliorate  condizioni dopo recente restauro
new restoration done
yawl 1948
shipyard Sangermani
designer Sangermani
loa 17.68 mt
lwl 12.29 mt
beam 3.81 mt
draft 2.90 mt
displ 14,225 kg
engine Ford 80 hp
cabins 3
berts 8
flag ITA
EQUIPAGGIAMENTO
Radar Raytheor,GPS Raytheon, Chartplotter interfacciato con il Radar, Strumenti del vento, [...]
Posted in charter, Sangermani | Tagged classic yacht, classic yawl, Rondine II, Sangermani, sangermani 1948, yawl 1948, yawl sangermani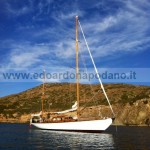 By admin on 14 dicembre 2014
2 previous pics of hull decadence and dry situation of planks, started some years ago.
SERIOUSLY FOR SALE
Now in 2019 she needs an important restoration. Please ask for updated and detailed info.
Very interesting price in 2016 for a Sangermani in great structural shape, only with flatting job,
new engine, hull, deck, interior ok
Si TRATTAVA di uno dei [...]
Posted in Sangermani | Tagged giorgia, motu, Sangermani, sangermani classico, sangermani epoca, sangermani for sale, sangermani giorgia, sangermani in vendita, sangermani yawl, sangermani yawl yawl sangermani, yawl sangermani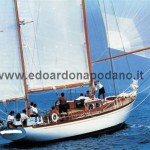 By edoardo on 14 maggio 2012
SANGERMANI 56′ yawl 1960
Designer: Sangermani
builder: Sangermani LOA: mt. 17,04
Beam: mt. 4,03
Draft: mt. 2,2
Displ.: lb. 50.706
engine: AIFO 150 HP
Flag: Ita
Posted in Sangermani | Tagged Sangermani, yawl sangermani