very convenient restoration possible! Please contact me for details
37.00 metres Classic Gentlemen  Displacement Motor Yacht
She is an historic yacht, with a great pedigree: I personally know her whole history, very well documented, I've plans and original pictures.  My grandfather managed her till the end of Eighties. I propose to a learned owner a philological restoration with great economical advantages.
37.00 metres Classic Displacement Motor Yacht built by the famous Picchiotti Shipyard in Viareggio, Italy in 1955.
She's also an excellent Corporate Charter Yacht, she has huge deck space and a big guests capacity, in a lot of different size cabins. She have 3 doubles with shower room en-suite aft and 3 single cabins and 1  double bunked cabin forward, with 2 shower room
So now the total passenger capacity is 11 people in 7 cabins
It could be very easy to increase the passenger capacity up to 14 passengers, just with the addition of on Pullman bed in the 3 forward single cabin
This possibility could be very attractive for the Corporate Charter market, which is not limited to 12 passengers, like usually.
She was for a long time under French Flag, and of course compliant to the French Merchant Navy Regulation, this means that she can easily have a MCA certificate under United Kingdom Flag, to be totally Free Tax
Condition of the yacht :
restoration need
Main specification of the Motor Yacht for sale :
Length                                                           36.90 m
Beam                                                              6.30 m
Draft                                                              2.60 m
Shipyard                                                        Picchiotti Perini Italy
Hull                                                                Lebanese Cedar
(Massive Wood with copper sheet)
Superstructures                                              Aluminium
Deck                                                              teak (About 4 cm)
Year                                                               1955
Refits                                                             1974 – 1983 – 1990 – 1995 – 2005
Main engines                                                  2 X 535 Cv Fiat at 1 200 Rpm
Generators                                                     2 X 55 Kva HFL at 3 000 Rpm
Cruising speed                                               12 Knots
Fuel tanks                                                      20 000 litres (Approx)
Fresh water tanks                                           15 000 litres (Approx)
Holding tanks                                                1 500 litres (Approx)
Passenger accommodation                             4 doubles + 3 singles = 11 Pax
Saloon + independent dining room
Crew accommodation                                    1 double + 1 triple + 2 singles = 7
Class                                                              French Merchant Navy
This yacht was the first yacht build by the famous Picchiotti shipyard  and this yacht is unique there is only one like this.
She was built with no regard to the final cost, the only specification was : to put on board all the best materials and to work with all the best craftsmanship of Italy in those old time !
She have a big headroom available on board :
In the aft cabins, we have from 1.95 m up to 2.00 m
In the engine room, we have from 2.00m up to 2.80 m
In the salon, dining room, galley, all the main deck we have 2.00 m
In the forward cabins, we have 2.30 m !!!
This can be important for owner and guests if they are tall
We make a big refit on her since a year
She was dry-docked in July 2005 for about 4 weeks
All the valves where controlled : ok
All the anodes where changed
The shafts where controlled : ok
The hull was controlled : ok
The bottom have one coat of primary and two coats of anti-fooling
The hull and superstructures was also paint
A new system of toilet (7 Sanguineti ) was installed with two parallels hydrophore water pumps (bronze pumps)
The water supplied can be sea water or fresh water
Two new grey and black water pumps
The grey and black water tanks are in Stainless Steel
The fresh water tanks are in Stainless Steel
All the plumbing was controlled : ok
All the pipes are in copper or in cupro-nickel ! (4 mm thick)
All the electricity was controlled : ok (French Merchant Navy Class and BV)
Fuel tanks were controlled : ok
New grease pumps system for the Maxi Custom Vosper Stabilizer
All the exhausts of the generators are brand new (Halyard)
All the batteries are new (main engines and generators)
One new electronic battery charger for the generators batteries
One new electronic battery charger for the main engines batteries
One new lock
One new echo sounder
Brand new bathroom for the 3 aft cabins
New carpets in all cabins, etc
This is a short list of works done in the recent months
Navigation Equipment
1 colour radar 96 miles Koden
1 monochrome radar 32 miles Koden
1 SSB 800 W Sailor
1 VHF Shipmate
1 Auto Pilot Decca 650
1 Radio Finder Lokata
Loran C
1 Echo Soundeur Simrad (New 2004)
1 Lock Simrad (New 2004)
SSB Watcher Skanti
Deck Equipment
1 Tender Rio 500 (5.00 metres) + 90 hp Yamaha
1 Jet-ski Kawasaki
Diesel Fire Pump (about 100 m3/h)
2 Hydraulic cranes
Hydraulic windlass
Hydraulic capstan
General Equipment
Stereo Bang Olufsen
1 TV
Galley Equipment
2 big fridges
1 Freezer
1 Ceramic hob
1 Electric oven
1 Micro wave
1 Washing machine
1 Dishwasher
1 Extractor hood
Number of hours for the engines :
Main engines : about 2 500 hours
Generators : about 3 500 hours & 4 000 hours
Cruising speed : 12 Knots
I inform you also that she is British Registered, in London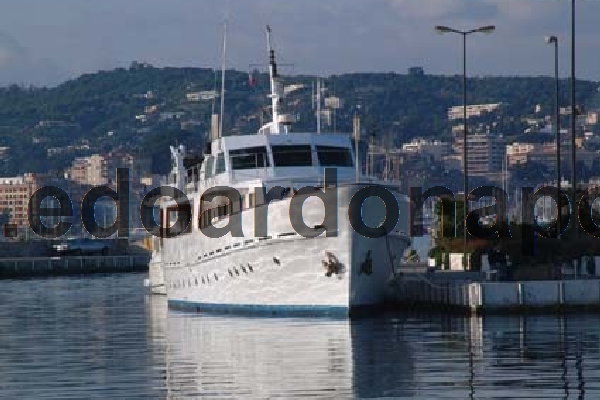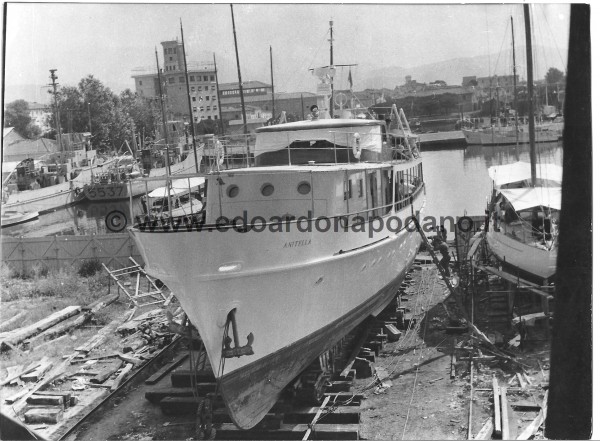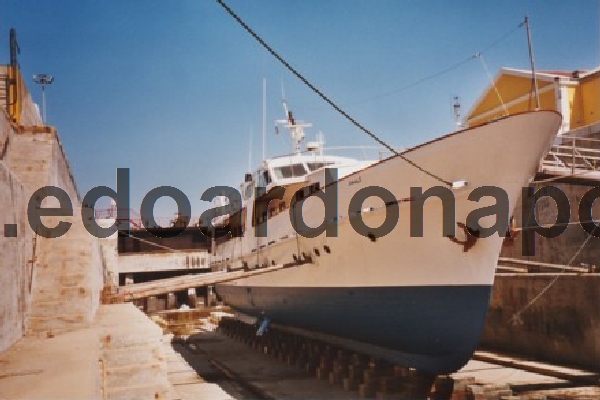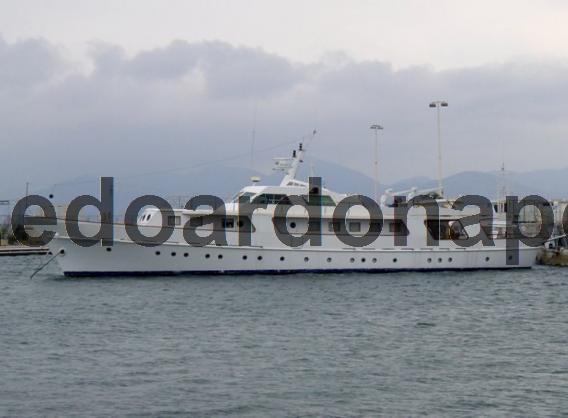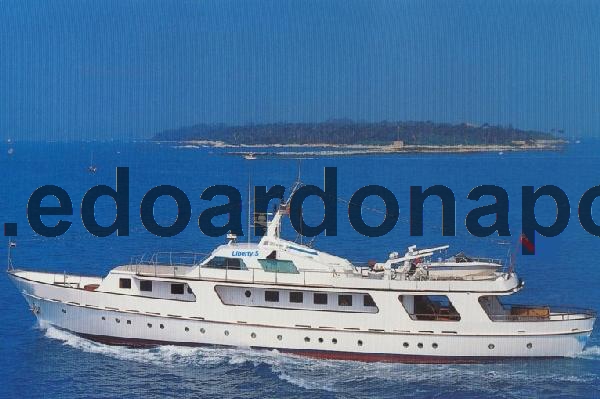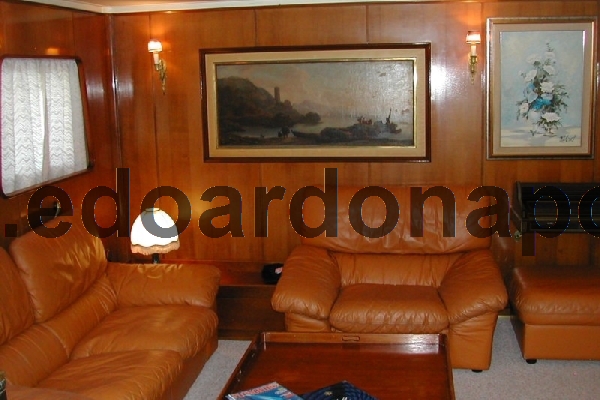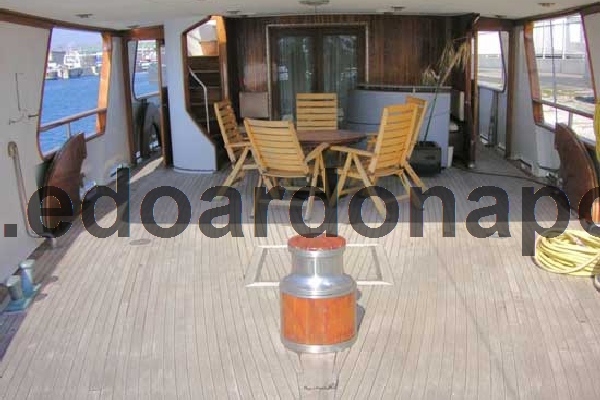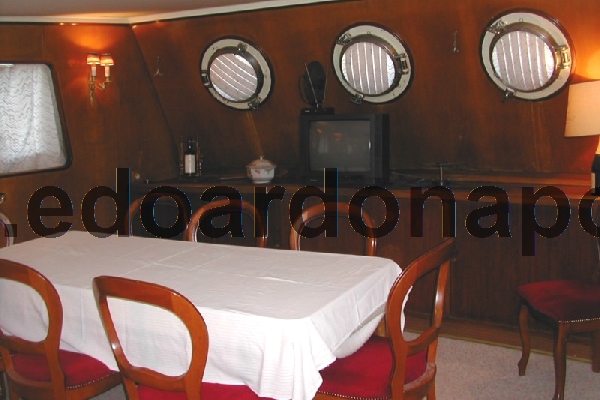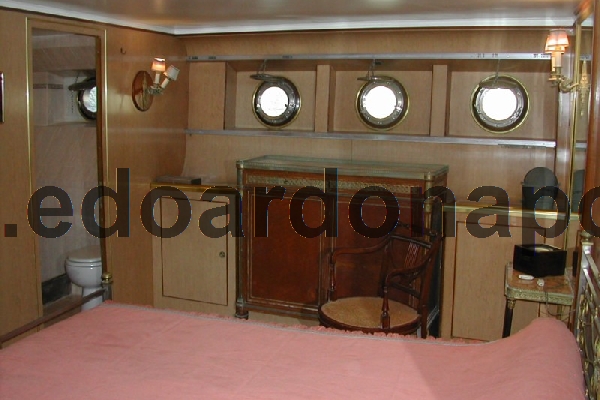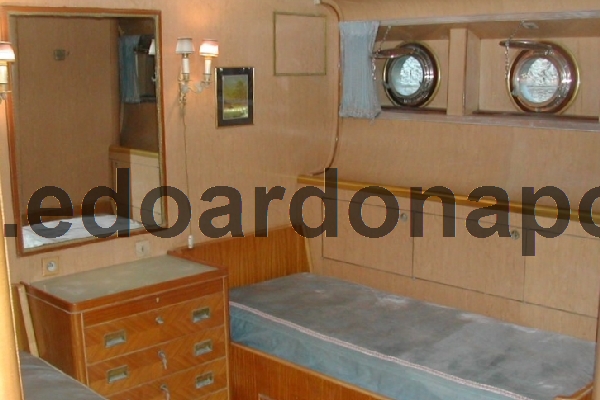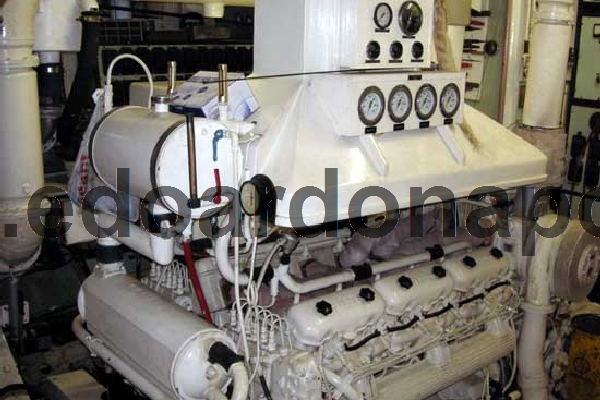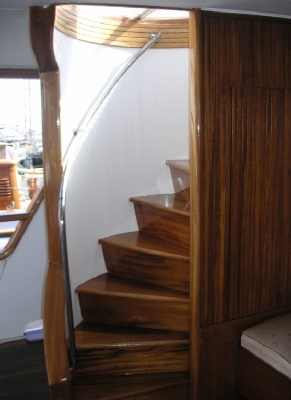 Il Varo nel 1955