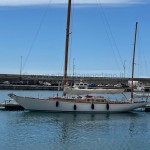 By admin on 13 settembre 2022
Info and pics available. Some maintenance has to be explained.
Year 1957/58 yawl
Builder: Sangermani
Designer: S&S
Loa 14,30 m
Lwl9,90m
Beam 3,70 m
Draft 1,34-2,30 m
Displ 11,73 t
SA 93,30 sm
Engine Yanmar mod 4EM57 anno 2017, 42 Kw
Passengers 12
Posted in occasione, Sangermani | Tagged baca epoca vintage boat, barche classiche, barche d'epoca, barche d'epoca e classiche, barche d'epoca e classiche in vendita, barche interesse storico, classic yacht, classic yawl, Sangermani, sangermani yawl, yawl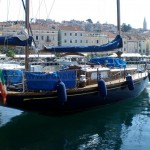 By admin on 17 marzo 2020
This yawl has had seven previous owners -among which count Guicciardini- in the Mediterranean; the last twenty-five years in her current ownership. She has undergone significant refits in 1994 and 2008-9.
Now she has to be partially restored: below some updated pics of details.
The 2 wooden masts are in perfect condition and also hull was replanked.
I [...]
Posted in S&S | Tagged cantiere mostes, mostes, mostes prà, mostes shipyard, S&S, s&s yawl, sparkman & stephens, sparkman & stephens epoca, yawl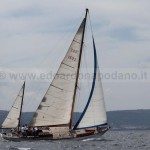 By admin on 5 giugno 2019
more info and pictures available
Year 1954 – actually sloop ex yawl (mizzen mast available)
Builder Sangermani
Designer Sangermani
Loa 14.31 m
Beam 3.48 m
Draft 1.94 m
Gross tonnage 15.31 t
Net tonnage 12.67 t
Engine Perkins 6 cyl.
Posted in Sangermani | Tagged barca classica, barca d'epoca, barche classiche, barche dìepoca, Sangermani, sangermani sloop, sangermani yawl, sloop, sloop sangermani, yawl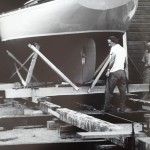 By edoardo on 3 settembre 2016
MANY NEW PICS AND 1958 AND 1965 NATIONAL GEOGRAPHIC REPORTAGE – complete articles available for new owner
TIPO/TYPE:                                     Bermudian Yawl
ANNO/YEAR:                                 1954
LUNG.f.t./LOA:                             mt 11,73 / 38'6"
LARG./BEAM M.:                         mt 3,50 / 11'3"
STATO/CONDITIONS:                Buono / Good
CANTIERE/BUILT BY:               Seth Persson, [...]
Posted in proposte: epoca - suggestions: classic, S&S | Tagged finister, finisterre, olin stephens, S&S, wooden boat, yawl, yawl sparkman & stephens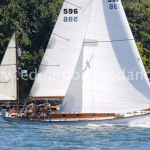 By edoardo on 10 febbraio 2016
TIPO/TYPE:                                              Yawl
ANNO/YEAR                                            1954
STATO/CONDITIONS:                         Buono / Good
CANTIERE/BUILT BY:                        Henry Nevins
DESIGNER:                                              Sparkman & Stephens LTD – New York
LUNG.f.t./LOA:                                      mt 12,31
LARG./BEAM M.:                                  mt 3,44
PESC./DRAFT:                                        mt 1,00
BANDIERA/FLAG:                                Americana
MAT.SCAFO/HULL MATERIAL:     Legno [...]
Posted in S&S | Tagged classic yacht, Henry B. Nevins Shipyard, S&S, sparkman & stephens, wooden boat, yawl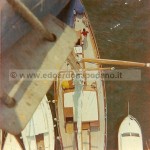 By admin on 27 novembre 2012
the yacht needs a TOTAL RESTORATION and
WILL BE GIVEN SIMPLY PAYING TRANSPORTATION COSTS and pocket expenses
designer L. Giles
builder Sangermani
loa 18 mt
lwl 13.20 mt
beam 4.25 mt
draft 2.90 mt
engine Perkins 126 hp
Posted in Sangermani | Tagged giles, giles ketch, giles sangermani, giles yawl, l. giles, laurent giles, Sangermani, sangermani giles, sangermani ketch, sangermani yawl, yawl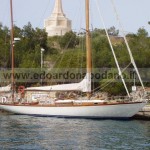 By edoardo on 31 ottobre 2010
1964 yawl
Designer Sparkman & Stephens
Builder in Palma de Mallorca
LOA: 14.69 mt (48.7 feet)
LWL: 10.42 mt
Beam: 3.78 mt
Draft: 2.13 mt
Weight: about 18 tons
Engine: Yanmar (100HP – anno 2000 – 1540h)
6 single bunks
Posted in S&S | Tagged classic yawl, olin stephens, S&S, S&S for sale, s&s yawl, sparkman & stephens, sparkman & stephens epoca, yawl, yawl sparkman & stephens