Browse:
Home
/
sparkman & stephens epoca
sparkman & stephens epoca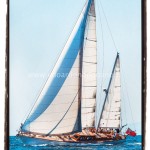 By edoardo on 8 febbraio 2021
PRICE INCREASING FOR RESTORATION
PERFECT CONDITION, ALWAYS WELL MAINTAINED
shipyard Sangermani 1976-77
designer S&S
loa 19.60 mt
beam 4.95 mt
draft 3.05 mt
displ 39 t
3 cabins +1 crew + 3 bath.
Posted in occasione, Sangermani | Tagged ketch, ketch sparkman & Stephens, S & S, S&S, Sangermani, sangermani 19 metri, sangermani 20 metri, sangermani motorsailer, sangermani recente, sparkman & stephens, sparkman & stephens epoca, sparkman & stephens ketch, sparkman&stephens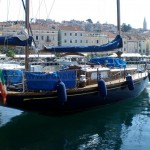 By admin on 17 marzo 2020
This yawl has had seven previous owners -among which count Guicciardini- in the Mediterranean; the last twenty-five years in her current ownership. She has undergone significant refits in 1994 and 2008-9.
Now she has to be partially restored: below some updated pics of details.
The 2 wooden masts are in perfect condition and also hull was replanked.
I [...]
Posted in S&S | Tagged cantiere mostes, mostes, mostes prà, mostes shipyard, S&S, s&s yawl, sparkman & stephens, sparkman & stephens epoca, yawl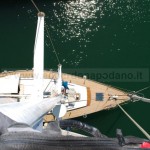 By admin on 5 febbraio 2020
Progetto unico nel suo genere, si differenzia rispetto alle caratteristiche classiche della Sparkman & Stephens, ovvero stretto e fondo per eccellenza che sacrifica gli spazi interni per avere una barca ottima di bolina. Se generalmente lo stretto e fondo è largo il 25% della lunghezza e il largo e piatto è il 33% della lunghezza, [...]
Posted in S&S | Tagged ananda, Carlini, CARLINI S&S, S&S, sparkman & stephens, sparkman & stephens epoca, sparkman & stephens for sale, sparkman & stephens vendesi, vendo Sparkman & Stephens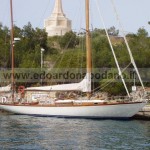 By edoardo on 31 ottobre 2010
1964 yawl
Designer Sparkman & Stephens
Builder in Palma de Mallorca
LOA: 14.69 mt (48.7 feet)
LWL: 10.42 mt
Beam: 3.78 mt
Draft: 2.13 mt
Weight: about 18 tons
Engine: Yanmar (100HP – anno 2000 – 1540h)
6 single bunks
Posted in S&S | Tagged classic yawl, olin stephens, S&S, S&S for sale, s&s yawl, sparkman & stephens, sparkman & stephens epoca, yawl, yawl sparkman & stephens